567
Entry-level laboratory microscope Swift 380T
With our LM microscope adapters, digital single-lens reflex cameras (DSLRs), mirrorless system cameras (DSLMs) and C-mount cameras can be attached to a microscope's phototube or eyepiece tube for easy and convenient use.
It was by chance that we happened to come across the economically priced Swift 380T trinocular compound microscope. Of course, our curiosity was sparked, so we immediately took a closer look at it, particularly in terms of its suitability for photographic documentation.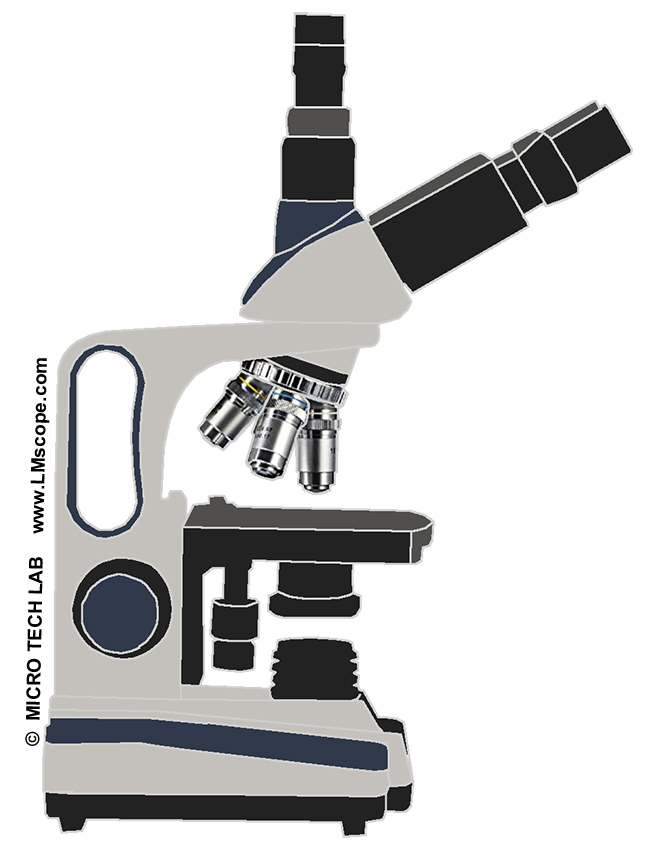 The Swift 380T is a very affordable transmitted-light laboratory microscope that is available as a trinocular version for only about € 300. Built for school children, university students and enthusiastic hobbyists, the 380T is a great instrument for exploring the microscopic world. It features a compact and sleek design, has a trinocular head that is fully rotatable and eyepieces that are arranged at a 30 degree tilt.
The 380T has a quadruple nosepiece equipped with the following achromatic objectives:
4X, NA 0.1, working distance 37.5mm
10X, NA 0.25, working distance 6.54mm
40X (spring), NA 0.65, working distance 0.63mm
100X (spring, oil), NA 1.25, working distance 0.195mm
"Spring" means that the front lens features a spring-loaded retraction stopper that allows the lens assembly to be retracted and thus offers protection from damage. "Oil" means that a small drop of immersion oil is placed between the front lens of the objective and the specimen to effectively use the magnification produced.
Total magnification when used with the 10x eyepiece:
Lens 4X ==> 40x

Lens10X ==>100x

Lens 40X ==> 400x

Lens100X (oil) ==> 1000x
For entry-level microscopy, an enlargement of about 400x is usually sufficient, and the Swift 380T is quite able to achieve this level of magnification. We recommend using the weaker 10x standard eyepiece, as it offers a better ratio between field of view and magnification. Professionals like to work at lower magnifications because the surrounding areas of the focused image section can be better viewed and described. If needed, a higher magnification power can be selected to make details more visible. When purchasing an optical instrument, you should not use the highest achievable magnification as a performance criterion. In most cases, high magnifications are advertised for marketing purposes but do not actually contribute useful resolving power. Such useless "empty" magnification does not yield any further information or finer resolution of detail.
The Swift 380T comes with wide-field 10x (field number 18) eyepieces. The total weight of the microscope is 5 kg.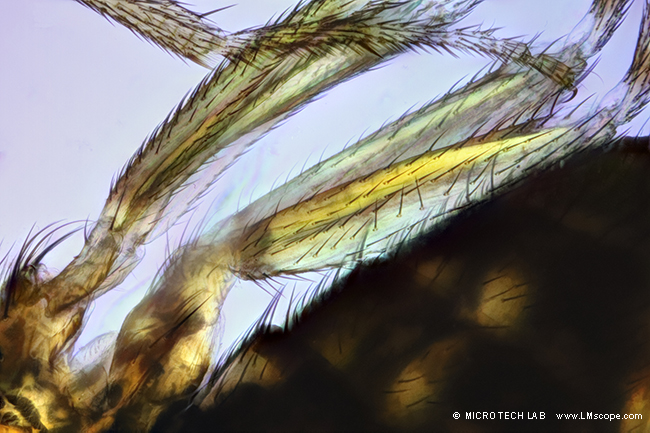 The stage has a coarse and fine focusing system. Illumination is provided by a modern, adjustable LED system which reduces light fluctuations because the LED current is stabilised.
The microscope is equipped with a standard 23.2 mm internal diameter camera port. With our LM microscope adapter solutions, users can attach almost any type of camera to this port. Modern cameras are capable of sending the live image output to a computer or an external monitor. This allows discussion of images with colleagues or family members as a highly effective means of transferring knowledge.
To achieve high image quality, we recommend using camera systems with large sensors. They deliver considerably better image quality than comparable C-mount cameras with very small sensor formats. DSLR or DSLM cameras are very well suited for microscopy and offer an excellent price-to-performance ratio. Generally, these cameras can be controlled remotely from a computer, PC or Mac. Mobile devices such as smartphones or tablets can also be used to receive and display live images transmitted from the camera via a wireless (Wi-Fi) connection. The image output can be conveniently viewed on a larger screen, and you can also adjust the focus of your image and release the shutter. This makes for a better workflow and image quality.
For more information about cameras, please look at our camera recommendations and our camera ranking.
As an alternative, you can attach another camera to the eyepiece tube of the microscope using the appropriate adapter solution. To do this, you need to remove one eyepiece and then slide the camera, together with the adapter unit, into the tube where the eyepiece was. The tough and quality-built design of our LM microscope adapters also allows heavier cameras to be attached securely to the eyepiece tube. The integrated precision optical system enables the camera to capture a large field of view with sharp focus all the way to the edges. LM microscope adapters are designed for professional use. Prices start from around € 900, depending on the version you need. Because they feature a modular design, they can be used on other microscope brands as well. If you switch to a more expensive and powerful microscope, for example one from a leading brand such as Zeiss, Nikon or Olympus, you can continue using your existing LM adapter solution with just a few accessory parts.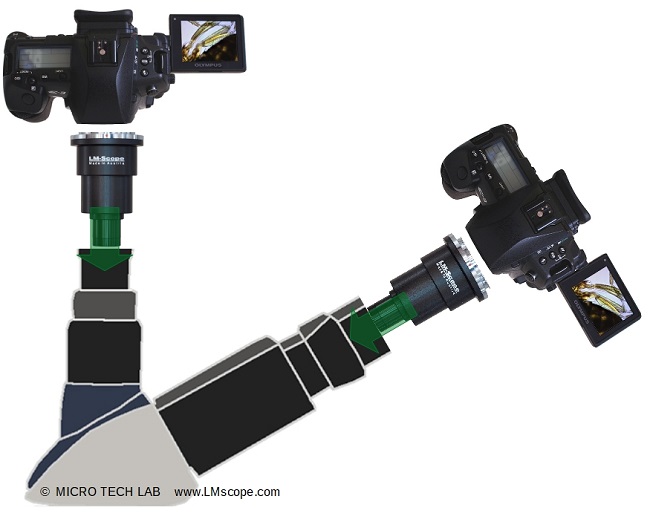 Swift Optical Instruments is a member of the Motic Group. The company is headquartered in Texas and has its microscopes manufactured in China. The optical quality of the Swift 380T cannot compete with that of branded microscopes, but considering the low price point, this is something to be expected. It is a good entry-level microscope that is very well suited to introducing fledgling scientists of all ages to the exciting world of microscopy.
Conclusion: With a price tag of only about € 300, the Swift 380T is a very decently equipped entry-level microscope, and the dedicated photo port considerably extends the range of imaging applications it can be used for. The possibility of attaching a digital camera – ideally a DSLR or DSLM camera you already have – to the microscope via an adapter interface is one of the big pluses of the Swift 380T. This form of digital documentation provides an opportunity to exchange ideas with like-minded individuals or to display the live image on a large monitor or computer for your children, so that everybody can look at it together and discuss what they see.
14.10.2020
Photography:
Fitting the microscope to digital single-lens reflex (DSLR), mirrorless interchangeable-lens cameras (MILC ), digital single-lens mirrorless (DSLM) or C-mount cameras is easy with our LM digital SLR adapters, which feature a plan achromatic optical system. Our products make it possible to capture top-quality microscope images. To help you select the adapter that is right for your camera, we have set up an online configurator on our website. You can also email us – ideally with attached photographs of your microscope.
Modern DSLR and single-lens mirrorless (DSLM) offer the latest technology and are generally very well suited for microscopy applications. Most of them can be controlled remotely via PC/Mac. Because of their high sales volumes, they offer an excellent price/performance ratio compared to special-purpose microscope cameras.
Features of top DSLR and single-lens mirrorless cameras (DSLM):
- Large, powerful full-frame sensors (36 x 24 mm)
- Sensor resolution of 61 megapixels or 240 megapixels with Pixel Shift technology
- High light sensitivity (ISO 400,000+)
- Extensive dynamic range (up to 15 aperture stops/f-stops)
- Short exposure times (1/8000 second) up to 1/32,000 seconds using the digital shutter
- 4K Ultra HD or 8K Ultra HD video function
- Live video capture on external monitors in ultra HD quality
In most cases, these cameras are significantly more powerful than microscope cameras with smaller sensors (1/2" or 2/3"). On our website you will find our current camera recommendations and a camera ranking which is specifically tailored to microscopy applications.