305
The Olympus MVX10 MacroView macro zoom fluorescence microscope meets every photomicrography need!
The Olympus MVX10 microscope is designed for biological, geological and forensic applications. Not only does it enable cell structures to be explored, but also the effects of gene expressions and protein functions, whole tissues, organs and even organisms.
Up until now, stereo microscopes were used for fluorescence observations at low magnifications – with all of the resulting disadvantages. The Olympus MVX10 MacroView was specially designed for this kind of use. Unlike conventional stereo microscopes, it has only one optical (central) path, with a large diameter. This makes it possible to better capture the dim light that is generated with fluorescence microscopy and thus enables a high image resolution at all magnifications.
This optical system is better suited for photographic work than stereo microscopes. Thanks to the central optical path, there is no focus gradient (gradient blur) as with systems built according to the Greenough principle. The differences between the two optical systems are especially evident with flat specimens (e.g. cell cultures). However, a disadvantage is that when looking through the eyepiece it is not possible to convey the kind of "plastic" effect that Greenough-type instruments provide.
The Olympus MVX10 MacroView has a long working distance and a wide field of view. It can be used for bright field, dark field, polarisation and fluorescence imaging.
The use of conventional DSLR and system cameras with interchangeable lens mounts is especially interesting with systems featuring a central optical path. In comparison with the majority of C-mount cameras (most frequent sensor size 0.5": 6.4 mm x 4.8 mm), these cameras have a huge sensor (APS-C: 22.55 mm x 15 mm; full frame: 36 mm x 24 mm). This large sensor size yields a high signal-to-noise ratio with a high colour depth (14 bits per channel). A further plus for DSLR and system cameras is that they do not require additional cooling to deliver high-quality images. The sensors used have a good resolution (from 20 megapixels to 60 megapixels depending on the camera model). As a result, a high level of detail resolution can be achieved even at lower magnifications.
Connecting a camera system to the Olympus MVX10 MacroView is very easy. The first step is to attach C-mount port with a 1x optical factor to the photo port of the microscope (MVX_TV1XC). Then, the respective camera system (DSLR, system camera or C-mount camera) can simply be screwed onto the assembly using the corresponding LM digital adapter.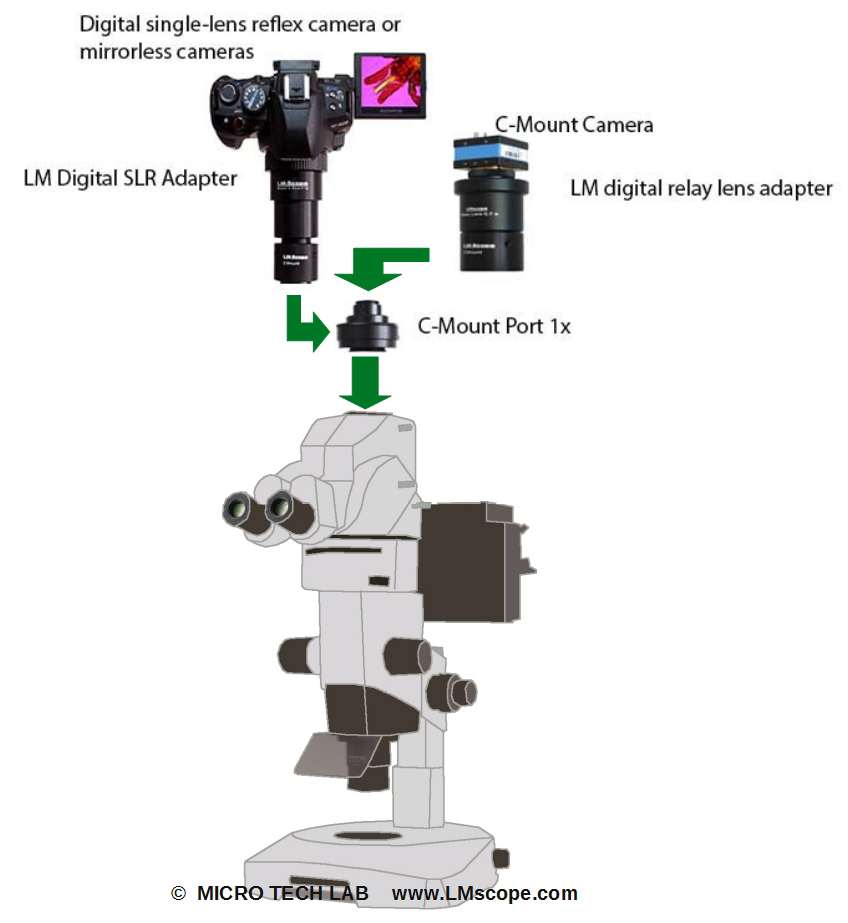 12.12.2013
Photography:
Fitting the microscope to digital single-lens reflex (DSLR), mirrorless interchangeable-lens cameras (MILC ), digital single-lens mirrorless (DSLM) or C-mount cameras is easy with our LM digital SLR adapters, which feature a plan achromatic optical system. Our products make it possible to capture top-quality microscope images. To help you select the adapter that is right for your camera, we have set up an online configurator on our website. You can also email us – ideally with attached photographs of your microscope.
Modern DSLR and single-lens mirrorless (DSLM) offer the latest technology and are generally very well suited for microscopy applications. Most of them can be controlled remotely via PC/Mac. Because of their high sales volumes, they offer an excellent price/performance ratio compared to special-purpose microscope cameras.
Features of top DSLR and single-lens mirrorless cameras (DSLM):
- Large, powerful full-frame sensors (36 x 24 mm)
- Sensor resolution of 61 megapixels or 240 megapixels with Pixel Shift technology
- High light sensitivity (ISO 400,000+)
- Extensive dynamic range (up to 15 aperture stops/f-stops)
- Short exposure times (1/8000 second) up to 1/32,000 seconds using the digital shutter
- 4K Ultra HD or 8K Ultra HD video function
- Live video capture on external monitors in ultra HD quality
In most cases, these cameras are significantly more powerful than microscope cameras with smaller sensors (1/2" or 2/3"). On our website you will find our current camera recommendations and a camera ranking which is specifically tailored to microscopy applications.

New LM Digital Adapter for:
Nikon Z8 / Sony Alpha 7R V / Sony Alpha 1 / Sony FX3 Cinema Line / Sony Alpha 9 II (ILCE-9M2) / Sony Alpha 9 / Nikon D6 / Canon EOS R3 / Canon EOS R6 Mark II / Canon EOS R8 / Sony Alpha 7R IV / Canon EOS R5 / Sony Alpha 7S II / Sony Alpha 7S III / Sony Alpha 7R III / Canon EOS R6 / Nikon Z6 / Nikon Z6II / Sony Alpha 7R II / Nikon Z7 / Nikon Z7II / Canon EOS R / Canon EOS Ra (Astro) / Nikon Z5 / Sony Alpha 7C / Canon EOS RP / Sony Alpha 7S / Canon EOS R7 / Leica SL2-S / Canon EOS R10 / Canon EOS 1D X Mark III / Nikon Z50 / Nikon Z30 / Nikon Z fc / Nikon D850 / Canon EOS 1D X Mark II / Nikon D780 / Olympus OM-1 / Sony Alpha 7III / Olympus OM-D E-M1 Mark III / Canon EOS R100 / Sony Alpha 6700 / Nikon D5 / Sony Alpha 6600 / Fujifilm X-H2S / Fujifilm X-S10 / Fujifilm X-E4 / Fujifilm X-Pro3 / Olympus OM-D E-M1X / Sony Alpha 6400 /