Professional microscope adapter for digital C-mount cameras with a sensor size up to 1/2"
With our newly developed LM relay lens adapter (factor 0.5x), cameras with a C-mount connecting thread (25.4 mm) can now be used on nearly all microscopes. The adapter features a solid build quality (CNC machined, lathed aluminium) and has a fully corrected panachromatic lens system.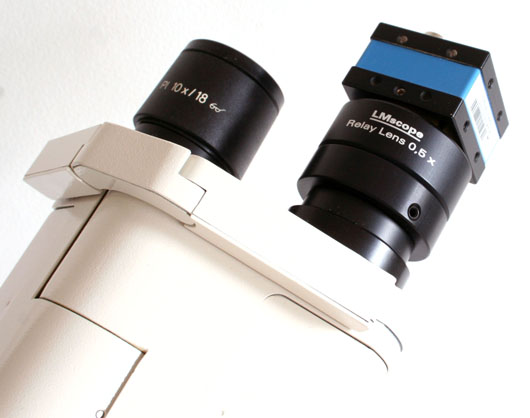 The adapter, which is a perfect fit for the sensor sizes shown in the table below, reduces the image field by 50%. This optical adjustment is necessary to ensure that the camera's sensor is used to optimal capacity and that the section of the image in the eyepiece will match the image field represented by the camera.
type


relation

diagonal

[mm]

width[mm]

height[mm]

1/3,2"

4:3

5,6

4,5

3,4

1/3"

4:3

6,0

4,8

3,6

1/2,7"

4:3

6,7

5,3

4,0

1/2.5"

4:3

7,1

5,7

4,3

1/2,3"

4:3

7,7

6,2

4,6

1/2"

4:3

8,0

5,4

4,8

1/1.8"

4:3

8,9

7.1

5,3

1:1.7"

4:3

9.5

7.6

5.7
With various extensions, the adapter can be connected to nearly all microscopes. We offer ready-made solutions for standard eyepiece tubes with internal diameters of 23.2 mm and 30 mm, phototubes with C-mount adapters (25.4 mm) and phototubes with 37 mm, 38 mm or 42 mm. There are additional extensions for manufacturer-specific microscope adapters such as Olympus, Zeiss, Nikon, Leica, Bresser, etc. For more information, please see the online configurator at the end of this page.
In addition, the LM relay lens adapter also makes it possible to attach system cameras with interchangeable lens mounts and small image sensors, such as the Pentax Q (1/2.3" sensor), to microscopes.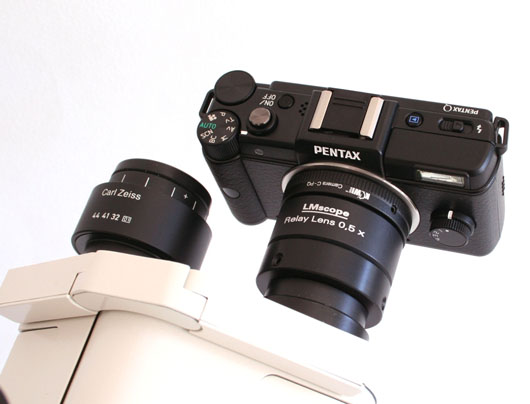 LM relay lens adapter with 23.2 mm tube connection: For tubes with larger internal diameters, additional extensions are available..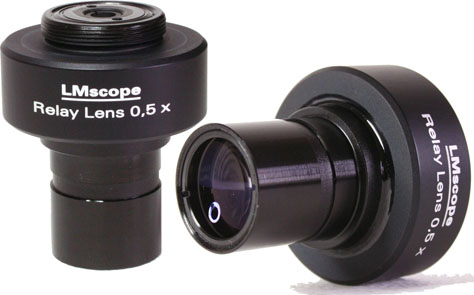 LM relay lens adapter with C-Mount extension: The adapter can also be screwed onto phototubes with C-mount connections (25.4 mm). The only important thing to keep in mind is that the C-mount port of the microscope must not have any additional lenses integrated.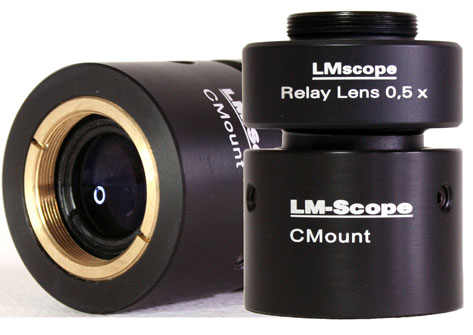 The adapter and C-mount camera form a compact unit and can be used on a wide variety of microscopes without any difficulty.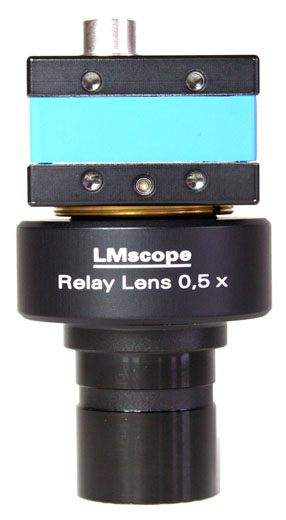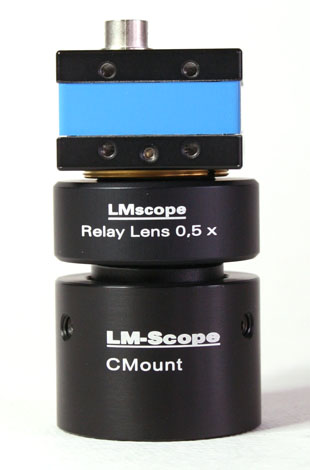 12.06.2012
You find further information and prices in our database:
Related Links
--