Micro Tech Lab
Professional solutions for digital micro and macro photography
I have received a C-mount adapter from you, but it does not fit the C-mount connection on my microscope.

It is, of course, possible, that we have made a mistake with the delivery, so first of all please check that you have actually received a C-mount adapter from us. You will be able to see this from the brass coloured ring (see photo) which bears the C-mount thread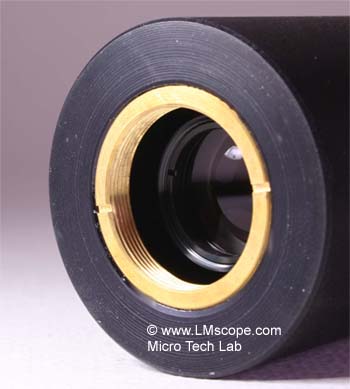 If the C-mount adapter is ok, then the problem could be with the C-mount connection on the microscope you are using. This is critical for being able to attach the LM digital adapter. The C-mount connection thread conforms to international standards. It has the following dimensions: M 25,4 x 0,75 bzw. 1" x 32G /"

It is essential that the C-mount connection has a factor of 1x and does not have any inbuilt optics.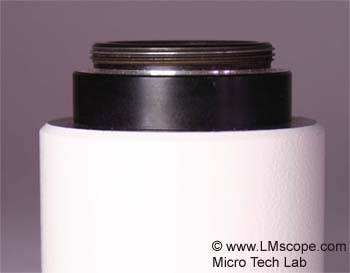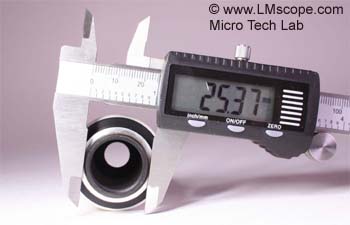 Caution! This manual is protected by copyright. Unauthorised reproduction thereof, in whole or in part, is punishable by law. Only use with MICRO TECH LABís approval.
New LM Digital Adapter for:
Nikon D850 / Nikon D5 / Nikon D750 / Nikon D500 / Nikon D810 / Nikon D4s / Nikon D800 / Nikon D800E / Nikon D4 / Nikon Df / Nikon D610 / Nikon D600 / Nikon D7200 / Nikon DS-Qi2 (Microscope Camera) / Nikon D3x / Nikon D3S / Nikon D7100 / Nikon D7000 / Nikon DS-Ri2 (Microscope Camera) / Nikon D700 / Nikon D3 / Nikon D5500 / Nikon D5200 / Nikon D5300 / Nikon D300 / Nikon D3400 / Nikon D5100 / Nikon D3200 / Nikon D300S / Nikon D3100 / Nikon D5000 / Nikon Coolpix S8100 / Nikon Coolpix S9100 / Nikon Coolpix P500 / Nikon Coolpix S6100 / Nikon Coolpix P7000 / Nikon Coolpix 4500 / Nikon Coolpix S710 / Nikon Coolpix S8000 / Nikon Coolpix S1100pj / Nikon Coolpix S4100 /

Related Links

--