46
LM Direct Image C-Mount Port 1x with C-Mount connection (Ordering Code: BHCPORT) for Olympus Microscopes from the BH, BHS and BHT series with trinocular tubes
Olympus system microscopes from the BH, BHS and BHT series with trinocular tubes only feature one phototube with ring washer for attaching an NFK projection eyepiece for the "OM-Mount-Photo-Micro-Adapter" for OM film cameras. Unfortunately, there is not a modern standard C-mount connection for these Olympus BH microscopes.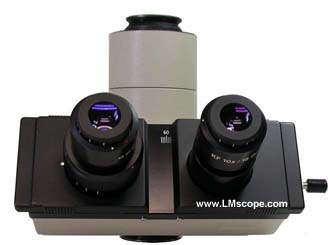 For these microscopes we offer a standard C-mount adapter. Assembly is simple. The upper part of the photo port of the BH microscope is removed by unscrewing 3 screws. In its place, our standard BHCPORT C-mount connection is attached with the 3 screws provided.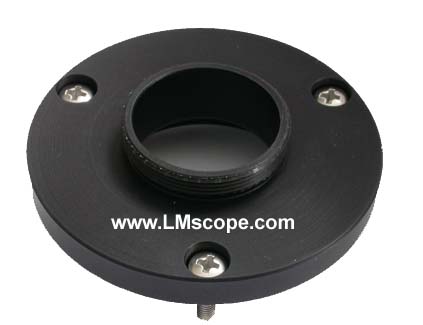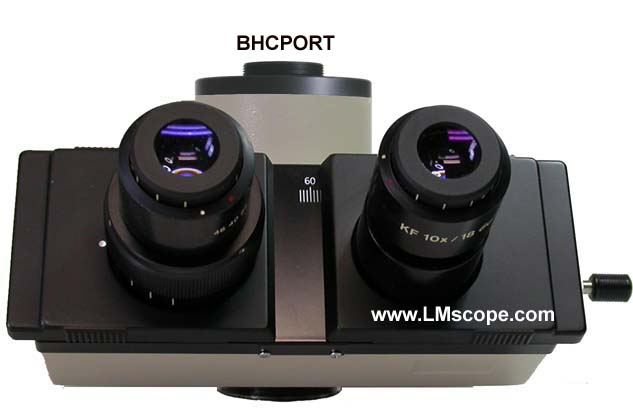 Olympus E330 (digital SLR camera with Live View preview image) with LM digital adapter on BHCPORT.

High-end intermediate optics for the connection of digital camera and microscope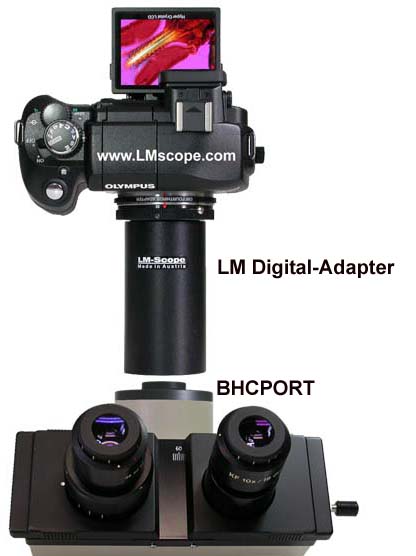 BH-2 / BHS / BHT - / BHS-F / BHT- F / BH2- TR30 / BH2-TR30 / BH2 - SWTR / EMM 7-2 / PM-6-8 / Bh2-PM-6-8 / PM -10M / PM-10-M / PM-10AK / PM-10ADS / PM-10AD / OM-MOUNT Photomicro Adapter / PM-PBM / NFK / FK
For further information and prices see our database. Please select a camera model.
New LM Digital Adapter for:
Olympus OM-1 / Olympus OM-D E-M1 Mark III / Olympus OM-D E-M1X / Olympus OM-D E-M5 III / Olympus OM-D E-M1 Mark II / Olympus OM-D E-M5 II / Olympus OM-D E-M1 / Olympus E-5 / Olympus E-3 / Olympus E-30 / Olympus E-620 / Olympus Pen E-PL7 / Olympus OM-D E-M5 / Olympus Pen E-PL5 / Olympus OM-D E-M10 / Olympus Pen E-PM2 / Olympus E-330 / Olympus E-520 / Olympus E-420 / Olympus E-450 / Olympus E-510 / Olympus E-410 / Olympus Pen E-PL8 / Olympus Pen E-PL6 / Olympus Pen E-PL3 / Olympus Pen E-PM1 / Olympus Pen E-P1 / Olympus Pen E-P2 / Olympus E-600 / Olympus Pen E-PL1 / Olympus Pen E-PL2 / Olympus E-400 / Olympus SP-610UZ / Olympus C-7070 Wide Zoom / Olympus SZ-20 / Olympus SZ-30MR / Olympus C-5060 Wide Zoom / Olympus FE-47 / Olympus FE-4040 / Olympus FE-5035 / Olympus mju-5010 /