430
Zeiss AxioZoom V16
Create photos and video recordings of superb image quality with the AxioZoom V16. Our LM microscope adapters allow state-of-the-art cameras to be attached to this microscope, thus delivering outstanding resolution, dynamic range and light sensitivity.
The Zeiss AxioZoom V16 stereo microscope is part of the modular system of zoom and stereo microscopes offered by Zeiss. Although Zeiss developed the AxioZoom V16 primarily for use in biology, medicine and forensics, its expandable, modular design makes this instrument suitable for many different fields of application.
The Zeiss AxioZoom V16 allows three-dimensional imaging techniques to be applied to entire model organisms; the stereoscopic viewing effect can be turned on at the operator's discretion. The AxioZoom V16 combines a 16x zoom with a high numerical aperture of NA 0.25 in a single system.
The encoded objective nosepiece Z, 2x cod, accommodates two objectives, and a variety of high-quality lenses (PlanApo Z, Apo Z, PlanApoFluar) and eyepieces are available for the AxioZoom V16.
The microscope body is equipped with apochromatic optics and a motorised zoom that features eZoom technology (stepping motors position the moveable lenses that are coupled with a motorised iris diaphragm). Zoom speed can be freely adjusted as required. Pressing the zoom button allows the operator to select from three different zoom modes:
Zoom mode "Brightness": Maximum microscopic image brightness throughout the entire zoom range; ideal for fluorescence microscopy applications.
​Zoom mode "Eyepiece": Zooming from large fields of view with maximum depth of field in detailed magnification with maximum resolution; ideal for eyepiece observation with conventional illuminations.
Zoom mode "Camera": Provides the best balance between camera image resolution and depth of field throughout the entire zoom range.
In photomicrography applications, the observation tubes are of pivotal importance. On the AxioZoom V16, three different phototubes are available:
Binocular ergo phototube Z 0-30° mot (0–30° adjustable viewing angle, tilting eyepiece tubes for two viewing heights, 55–75 mm adjustable interpupillary distance, 100/100 switchable photo port, slider for stereoscopic observation)

​Binocular phototube Z 15° (fixed 15° viewing angle, tilting binocular section for two viewing heights, 55–75 mm adjustable interpupillary distance 100/100 switchable photo port)

Phototube Z 100:0 (fixed 100% photo tube)
By using our LM digital adapters, almost any DSLR or system camera can be attached to this top-notch instrument.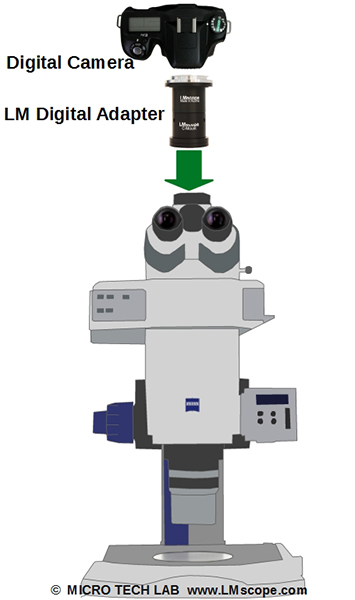 To move specimens during observation, a variety of stages – manual and motorised – are available (gliding, rotating, ball-and-socket and cross stages).
One of the core features of the AxioZoom V16's modular design is the wide range of illumination options available:
Various cold light sources for incident light microscopy (coaxial incident light)

​

LED incident light sources

Transmitted light options for bright field, dark field, oblique illumination and relief contrast

Fluorescence illumination
The third generation System Control Panel from Zeiss – the SYCOP 3 control unit – facilitates coordinated and efficient operation of the complex AxioZoom V16 stereo microscope. This handy mobile control unit delivers information regarding the system's optical parameters (magnification, field of view diameter, resolution, depth of field) and also controls illumination, operates the motorised stage as well as the X-axis and Y-axis controls, and stores the entire device configuration.
Conclusion:
As with all top-quality microscopes, combining the AxioZoom V16 with a large sensor camera (APS-C, full-frame) provides significant benefits over C-mount cameras with smaller sensor, especially at low levels of magnification.
Photography:
Fitting the microscope to digital single-lens reflex (DSLR), mirrorless interchangeable-lens cameras (MILC ), digital single-lens mirrorless (DSLM) or C-mount cameras is easy with our LM digital SLR adapters, which feature a plan achromatic optical system. Our products make it possible to capture top-quality microscope images. To help you select the adapter that is right for your camera, we have set up an online configurator on our website. You can also email us – ideally with attached photographs of your microscope.
Modern DSLR and single-lens mirrorless (DSLM) offer the latest technology and are generally very well suited for microscopy applications. Most of them can be controlled remotely via PC/Mac. Because of their high sales volumes, they offer an excellent price/performance ratio compared to special-purpose microscope cameras.
Features of top DSLR and single-lens mirrorless cameras (DSLM):
- Large, powerful full-frame sensors (36 x 24 mm)
- Sensor resolution of 61 megapixels or 240 megapixels with Pixel Shift technology
- High light sensitivity (ISO 400,000+)
- Extensive dynamic range (up to 15 aperture stops/f-stops)
- Short exposure times (1/8000 second) up to 1/32,000 seconds using the digital shutter
- 4K Ultra HD or 8K Ultra HD video function
- Live video capture on external monitors in ultra HD quality
In most cases, these cameras are significantly more powerful than microscope cameras with smaller sensors (1/2" or 2/3"). On our website you will find our current camera recommendations and a camera ranking which is specifically tailored to microscopy applications.

New LM Digital Adapter for:
Nikon Z9 / Sony Alpha 7R V / Sony Alpha 1 / Sony FX3 Cinema Line / Sony Alpha 9 II (ILCE-9M2) / Sony Alpha 9 / Nikon D6 / Canon EOS R3 / Canon EOS R6 Mark II / Canon EOS R8 / Sony Alpha 7R IV / Canon EOS R5 / Sony Alpha 7S II / Sony Alpha 7S III / Sony Alpha 7R III / Canon EOS R6 / Nikon Z6 / Nikon Z6II / Sony Alpha 7R II / Nikon Z7 / Nikon Z7II / Canon EOS R / Canon EOS Ra (Astro) / Nikon Z5 / Sony Alpha 7C / Canon EOS RP / Sony Alpha 7S / Canon EOS R7 / Leica SL2-S / Canon EOS R10 / Canon EOS 1D X Mark III / Nikon Z50 / Nikon Z30 / Nikon Z fc / Nikon D850 / Canon EOS 1D X Mark II / Nikon D780 / Olympus OM-1 / Sony Alpha 7III / Olympus OM-D E-M1 Mark III / Nikon D5 / Sony Alpha 6600 / Fujifilm X-H2S / Fujifilm X-S10 / Fujifilm X-E4 / Fujifilm X-Pro3 / Olympus OM-D E-M1X / Sony Alpha 6400 / Sony Alpha 6100 / Sony ZV-E10 / Canon EOS 1D X / Nikon D4s / Olympus OM-D E-M5 III / Canon EOS 90D / Canon EOS 5D Mark IV / Nikon D4 / Nikon D750 / Canon EOS 6D Mark II / Fujifilm X-T4 / Fujifilm X-T3 / Sony Alpha 6300 / Sony Alpha 6500 / Nikon D500 / Nikon D810 / Nikon D800 / Canon EOS M6 Mark II / Nikon D800E / Nikon Df / Panasonic Lumix DC-G9 / Nikon D610 / Nikon D600 / Canon EOS 250D / Canon EOS 850D / Rebel T8i / Canon EOS 6D / Sony Alpha 99 II (SLT-A99 II) / Canon EOS M200 / Canon EOS 5DS R ( without low-pass filter) / Olympus OM-D E-M1 Mark II / Canon EOS 80D / Canon EOS M50 Mark II / Canon EOS 5DS / Canon EOS M50 / Sony Alpha 77 II / Canon EOS 70D / Nikon D7200 / Pentax K-1 Mark II / Canon EOS 200D / Canon EOS 800D / Rebel T7i / Canon EOS 77D / Canon EOS 5D Mark III / Canon EOS 60D / Sony Alpha 7R / Sony Alpha 7 / Nikon DS-Qi2 (Microscope Camera) / Olympus OM-D E-M5 II / Nikon D3x / Olympus OM-D E-M1 / Pentax KP / Nikon D3S / Canon EOS 750D / Rebel T6i / Canon EOS 760D / Rebel T6s /