572
Using modern digital cameras on the Olympus CX41 versatile upright routine microscope to produce high-quality digital photographic documentation
The Olympus CX41 upright routine microscope was introduced to the market in 2008 and was sold until about 2019. It is a very popular instrument, which is frequently found in research institutes and companies. In used condition, it is available – depending on the level of parts and equipment – at a starting price of about EUR 3,000.
Our LM microscope adapters with integrated plan-achromat precision optics can be used to attach a variety of digital cameras in a professional manner to either the phototube or the eyepiece tube of the microscope. Currently, the trend is going towards cameras with large sensors (DSLRs or DSLMs) and powerful C-mount microscope cameras.
The CX41 features Olympus's modern UIS2 optical system with flat-field (plan) correction and is suitable for the following observation methods:
Bright-field (40x to 1000x magnification)
Dark-field(100x to 400x magnification),
Phase contrast (100x, 400x and 1000x magnification)
Fluorescence (40x to 1000x magnification)
Polarisation (40x to 1000x magnification)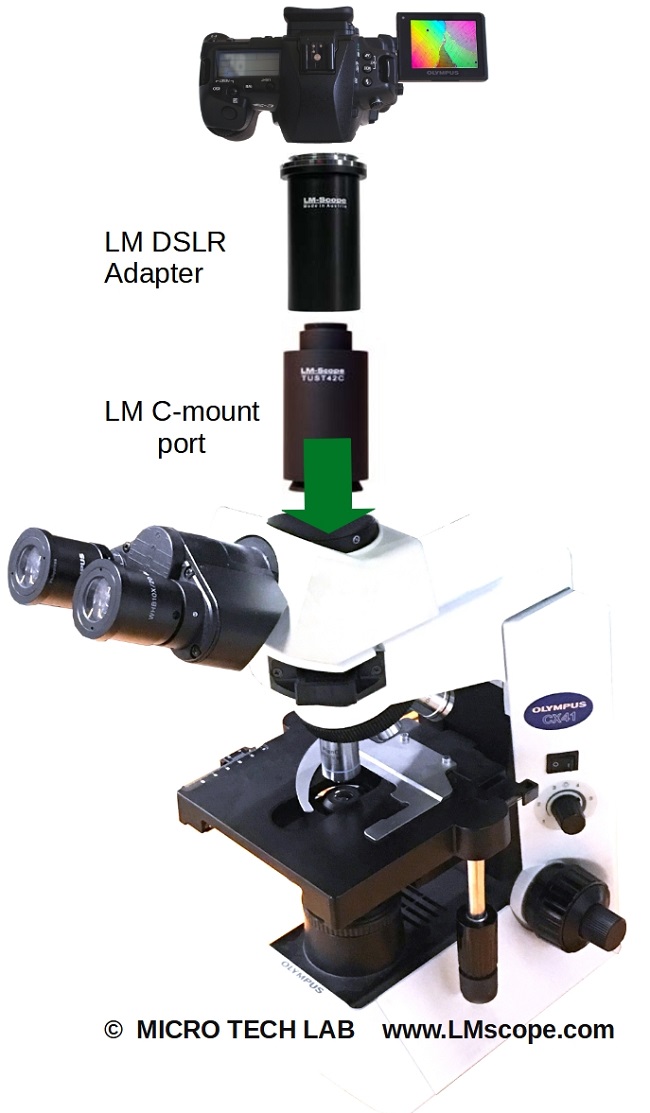 In addition to the UIS2 optics infinity system, the CX41 employs the PLCN series of plan-achromat objectives. They provide a major improvement in image flatness and thus deliver a bright, plan-corrected image. The revolving nosepiece accommodates five of these objectives.
All controls are well made and arranged conveniently and ergonomically on the slim tripod. In its standard configuration, the microscope weighs 8.5 kg. Illumination is provided by a 6V/30W halogen bulb. The Abbé condenser is equipped with a built-in daylight filter and has a numerical aperture of up to 1.25 (with oil immersion). A discussion unit for two viewers is also available and can be equipped with a light pointer. A 2x magnification changer can be used to double magnification.
The UIS2 lenses with a large (FN20) field of view and the wide-field lenses (FN22) can be used in three tubes: the standard binocular tube (U-CBI30-2), as well as the tilting binocular tube (ergo tube U-CTBI) and the trinocular tube (U-CTR30) which are also offered. The optical path of the trinocular tube is set at a 50/50 light split between eyepiece tube and phototube.
We offer compact LM adapter solutions with integrated plan-achromat precision optics for attaching digital SLR and mirrorless system cameras to a microscope: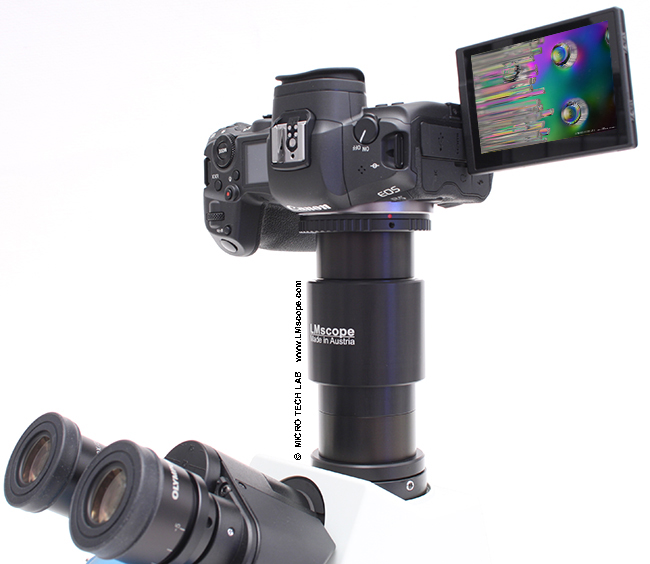 If the microscope has a phototube (U-CTR30) or is equipped with an intermediate tube (U-TRU), we recommend an adapter solution for this connection type: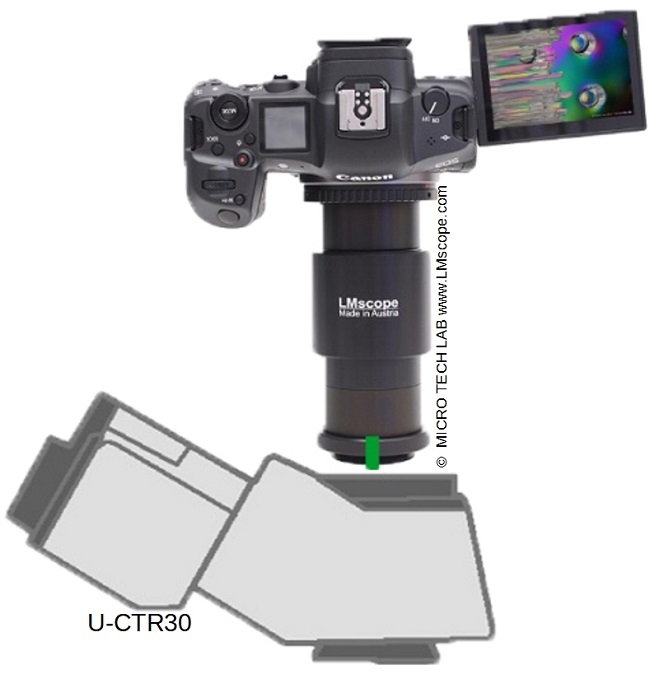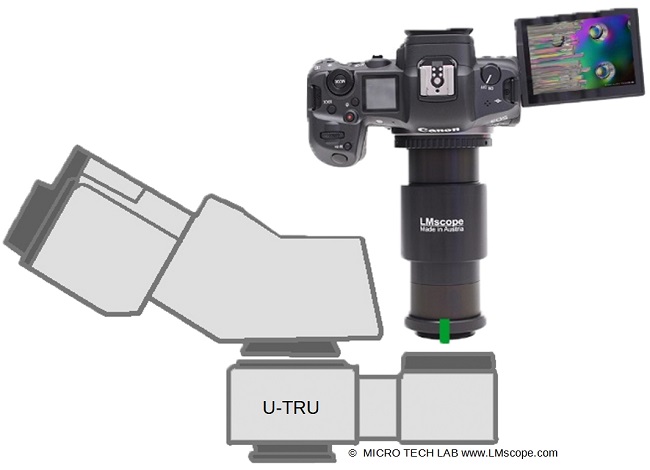 Our adapter solution is usually attached directly to the 42 mm standard phototube. For digital SLR cameras and mirrorless system cameras, we offer two adapter versions for attaching the camera to the phototube: For more information about the different options, please click here.
If the microscope only has the basic binocular tube (U-CBI30-2), the adapter solution for the eyepiece tube is the preferred choice. To attach the camera, one eyepiece is removed and the camera, together with the adapter unit, is inserted into the tube where the eyepiece was. This adapter solution is very flexible and can also be used on the standard eyepiece tube of other microscopes. Because the image quality is equally good, this method is ideal if the camera is to be used on several microscopes.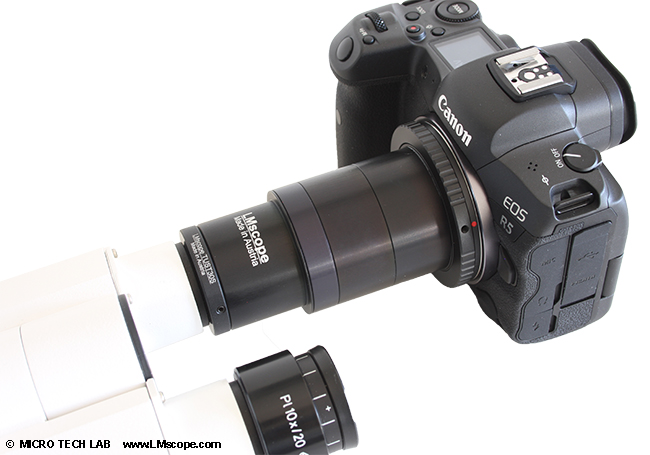 For C-mount microscope cameras and C-mount industrial cameras we offer a compact adapter solution with integrated optics (0.5x reduction factor). This adapter solution also includes the option of adding an optical filter to the adapter.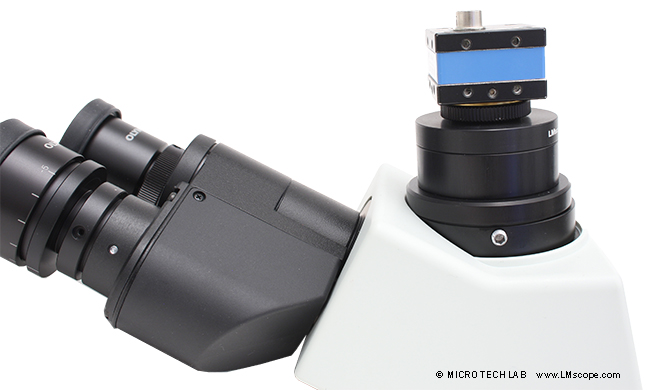 If the microscope does not have a dedicated phototube, it is also possible to attach a C-mount camera to the eyepiece tube (30 mm inner diameter) with the corresponding LM adapter solution.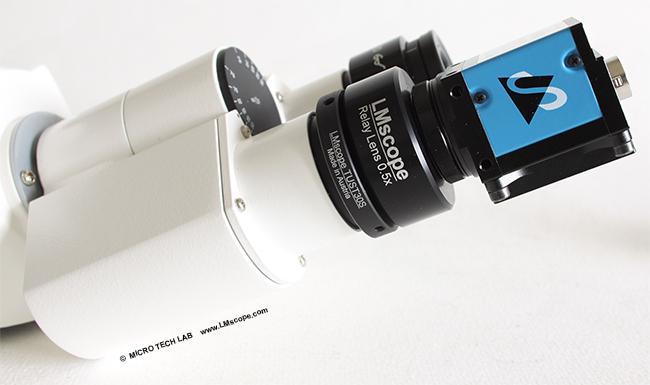 CONCLUSION: Thanks to its excellent price-performance ratio, the CX41 upright routine microscope has sold very well and is particularly popular as a flexible imaging tool for teaching and research. Olympus offers a wide range of objectives for the CX41. For photography applications, we generally recommend using high-quality objectives. With our adapter solutions, the high-quality UIS2 optics of the Olympus CX41 delivers excellent images – especially when combined with a large-sensor camera.
15.10.2020
Photography:
Fitting the microscope to digital single-lens reflex (DSLR), mirrorless interchangeable-lens cameras (MILC ), digital single-lens mirrorless (DSLM) or C-mount cameras is easy with our LM digital SLR adapters, which feature a plan achromatic optical system. Our products make it possible to capture top-quality microscope images. To help you select the adapter that is right for your camera, we have set up an online configurator on our website. You can also email us – ideally with attached photographs of your microscope.
Modern DSLR and single-lens mirrorless (DSLM) offer the latest technology and are generally very well suited for microscopy applications. Most of them can be controlled remotely via PC/Mac. Because of their high sales volumes, they offer an excellent price/performance ratio compared to special-purpose microscope cameras.
Features of top DSLR and single-lens mirrorless cameras (DSLM):
- Large, powerful full-frame sensors (36 x 24 mm)
- Sensor resolution of 61 megapixels or 240 megapixels with Pixel Shift technology
- High light sensitivity (ISO 400,000+)
- Extensive dynamic range (up to 15 aperture stops/f-stops)
- Short exposure times (1/8000 second) up to 1/32,000 seconds using the digital shutter
- 4K Ultra HD or 8K Ultra HD video function
- Live video capture on external monitors in ultra HD quality
In most cases, these cameras are significantly more powerful than microscope cameras with smaller sensors (1/2" or 2/3"). On our website you will find our current camera recommendations and a camera ranking which is specifically tailored to microscopy applications.

New LM Digital Adapter for:
Nikon Z9 / Sony Alpha 7R V / Sony Alpha 1 / Sony FX3 Cinema Line / Sony Alpha 9 II (ILCE-9M2) / Sony Alpha 9 / Nikon D6 / Canon EOS R3 / Canon EOS R6 Mark II / Canon EOS R8 / Sony Alpha 7R IV / Canon EOS R5 / Sony Alpha 7S II / Sony Alpha 7S III / Sony Alpha 7R III / Canon EOS R6 / Nikon Z6 / Nikon Z6II / Sony Alpha 7R II / Nikon Z7 / Nikon Z7II / Canon EOS R / Canon EOS Ra (Astro) / Nikon Z5 / Sony Alpha 7C / Canon EOS RP / Sony Alpha 7S / Canon EOS R7 / Leica SL2-S / Canon EOS R10 / Canon EOS 1D X Mark III / Nikon Z50 / Nikon Z30 / Nikon Z fc / Nikon D850 / Canon EOS 1D X Mark II / Nikon D780 / Olympus OM-1 / Sony Alpha 7III / Olympus OM-D E-M1 Mark III / Nikon D5 / Sony Alpha 6600 / Fujifilm X-H2S / Fujifilm X-S10 / Fujifilm X-E4 / Fujifilm X-Pro3 / Olympus OM-D E-M1X / Sony Alpha 6400 / Sony Alpha 6100 / Sony ZV-E10 / Canon EOS 1D X /