593
A microscope as a gift for children and teenagers? Tips for choosing the right microscope and getting the best use out of it
A microscope is the ideal gift to encourage a child's interest in science and nature. For children aged five and above, there is a wide variety of dedicated children's microscopes available to choose from. Although these instruments are usually quite inexpensive, they do not deliver the desired results – the microscopy experience quickly becomes boring. In this report, we present the best microscopes for an optimal introduction to the world of microscopy.
Anyone looking for a microscope for children or teenagers will likely feel overwhelmed by the huge selection of different types and models and the wide price range at which they are available. A microscope can cost anywhere between 200 and many thousands of euros, and in addition, different types of microscopes are offered depending on the intended use. Some suppliers try to lure their customers with incredible magnifications, which are portrayed as an indicator of quality. This is exactly where the inexperienced buyer might make their mistake: professional microscope users try to use the lowest possible magnification to locate and focus on the specimen and only switch to a higher magnification if this is absolutely necessary. High-quality, expensive microscopes deliver powerful resolution even at low magnifications. This results in a larger object field of view and a greater depth of field.
For novices, the distinction between the following two microscope types is important:
1) Conventional upright laboratory microscope:
This is a transmitted light microscope. The illumination source is built in and generates light that passes through the specimen. The image is collected by the lenses, which are located above the specimen, and is transmitted further via the microscope base to the eyepieces. The magnification range is between 20x and 1,000x depending on the lenses used. The microscope is equipped with a revolving nosepiece, which usually holds five objective lenses and allows the user to choose the magnification level with is most appropriate for the application at hand. The distance between the objective lens and the specimen is called the working distance. It is about 10 mm at low magnification and less than 1 mm at the highest magnification, depending on the objective lens. This type of microscope is designed for small specimens in the range of a few millimetres, which usually need to be prepared, sectioned, stained and positioned on a specimen slide with a coverslip. This is a rather tedious job that even professionals do not like to do, and children or teenagers even less so. Larger specimens cannot be viewed because there is not enough space for them.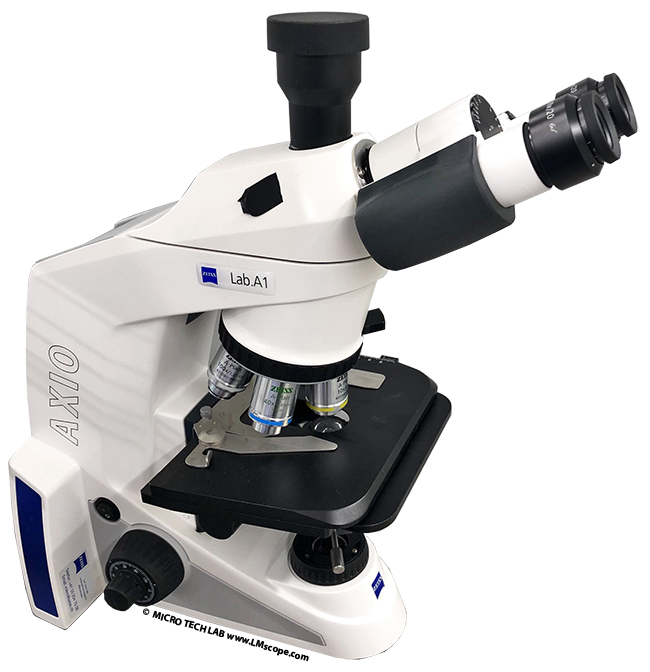 2) Stereo microscope with zoom optics providing about 5x to 100x magnification
This microscope variant is designed for observation with low magnification and is therefore suitable for larger specimens. Unlike laboratory microscopes, no preparation of the specimen is required. The distance between the objective front lens and the specimen is about 50 mm, so there is a lot of room for movement when positioning the specimen. All these aspects make operation easier for beginners. Another major advantage is the double, offset beam path, which allows a plastic, three-dimensional visualisation.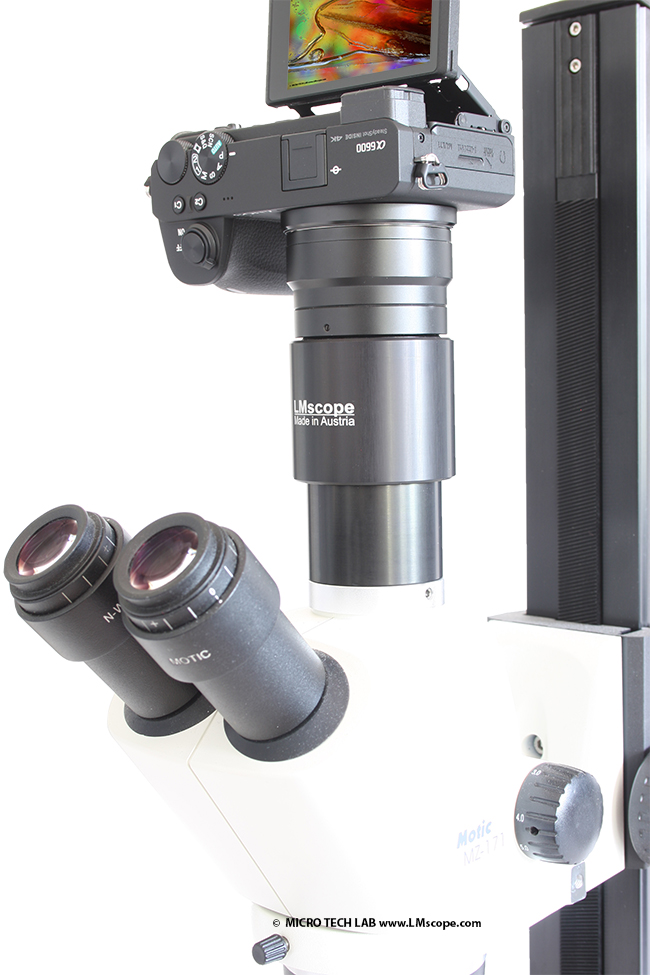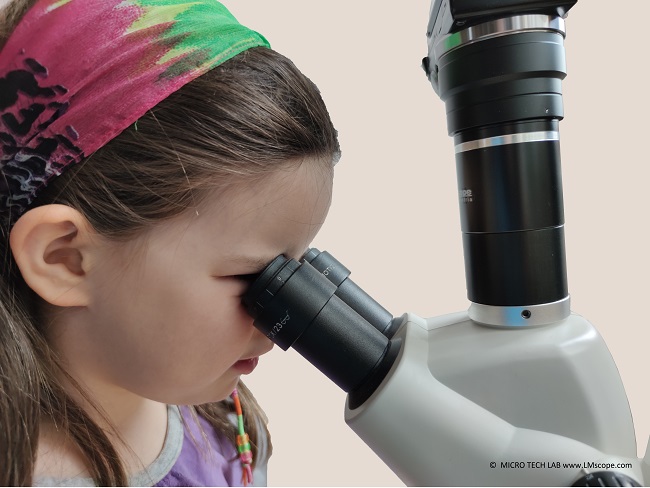 Without complicated procedures to prepare the specimens in advance, the child can look at just about anything he or she finds: insects, rocks, plants, water from a pond or even their own toys. The longer working distance provides better clearance and makes it easier to move specimens around. Stereo microscopes have a much smaller magnification range than conventional transmitted light microscopes, but you can still see a lot of detail. The relatively large working distance of 50 mm makes it easy to position the specimen under the objective. The stand also has a larger height range and can be optimally adjusted to the specimen size.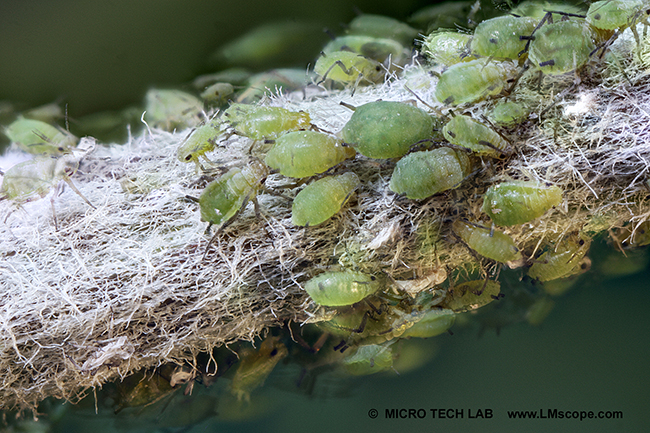 Shown in the photo: plant lice. Image taken with the Motic SMZ 171 stereo microscope and a Canon EOS 760D
High-magnification laboratory microscopes are not an ideal choice for children, because the specimens need to be prepared and fixed on slides. The magnification is usually too high and handling the microscope too complicated. As a result, the child quickly loses interest. In addition, don't be taken in by large magnification factors – lower-priced microscopes don't provide good results at higher magnification levels. With a stereo microscope, on the other hand, anything that is not nailed down can be observed under the microscope, even a favourite toy: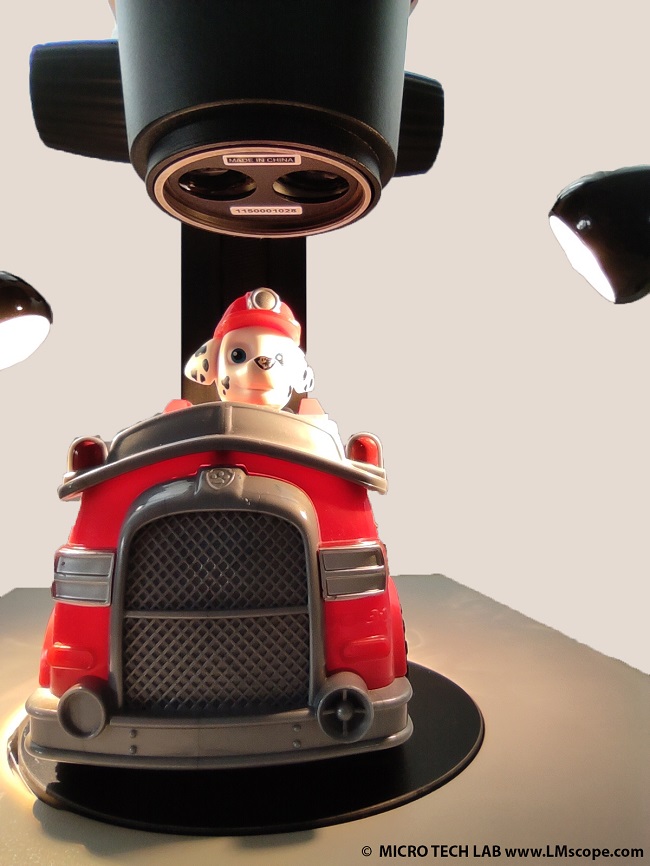 For a decent microscope that your child will enjoy for a long time, you should budget about € 500 for a version without phototube. These instruments are also very well suited for adult users, so they are actually a great fit for the whole family. If you have a little more to spend, go for a model with a separate phototube. With our LM digital adapters, a commercial off-the-shelf digital camera with interchangeable lenses (digital SLR, mirrorless system camera or C-mount camera) can be attached to the phototube of the microscope and the live image viewed on the camera's screen – the same method the scientific community uses. This is particularly useful for smaller children of kindergarten age, who often have difficulty looking through eyepieces. Otherwise, we recommend that children under the age of five look only through one eyepiece, since on most microscopes, the distance between the two eyepieces, even adjustable ones, is too large for the child's inter-eye distance.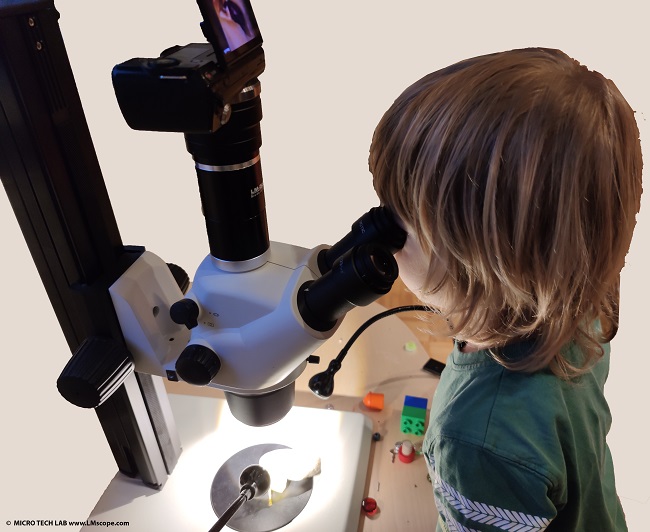 For microscopes without a phototube, our LM eyepiece adapter can be used to attach the digital camera to one of the two eyepiece tubes in place of the eyepiece with equally good image quality.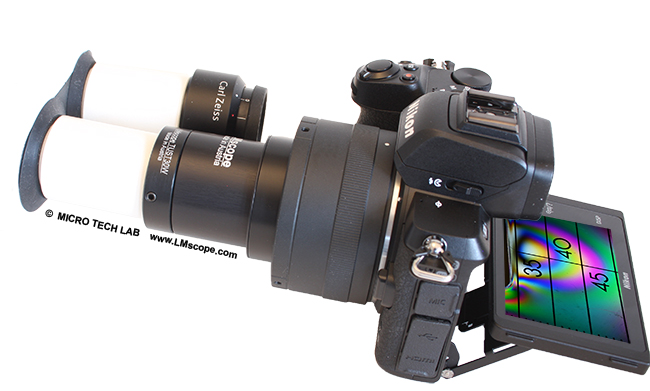 Here, too, the child can view the specimen on the camera screen and doesn't have to look through the eyepiece.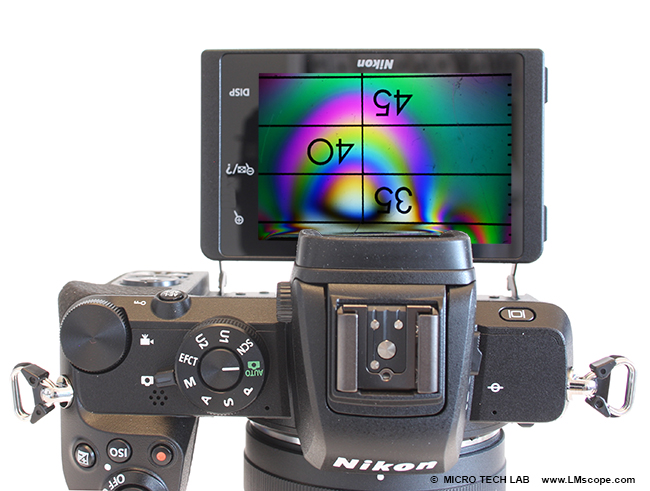 A particularly convenient and elegant solution is, of course, to connect the digital camera, which can also be used for everyday photography, to a large monitor. This way, the whole family can view and discuss the live image on the external monitor or the TV.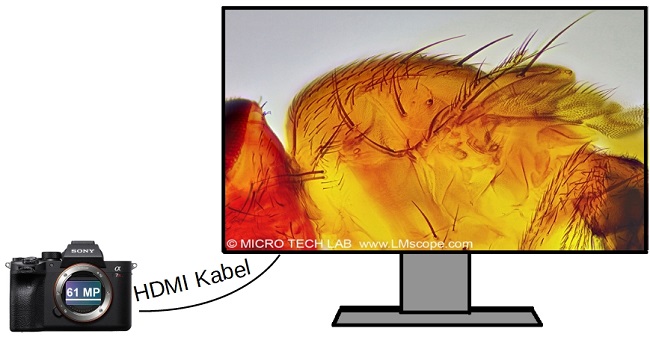 Most microscopes are designed according to the Greenough principle, which means that they have two separate optical paths. These paths strike the object with a 15º difference in angle, which is created by two objective lenses situated in a common mount.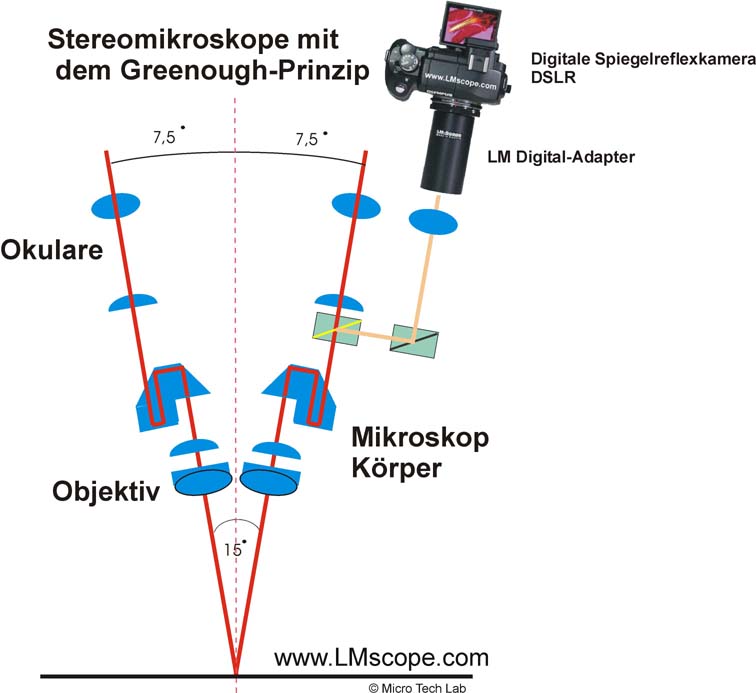 The human brain is able to generate a three-dimensional image through the optical path and the angular offset.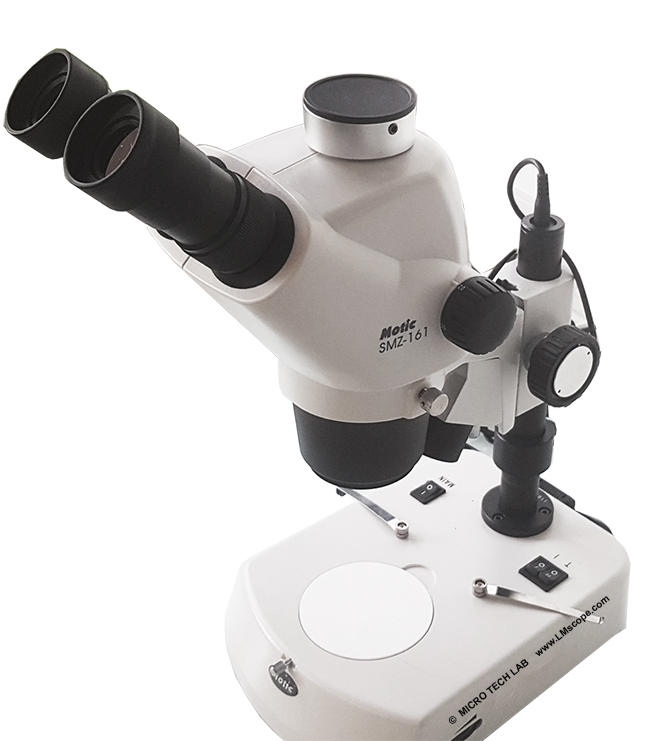 Motic microscopes, in particular, offer an excellent price-performance ratio in the stereo microscope segment. They usually have several magnification positions that are easy to adjust with a rotary knob. It can be used to achieve fixed magnifications. A large working distance leaves enough space to move the specimens around.
Generally, stereo microscopy does not require an additional source of illumination. In daylight or good indoor lighting conditions, the objects can be viewed clearly without any special enhancement. For brighter images, we recommend using flexible LED spot lights with gooseneck and diffuser, which can be found in every furniture or electrical goods store. We usually work with 2 to 3 spots, which can be optimally adjusted to suit the ambient light. They are simply attached to the stand or the microscope body itself by means of a clamp. The space used for microscopy does not have to be large – but having a small shelf for the collected objects to be observed is a plus.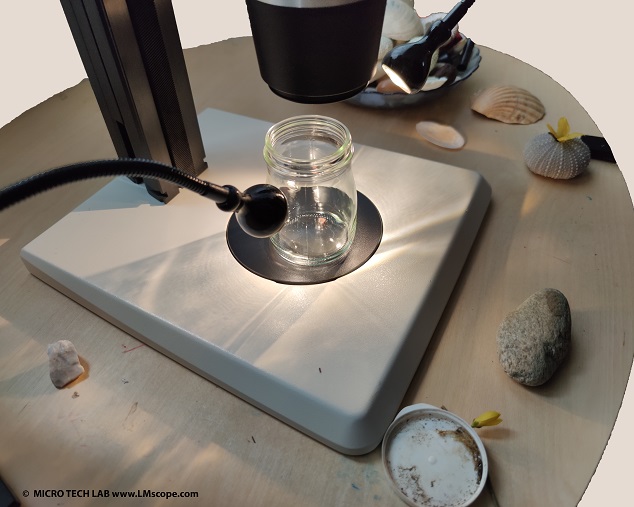 Conclusion: With the right equipment, children can discover the magical tiny world that remains hidden to the naked eye – and have fun doing it. In our experience, stereo microscopes are best suited for introducing children to the micro world. They have a simple zoom lens and a manageable magnification range. Don't get lured by the huge magnifications offered by some microscope dealers. High magnifications are the most difficult: in many cases, specimens need to be specially prepared, and larger specimens cannot be observed at all. For this reason, we recommend that you buy a good stereo microscope, as this will help you save both money and frustration. If the budget allows, a microscope that has a separate phototube is the best solution. This phototube, but also the eyepiece tube, can be used – with the help of our LM digital adapter – to attach a modern digital camera to the microscope. The camera's video port can be used to transmit the live image to an external monitor or the TV. This way, you and your family are all set to explore the tiny world and all its wonders.
12.10.2021
Photography:
Fitting the microscope to digital single-lens reflex (DSLR), mirrorless interchangeable-lens cameras (MILC ), digital single-lens mirrorless (DSLM) or C-mount cameras is easy with our LM digital SLR adapters, which feature a plan achromatic optical system. Our products make it possible to capture top-quality microscope images. To help you select the adapter that is right for your camera, we have set up an online configurator on our website. You can also email us – ideally with attached photographs of your microscope.
Modern DSLR and single-lens mirrorless (DSLM) offer the latest technology and are generally very well suited for microscopy applications. Most of them can be controlled remotely via PC/Mac. Because of their high sales volumes, they offer an excellent price/performance ratio compared to special-purpose microscope cameras.
Features of top DSLR and single-lens mirrorless cameras (DSLM):
- Large, powerful full-frame sensors (36 x 24 mm)
- Sensor resolution of 61 megapixels or 240 megapixels with Pixel Shift technology
- High light sensitivity (ISO 400,000+)
- Extensive dynamic range (up to 15 aperture stops/f-stops)
- Short exposure times (1/8000 second) up to 1/32,000 seconds using the digital shutter
- 4K Ultra HD or 8K Ultra HD video function
- Live video capture on external monitors in ultra HD quality
In most cases, these cameras are significantly more powerful than microscope cameras with smaller sensors (1/2" or 2/3"). On our website you will find our current camera recommendations and a camera ranking which is specifically tailored to microscopy applications.

New LM Digital Adapter for:
Nikon Z9 / Nikon Z8 / Sony Alpha 7R V / Sony Alpha 1 / Sony FX3 Cinema Line / Sony Alpha 9 II (ILCE-9M2) / Sony Alpha 9 / Nikon D6 / Canon EOS R3 / Canon EOS R6 Mark II / Canon EOS R8 / Sony Alpha 7R IV / Canon EOS R5 / Sony Alpha 7S II / Sony Alpha 7S III / Sony Alpha 7R III / Canon EOS R6 / Nikon Z6 / Nikon Z6II / Sony Alpha 7R II / Nikon Z7 / Nikon Z7II / Canon EOS R / Canon EOS Ra (Astro) / Nikon Z5 / Sony Alpha 7C / Canon EOS RP / Sony Alpha 7S / Canon EOS R7 / Leica SL2-S / Canon EOS R10 / Canon EOS 1D X Mark III / Nikon Z50 / Nikon Z30 / Nikon Z fc / Nikon D850 / Canon EOS 1D X Mark II / Nikon D780 / Olympus OM-1 / Sony Alpha 7III / Olympus OM-D E-M1 Mark III / Canon EOS R100 / Sony Alpha 6700 / Nikon D5 / Sony Alpha 6600 / Fujifilm X-H2S / Fujifilm X-S10 / Fujifilm X-E4 / Fujifilm X-Pro3 / Olympus OM-D E-M1X / Sony Alpha 6400 / Sony Alpha 6100 / Sony ZV-E10 / Canon EOS 1D X / Nikon D4s / Olympus OM-D E-M5 III / Canon EOS 90D / Canon EOS 5D Mark IV / Nikon D4 / Nikon D750 / Canon EOS 6D Mark II / Fujifilm X-T4 / Fujifilm X-T3 / Sony Alpha 6300 / Sony Alpha 6500 / Nikon D500 / Nikon D810 / Nikon D800 / Canon EOS M6 Mark II / Nikon D800E / Nikon Df / Panasonic Lumix DC-G9 / Nikon D610 / Nikon D600 / Canon EOS 250D / Canon EOS 850D / Rebel T8i / Canon EOS 6D / Sony Alpha 99 II (SLT-A99 II) / Canon EOS M200 / Canon EOS 5DS R ( without low-pass filter) / Olympus OM-D E-M1 Mark II / Canon EOS 80D / Canon EOS M50 Mark II / Canon EOS 5DS / Canon EOS M50 / Sony Alpha 77 II / Canon EOS 70D / Nikon D7200 / Pentax K-1 Mark II / Canon EOS 200D / Canon EOS 800D / Rebel T7i / Canon EOS 77D / Canon EOS 5D Mark III / Canon EOS 60D / Sony Alpha 7R / Sony Alpha 7 / Nikon DS-Qi2 (Microscope Camera) / Olympus OM-D E-M5 II / Nikon D3x / Olympus OM-D E-M1 / Pentax KP /