175
Full format sensor (24 × 36 mm) vs. half format sensor in microscopy
Large sensors provide in general a higher image quality. Especially colour depth and the signal/noise relatio is better with high quality sensors. With low-lighting (i.e. flourescence microscopy) when very little light reaches the sensor, it is of advantage if the sensor is large. Long exposure times and high ISO settings (> 200,000) make high demands on the camera. But using full format sensors in microscopy does not have as many advantages as it does in conventional photography. In microscopy, however, the image quality depends very much on the type of microscope used.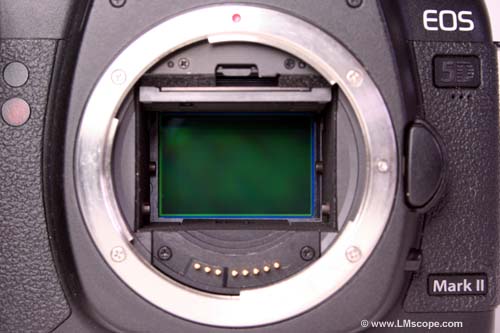 Particularly at very high magnifications, the quality of the microscope also determines the resolution of the photographs. What limits the image resolution is exclusively the numerical aperture of the lens, and not the number of pixels. Microscopes are complex optical systems, and image improvements resulting from high numbers of pixels cannot be seen, as no new details in the structure can be reproduced through the resolution of the microscope optical system. From our standpoint, a camera's zoom function in live view modeis considerably more important in microscopy than a high number of pixels. Using the live preview on the LCD display, the focus plane can be adjusted to its optimum setting. Also very important is that the camera can be navigated by PC or Mac (tethering).

For small magnifications of less than 10x, professional camera (with full format sensors) provide definitely better results.

Full format sensors mainly offer professional features that are not offered by cheaper cameras (or only in part, depending on the pricing policy of the camera manufacturer). Among these are:

* Live view
* Computer control function (USB / LAN / WLAN), Canon EOS Utility, Nikon Remote Control
* HDMI (high resolution video output)
* Pivoting LCD display
* High number of pixels, currently 45 megapixels
* Excellent signal-to-noise-ratio of the sensor chip with high ISO settings
* Greater colour depth – 14 or 16 bits per channel RGB (Red/Green/Blue)
* Ability to take a series of images (at present, approx. 10 images per second)
* Low shutter release delay (in the millisecond range)
* Low-vibration plane shutter
* Fast exposure time (1/8,000)
* Long exposure times

The use of highly corrected plan fluoride or plan apochromatic microscope lenses is highly recommended. These are, however, very expensive, starting at around EUR 1,000. For about the same price, you can purchase a digital SLR camera and a suitable LM digital adapter. Digital full format SLR cameras are available for around EUR 1,800 or more, and for a good microscope you will pay from EUR 10,000 and up.
For the following fullframe cameras you will find testing reports on our website: Sony Alpha Series Alpha 9, Alpha 7S II, Alpha 7R IV, Nikon Z-Series (Z6, Z7), Nikon D850, Canon EOS R5, Canon EOS 5D Mark IV, Canon EOS 5D Mark III, Canon EOS 5DS
Update: 04/2021
Caution! This manual is protected by copyright. Unauthorised reproduction thereof, in whole or in part, is punishable by law. Only use with MICRO TECH LAB's approval.
New LM Digital Adapter for:
Nikon Z9 / Nikon Z8 / Sony Alpha 7R V / Sony Alpha 1 / Sony FX3 Cinema Line / Sony Alpha 9 II (ILCE-9M2) / Sony Alpha 9 / Nikon D6 / Canon EOS R3 / Canon EOS R6 Mark II / Canon EOS R8 / Sony Alpha 7R IV / Canon EOS R5 / Sony Alpha 7S II / Sony Alpha 7S III / Sony Alpha 7R III / Canon EOS R6 / Nikon Z6 / Nikon Z6II / Sony Alpha 7R II / Nikon Z7 / Nikon Z7II / Canon EOS R / Canon EOS Ra (Astro) / Nikon Z5 / Sony Alpha 7C / Canon EOS RP / Sony Alpha 7S / Canon EOS R7 / Leica SL2-S / Canon EOS R10 / Canon EOS 1D X Mark III / Nikon Z50 / Nikon Z30 / Nikon Z fc / Nikon D850 / Canon EOS 1D X Mark II / Nikon D780 / Olympus OM-1 / Sony Alpha 7III / Olympus OM-D E-M1 Mark III /