624
Zeiss Axiolab 5: better image and video quality with top-of-the-line digital cameras
Modern camera systems with large image sensors, such as digital mirrorless system cameras (DSLMs), single-lens reflex cameras (DSLRs) or special C-mount cameras, are able to use the microscope's full optical potential. With our adapter solutions, which are developed and manufactured in Austria, virtually any digital camera can be used with this smart microscope from Zeiss.
The Zeiss Axiolab 5 is a modern upright laboratory microscope designed for daily routine imaging tasks.
Key specifications
Upright laboratory microscope

Optical system: infinite, IC²S

Built-in computer in the stand for use in combination with Zeiss C-mount cameras (AxioCam 202 mono, AxioCam 208 color)

Encoded stand with 5-position nosepiece, M27 thread

Contrasting methods: BF, DF, Ph and simple TL Pol

Transmitted light and reflected light fluorescence

Recommended classes of objectives: A-Plan / N-Achroplan / EC Plan-NEOFLUAR

Z focus range: 15 mm

Optional: multi discussion system: 2, 5 or 11 people

Market launch: 2019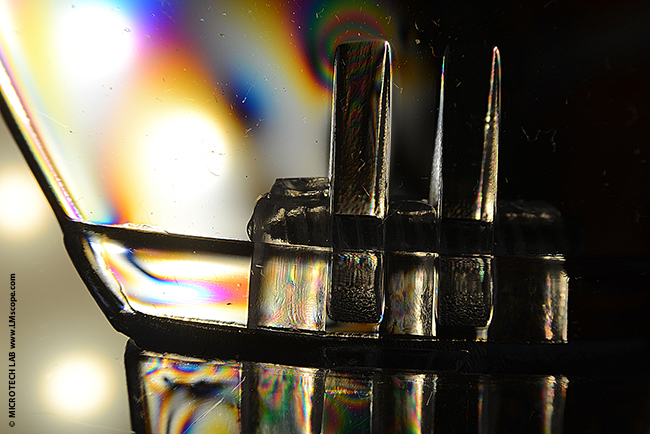 IC²S stands for "Infinity Contrast & Color Corrected" system. This patented beam path is based on the optimisation of the proven Carl Zeiss "ICS" Infinity Optics. An added new feature is the transmitted light beam path for uniform illumination. According to Zeiss, this results in higher image contrast, perfect uniformity and excellent resolution. Depending on the requirements of each setting, Zeiss offers an extensive range of accessory products. The Axiolab 5 is the successor to Zeiss's Axio Lab.A1 and falls in the medium price range (the starting price for the basic version with binocular tube is approx. EUR 5,000).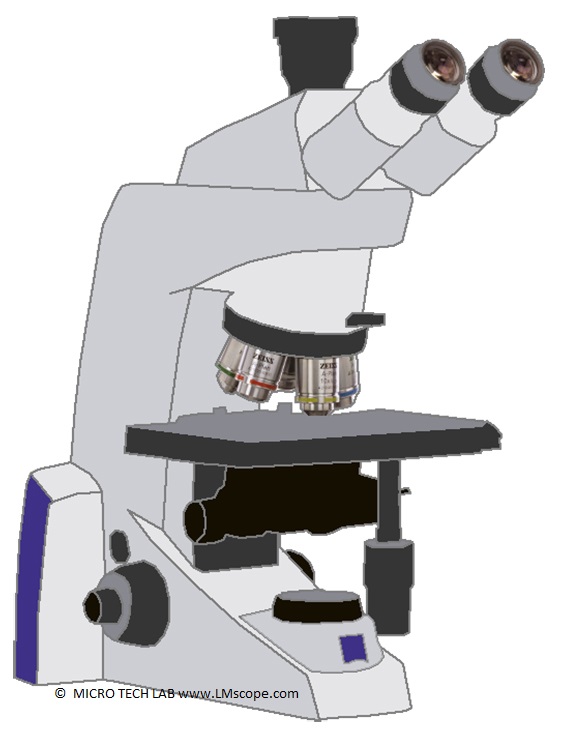 A particularly impressive aspect of the Axiolab 5 is it ergonomic design. The drive and focus knobs are located at a convenient height, and the brightness control can be operated with just one hand without having to change your grip. The viewing height can also be adjusted. Tubes with 20 and 30 degree viewing angles are available.
The Axiolab 5 is equipped with a backward tilted, encoded revolving nosepiece (M27 thread) for up to five plan, achroplan and plan neofluar objectives. It accommodates a wide range of contrasting techniques such as brightfield, darkfield, phase contrast, DIC, fluorescence and DL polarisation. The field of view diameter is 23 mm. Like most modern microscopes, the Axiolab 5 is equipped with long-life LED illumination. An integrated light manager provides uniform brightness at all magnifications. An LED incident light fluorescence unit with up to 4 filter sets is also available.
Zeiss advertises the Axiolab 5 as a smart stand-alone microscope solution, to be used in combination with a Zeiss C-mount camera (AxioCam). The stand of the microscope features a built-in computer, which allows control of (currently) two Zeiss C-mount cameras directly via the microscope. If you want the microscope to execute all works steps fully automatically, this is certainly a good option. You just need to press a button and you're done: the C-mount camera creates the image and automatically adds the scaling data directly to it. The Zeiss cameras recommended for the Axiolab 5 are good cameras, but they are not able to use the microscope's full optical potential.
AxioCam 208 color: 1/2.1 inch CMOS Sensor, 0,4x C-mount, 8 MP only;

AxioCam 202 mono: 1/1,23 inch CMOS Sensor, 2 MP only
Modern mirrorless system cameras (DSLMs), digital cameras (DSLRs, SLRs) and also special C-mount cameras are usually more powerful and offer excellent image and video quality. They can also be conveniently controlled remotely from a computer, tablet or smartphone.
With our LM digital adapters, these cameras can be attached to the microscope in just a few simple steps. Users can choose either same-brand cameras or other cameras of their choice. A connection via the photo port is generally the preferred option. Thanks to the modular construction of the Axiolab 5, a wide selection of tubes is available for this purpose.
The following are compatible tubes for the LM adapter solutions: the binocular ergo phototube (25512-0000-000, reversed image), the binocular phototube (425520-9010-000, reversed image), the binocular phototube (425520-9020-000, reversed image) and the binocular phototube (425520-9030-000, upright image).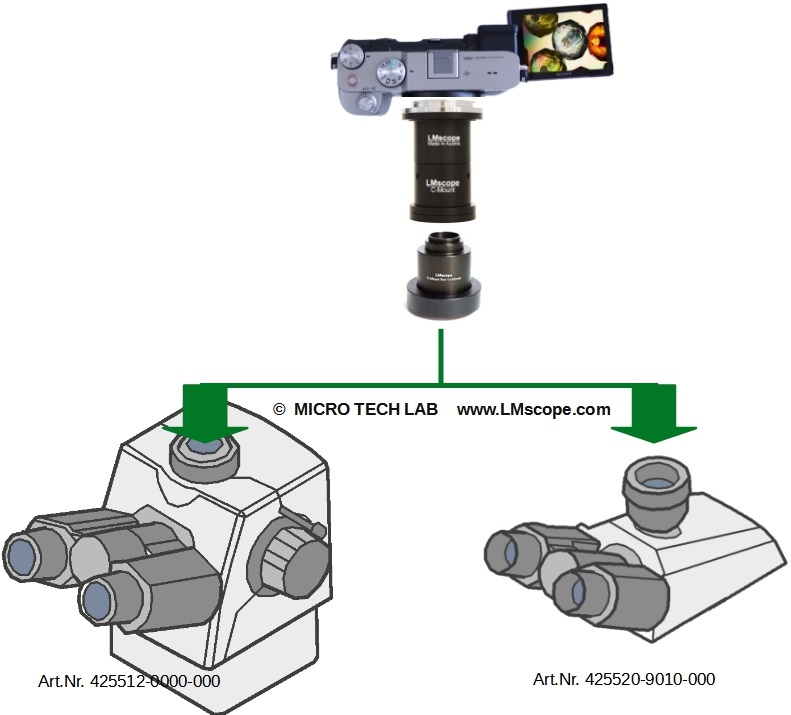 LM microscope adapters are designed for professional use. Depending on the customer's requirements, we can usually offer several adapter versions for a digital camera.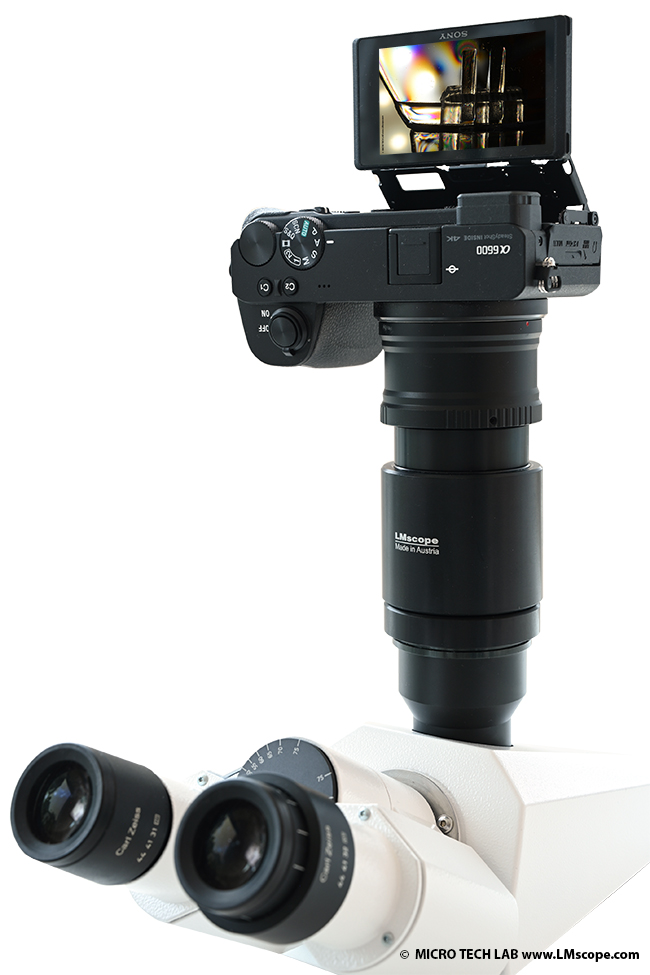 Shown in the image: the compact "standard" adapter version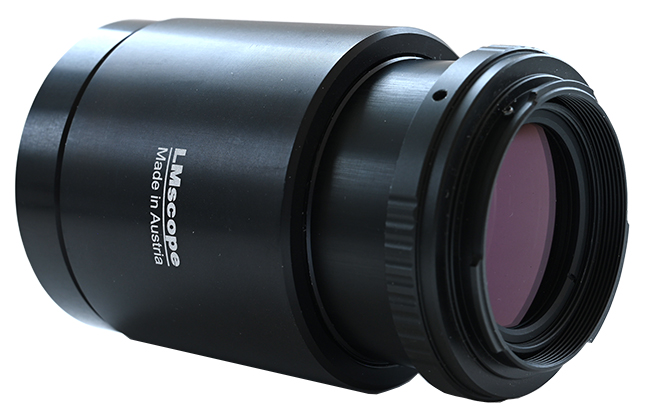 Shown in the image: adapter with integrated polarisation filter
Our "Pro" wide-field adapter solutions are focusable, which means that their modular design enables an optical adjustment of the image viewed through the eyepiece with that of the camera image. In addition, our adapter solutions offer the option of adding multiple accessories for image optimisation, for example optical filters.
For microscopes that don't have a phototube, our adapters can also be used to connect the camera to the eyepiece tube – one eyepiece is removed and the camera-adapter combination put into its place. The image quality is equally good as that achieved with the phototube solution.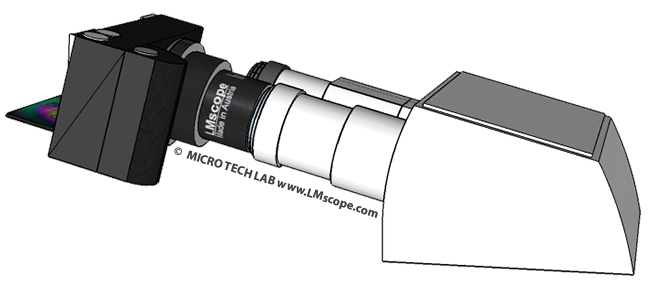 Conclusion: The Zeiss Axiolab 5 offers a high level of optical quality and is also very well manufactured. To take full advantage of the microscope's features, we recommend using camera systems with larger sensors. With the mirrorless system cameras, SLRs or special C-mount cameras that are currently on the market you can achieve a higher level of image quality. The majority of cameras can be controlled remotely from the computer. With our LM microscope adapters, virtually any camera can be attached to the Axiolab 5 – either via the eyepiece tube or the phototube.
Our products make you extremely flexible when it comes to camera selection. Extensive information on the subject can be found on our camera recommendation page.
14.02.2023
New LM Digital Adapter for:
Nikon Z9 / Sony Alpha 7R V / Sony Alpha 1 / Sony FX3 Cinema Line / Sony Alpha 9 II (ILCE-9M2) / Sony Alpha 9 / Nikon D6 / Canon EOS R3 / Canon EOS R6 Mark II / Canon EOS R8 / Sony Alpha 7R IV / Canon EOS R5 / Sony Alpha 7S II / Sony Alpha 7S III / Sony Alpha 7R III / Canon EOS R6 / Nikon Z6 / Nikon Z6II / Sony Alpha 7R II / Nikon Z7 / Nikon Z7II / Canon EOS R / Canon EOS Ra (Astro) / Nikon Z5 / Sony Alpha 7C / Canon EOS RP / Sony Alpha 7S / Canon EOS R7 / Leica SL2-S / Canon EOS R10 / Canon EOS 1D X Mark III / Nikon Z50 / Nikon Z30 / Nikon Z fc / Nikon D850 / Canon EOS 1D X Mark II / Nikon D780 / Olympus OM-1 / Sony Alpha 7III / Olympus OM-D E-M1 Mark III / Nikon D5 / Sony Alpha 6600 / Fujifilm X-H2S / Fujifilm X-S10 / Fujifilm X-E4 / Fujifilm X-Pro3 / Olympus OM-D E-M1X / Sony Alpha 6400 / Sony Alpha 6100 / Sony ZV-E10 / Canon EOS 1D X / Nikon D4s / Olympus OM-D E-M5 III / Canon EOS 90D / Canon EOS 5D Mark IV / Nikon D4 / Nikon D750 / Canon EOS 6D Mark II / Fujifilm X-T4 / Fujifilm X-T3 / Sony Alpha 6300 /