165
Micro-Tech-Lab Newsletter from 20.11.2008

The december issue of our newsletter is dedicated to the topic of photography through a microscope. After receiving an increasing number of enquiries from our customers, we decided that it would be useful to shed some light on choosing a suitable camera for taking images using a microscope.

Using full-frame digital SLR cameras in microscopy

The use of large sensors in microscopy does not have as many advantages as it does in conventional photography. Having a high number of pixels is also not hugely significant, as the image resolution is exclusively determined by the numeric aperture of the lens. Other camera features, on the other hand, such as colour depth, signal to noise ratio and light sensitivity, are far more important.
A whole range of camera components are responsible for creating high-quality microscope photos. Therefore it is important that each of these components is of high quality, as the entire chain can only be as strong as its weakest link. This signal chain consists of a sensor, an amplifier, an analogue-to-digital converter (ADC) and a digital signal processor (DSP).

Picture 1: Signal chain



View Image

When the photon strikes the sensor chip, it is stored as an electrical charge. This electrical charge is proportional to the number of photons present. The analogue voltage is increased by the amplifier before it reaches the analogue-to-digital converter (ADC). Only now does the information exist in digital form. Next, the digital signal processor (DSP) optimises the colour reproduction, and finally the data stream is processed for storage on the flash memory card (CF/MMD card).
As a rule, full-frame digital SLR cameras contain only top-quality components, and for this reason they tend to fall into the higher price bracket. Professional features such as remote control, mirror lock-up, LiveView and HDMI output generally come as standard on these models.
In addition, the colour depth of each colour channel is also important. Each basic colour (red/green/blue ==> RGB) has a resolution of between 12 and 16 bits. The higher this value, the more precise the reproduction of nuances in colour. If this number is multiplied by three (for each of the three basic colours) the result is the total memory depth of the colours that will be reproduced. At a resolution of 14 bits per channel, the result is a colour depth of 42 bits. In comparison, cheap compact cameras have only a 24 bit colour depth. The uncompressed data is stored in RAW format. Since this format has a larger storage requirement, users usually select the JPG format instead, which means that a lot of information is lost. Depending on the JPG image's level of compression, a choice has to be made between storage space reduction and quality.

Overview of some cameras
Format (mm)

Colour depth (bits)

ADC
(bits)

HDMI

LiveView

Number of pixels (megapixels)

Nikon D4

24 x 36

42

14

Yes

Yes

16

Nikon D3

24 x 36

42

14

Yes

Yes

12

Nikon D300

23.6 x 15.8

42

14

Yes

Yes

13

Nikon D7000

23.6 x 15.6

36

12

Yes

Yes

16.2

Nikon D800

24 x 36

42

14

Yes

Yes

36

Canon EOS 5D Mark II

24 x 36

42

14

Yes

Yes

22

24 x 36

42

14

Yes

Yes

21

Canon EOS 650D

22.3 x 14.9

42

14

Yes

Yes

18

Canon EOS 600D

22.3 x 14.9

42

14

Yes

Yes

18

Canon EOS 1000D

22.2 x 14.8

42

14

No

Yes

10

Olympus E3

17.3 x 13

36

12

No

Yes

10

Olympus E-520

17.3 x 13

36

12

No

Yes

1

For professional use in microscopy, we recommend high-quality full-frame digital SLR cameras, particularly in the case of special processes (e.g. fluorescence microscopy). In addition, we offer special LM digital adapters for full-frame sensors, which guarantee optimum illumination. To help make your choice easier, we have created a special page on our website: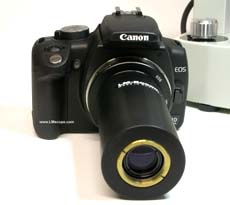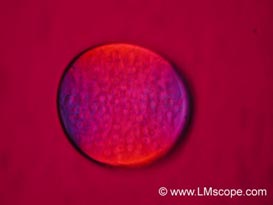 Conclusion:
If microscope photos of extraordinary high quality are important to you, then you should always choose a digital SLR camera with a full-frame sensor. It should be mentioned, however, that cameras with a half-frame sensor or a four-thirds chip can also provide very good results. Here, it is particularly important that the camera used is equipped with a LiveView function and mirror lock-up, as only this will enable you to achieve the optimum level of focus that you require.

A preview of issue 3 of our newsletter:
Improving optical resolution through microscopic mounting media.
New LM Digital Adapter for:
Nikon Z9 / Nikon Z8 / Sony Alpha 7R V / Sony Alpha 1 / Sony FX3 Cinema Line / Sony Alpha 9 II (ILCE-9M2) / Sony Alpha 9 / Nikon D6 / Canon EOS R3 / Canon EOS R6 Mark II / Canon EOS R8 / Sony Alpha 7R IV / Canon EOS R5 / Sony Alpha 7S II / Sony Alpha 7S III / Sony Alpha 7R III / Canon EOS R6 / Nikon Z6 / Nikon Z6II / Sony Alpha 7R II / Nikon Z7 / Nikon Z7II / Canon EOS R / Canon EOS Ra (Astro) / Nikon Z5 / Sony Alpha 7C / Canon EOS RP / Sony Alpha 7S / Canon EOS R7 / Leica SL2-S / Canon EOS R10 / Canon EOS 1D X Mark III / Nikon Z50 / Nikon Z30 / Nikon Z fc / Nikon D850 / Canon EOS 1D X Mark II / Nikon D780 / Olympus OM-1 / Sony Alpha 7III / Olympus OM-D E-M1 Mark III /