185
LM wide-field compact camera adapters
Compact cameras and camcorders are among the most popular types of digital cameras due to their convenient size, ease of operation and the numerous applications they offer. Because of the integrated lens systems being used, they are also particularly well suited for mobile use.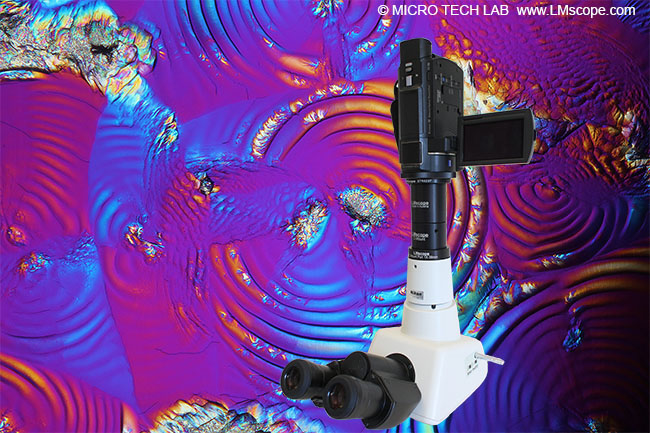 We have developed a special LM compact camera adapter which helps to easily connect compact cameras and camcorders with microscopes. The best and most stable connection to microscopes is possible with camcorders and compact cameras with lenses that are housed entirely within the camera body with filter threads. With these cameras the LM compact camera adapter can be mounted directly on to the microscope.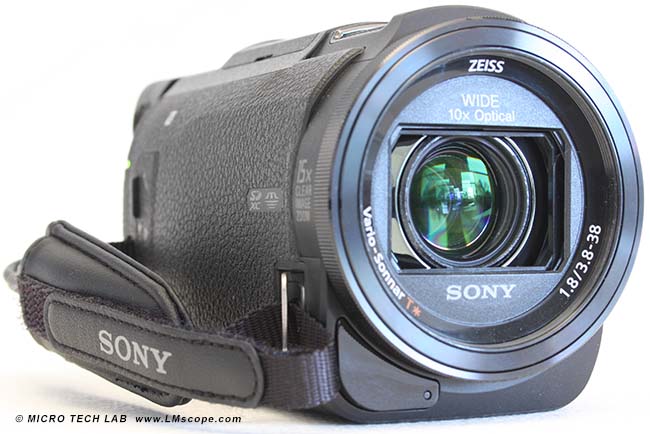 Importantly, a firm mechanical connection has the advantage of effectively eliminating any unwanted stray light. Cameras and camcorders that do not have a filter thread can be attached to the LM compact camera adapter using an angle bracket as a connector.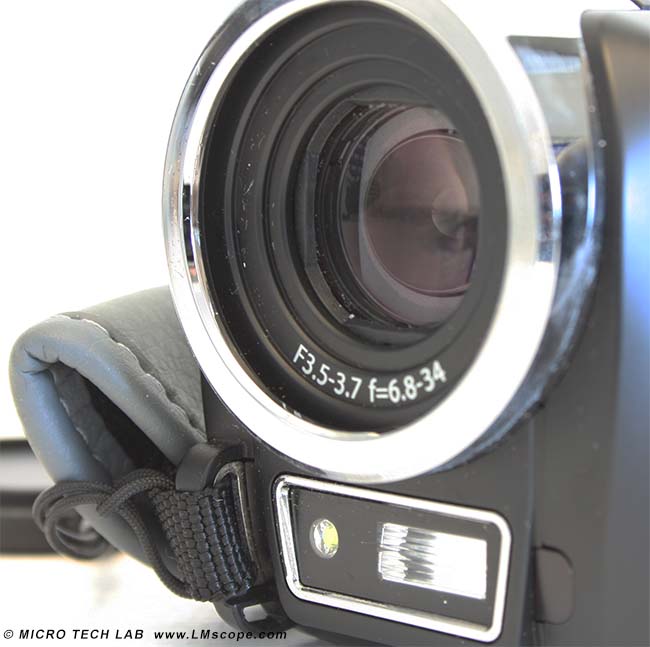 The angle bracket features a heavy-duty, machined aluminium panel that has a maximum mounting height of 115 mm. This enables the use of cameras on the microscope even if the lens is in the fully extended position.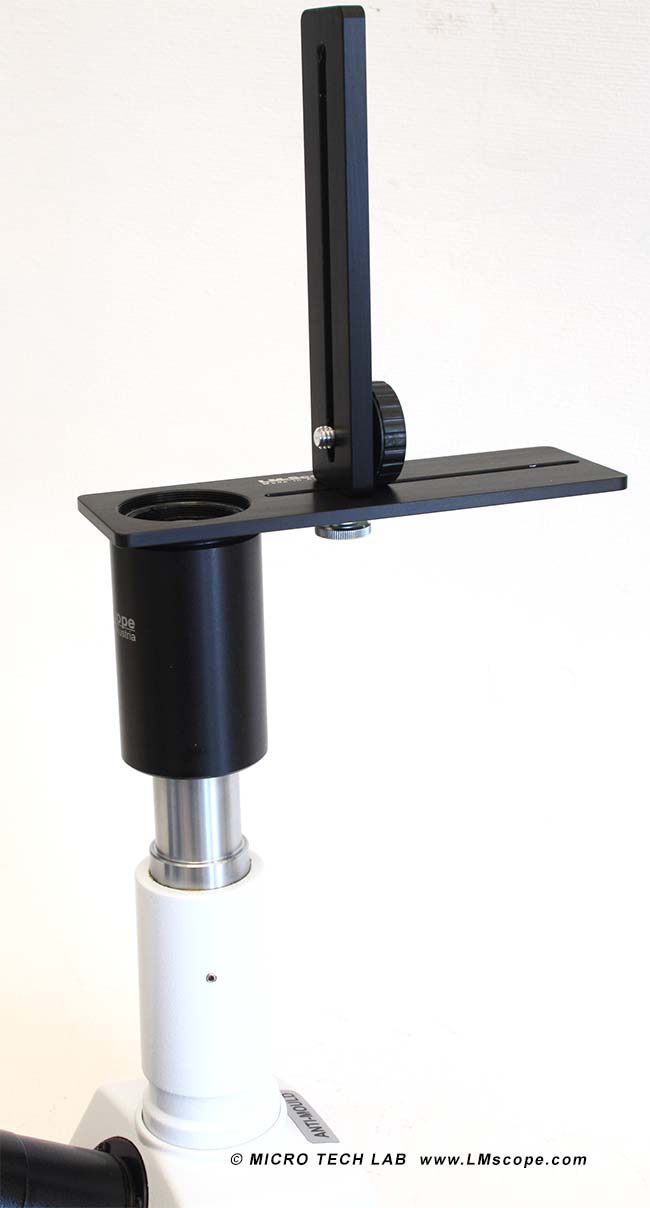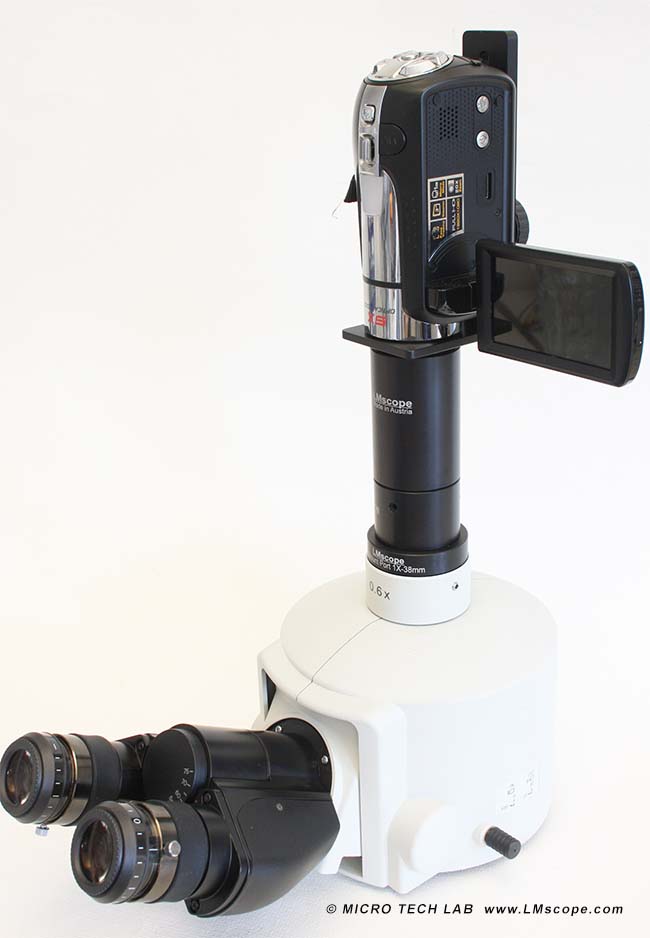 Our LM wide-field compact camera adapter has a high-quality, plan achromatic optical system, and all of its mechanical components are manufactured from a special aluminium alloy. That exceptional construction makes our products highly durable and long-lasting since they are designed for daily use in professional environments.
Of course, the image quality that can be achieved depends to a great extent on the camera being used. Here, preference goes to compact cameras and camcorders with internal, non-extendable lenses equipped with a filter thread. This configuration ensures a firm mechanical connection to the microscope, which prevents stray outside light from entering.
Using our LM wide-field compact camera adapters, camcorders and compact cameras are easily attached to the eyepiece tubes or photo tubes of almost every conventional microscope.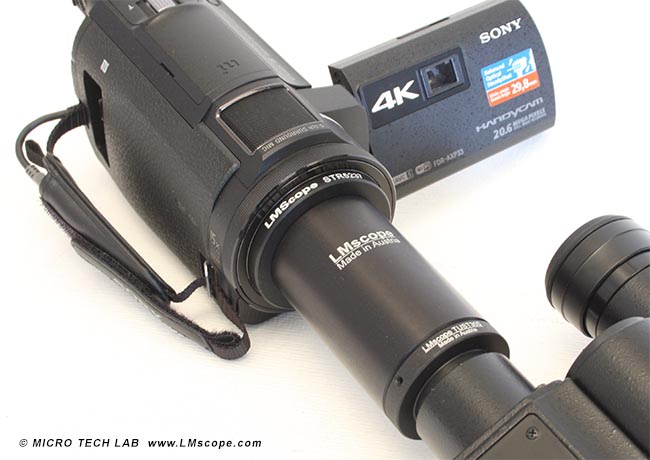 Our LM wide-field camcorder adapter has an M37 filter thread on the camera side. For cameras with different thread sizes, an additional step-down ring is needed (e.g. STR5537, STR5837, STR5237 etc.)
We also offer 1x C-mount ports for many microscopes not equipped with a standard photo tube. In such cases, please email us a photograph of the instrument you are using.
For users who place high value on image quality, however, we continue to recommend cameras that have interchangeable lens mounts (DSLR, system or C-mount cameras), as these still yield significantly better performance in photomicrography applications.
16.03.2016
Ordering code

Product description

Price

Price

Available




DA37WTC_DFA

LM Digital Adapter with integrated plan achromatic hard-coated optic with C-Mount microscope thread (25.4mm) and for 23.2mm eyepiece or phototube and M37 thread



Operating Instructions




DA37WT_DFA

LM Digital Widefield Adapter with special hard anti-reflection coating, plan achromatic optics for 23.2mm eyepiece or phototube



Operating Instructions

For EU (European Union) VAT (IVA, TVA) not included
New LM Digital Adapter for:
Nikon Z9 / Sony Alpha 7R V / Canon EOS R3 / Sony Alpha 7R IV / Canon EOS R5 / Canon EOS R6 / Nikon Z6 / Nikon Z6II / Nikon Z7 / Nikon Z7II / Canon EOS R / Canon EOS Ra (Astro) / Nikon Z5 / Canon EOS RP / Canon EOS R7 / Leica SL2-S / Canon EOS R10 / Nikon Z30 / Nikon Z fc / Olympus OM-1 / Olympus OM-D E-M1 Mark III / Fujifilm X-H2S / Pentax K-1 / Fujifilm X-S10 / Fujifilm X-E4 / Fujifilm X-Pro3 / Olympus OM-D E-M1X / Sony Alpha 6400 / Olympus OM-D E-M5 III / Fujifilm X-T4 / Fujifilm X-T3 / Canon EOS M6 Mark II / Panasonic Lumix DC-G9 / Canon EOS M200 / Canon EOS M50 Mark II / Canon EOS M50 / Olympus OM-D E-M5 II / Leica M11 / Leica M10 Monochrom / Olympus PEN-E-PL9 / Leica M10 / Olympus PEN-F / Olympus OM-D E-M5 Mark II / Fujifilm X-T1 / Panasonic Lumix DC-GH5S / Olympus OM-D E-M10 Mark II / Panasonic Lumix DMC-G81 / Fujifilm X-A5 / Panasonic Lumix DMC-GX9 / Panasonic Lumix DMC-GX80 / Olympus OM-D E-M10 Mark III / Fujifilm X-T2 / Fujifilm X-H1 / Fujifilm X-T20 / Fujifilm X-E3 / Fujifilm GFX 50S / Fujifilm X-E3 / Fujifilm X-Pro2 / Fujifilm X-T100 / Fujifilm X-A3 / Panasonic Lumix DMC-FZ38 /