Photographing through a microscope eyepiece
In the simplest case, it is possible to take freehand images through a microscope eyepiece.
Depending on the type of camera and lens used, with some samples, useable results may be achieved.
Particularly for the hobbyist, if only a low quality photograph needs to be produced, then this method is worth a try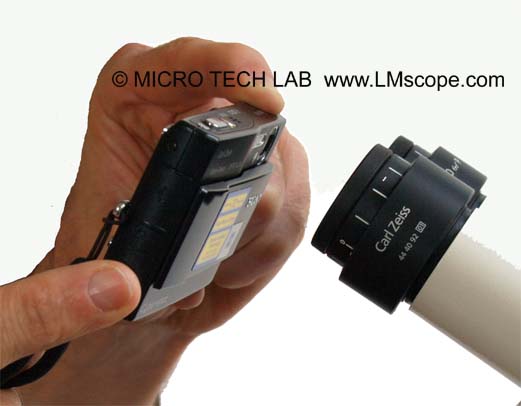 Picture 1: Camera is held by hand over the eyepiece
Fundamentally, it is evident that compact cameras and camcorders with lenses with smaller front elements that are not telescopic are more suitable. The best results are provided by very small compact cameras whose lenses are integrated in the camera body. SLR camera lenses cause the most problems. These lenses mainly have larger maximum apertures and therefore have large diameter lens elements. This results in peripheral darkening and some aberrations. Due to the large number of lens elements in the lens unit the image quality is considerably reduced.
The greatest problem with freehand photography via a microscope is posed by motion blurring. Even when the hand is very steady, it will still move a few millimetres here and there. When pressing the shutter release button in particular, the camera is likely to shake. By using the shutter delay or self timer function on the camera, the shutter release is automatically delayed for a few seconds. This trick reduces blurring.
Finding the right position for the digital camera over the microscope's optical axis is also not all that easy and can be quite arduous. Often it can take several minutes to find the optimum position.
Advantages of taking freehand photographs over the eyepiece:
• Unbeatable low price, as there is no optical adjustment between the microscope and the digital camera.
Disadvantages:
Conclusion:
If superior image quality and ease of use is important to you, then using an LM eyepiece adapter is the best solution. The best image quality is achieved by using a digital SLR camera with Live View function without a lens unit. Only the camera body is required. The LM digital adapter projects the image directly onto the camera's sensor chip. No unnecessary lens elements will then be in the light path. The optimum LM digital adapter is used according to the size of the camera's sensor.
Caution! This manual is protected by copyright. Unauthorised reproduction thereof, in whole or in part, is punishable by law. Only use with MICRO TECH LABís approval.
New LM Digital Adapter for:
Nikon D850 / Sony Alpha 7III / Sony Alpha 9 / Nikon D5 / Sony Alpha 7S II / Sony Alpha 7R III / Sony Alpha 7R II / Sony Alpha 7S / Canon EOS 5D Mark IV / Nikon D750 / Canon EOS 6D Mark II / Sony Alpha 6300 / Sony Alpha 6500 / Nikon D500 / Canon EOS 1D X / Nikon D810 / Nikon D4s / Nikon D800 / Nikon D800E / Nikon D4 / Nikon Df / Nikon D610 / Nikon D600 / Canon EOS 6D / Sony Alpha 99 II (SLT-A99 II) / Canon EOS 5DS R ( without low-pass filter) / Olympus OM-D E-M1 Mark II / Canon EOS 80D / Canon EOS 5DS / Sony Alpha 77 II / Canon EOS 70D / Nikon D7200 / Pentax K-1 Mark II / Canon EOS 200D / Canon EOS 800D / Rebel T7i / Canon EOS 77D / Canon EOS 5D Mark III / Canon EOS 60D / Sony Alpha 7R / Sony Alpha 7 / Nikon DS-Qi2 (Microscope Camera) /

Related Links

--