525
Example application: Leica M320 microscope with phototube (C-mount port), Canon EOS DSLR and Apple iPad Pro
Attach the camera of your choice to the Leica M320 microscope. Unleash the full potential of Leica's high-quality optics combined with a large-sensor camera system (APS-C and full-frame). Our LM microscope adapters will work with almost any DSLR/DSML camera, thus allowing you to realise optimum performance and excellent image quality.
Our customers are active in a variety of different fields. This article takes a closer look at a special area of application:
Surgery in the field of urology: video documentation of a surgical procedure with image transfer via Wi-Fi to an iPad Pro
In the internet age, high-quality photographic and video methods are among the cornerstones of well-equipped medical practices and treatment centres. Wireless, fast and encrypted data communication is a key aspect in the medical field. In our case, the live image of the operation performed by the surgeon can be viewed on the iPad or recorded on a tablet PC.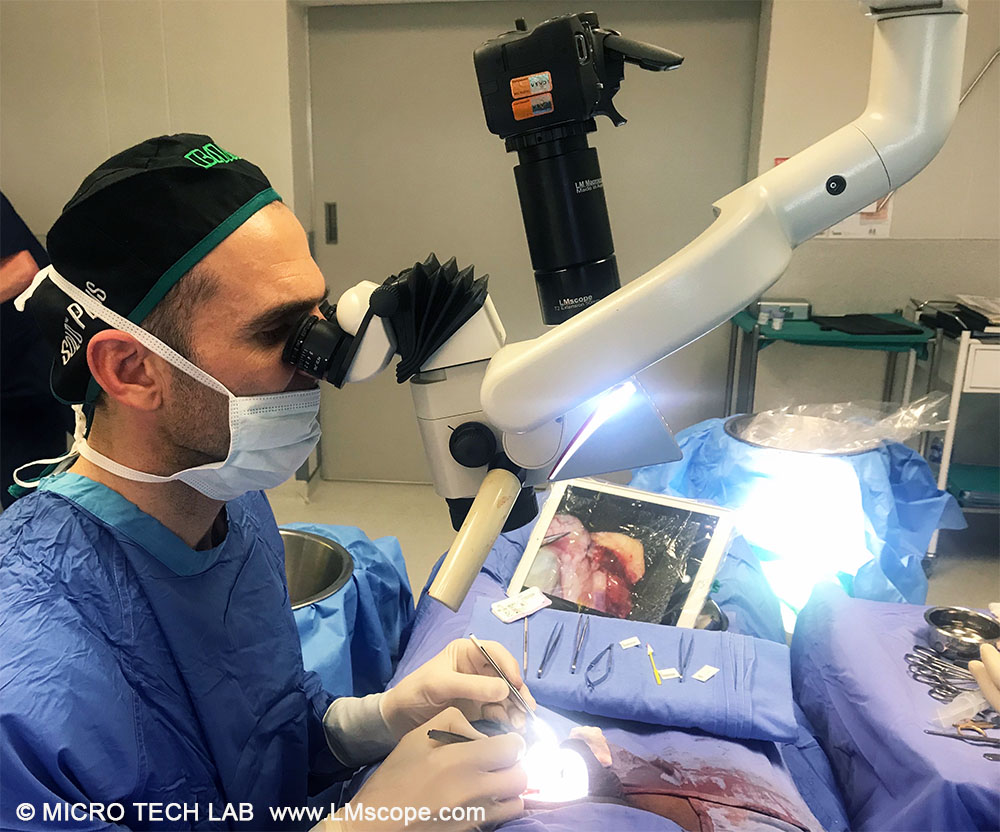 Even a combination of video and still images is possible without complicated steps or additional tools. Image and video material can be used for training, demonstration and documentation purposes in many different settings, and sharing data within a team or with external parties is very simple and straightforward with Apple's easy-to-use devices.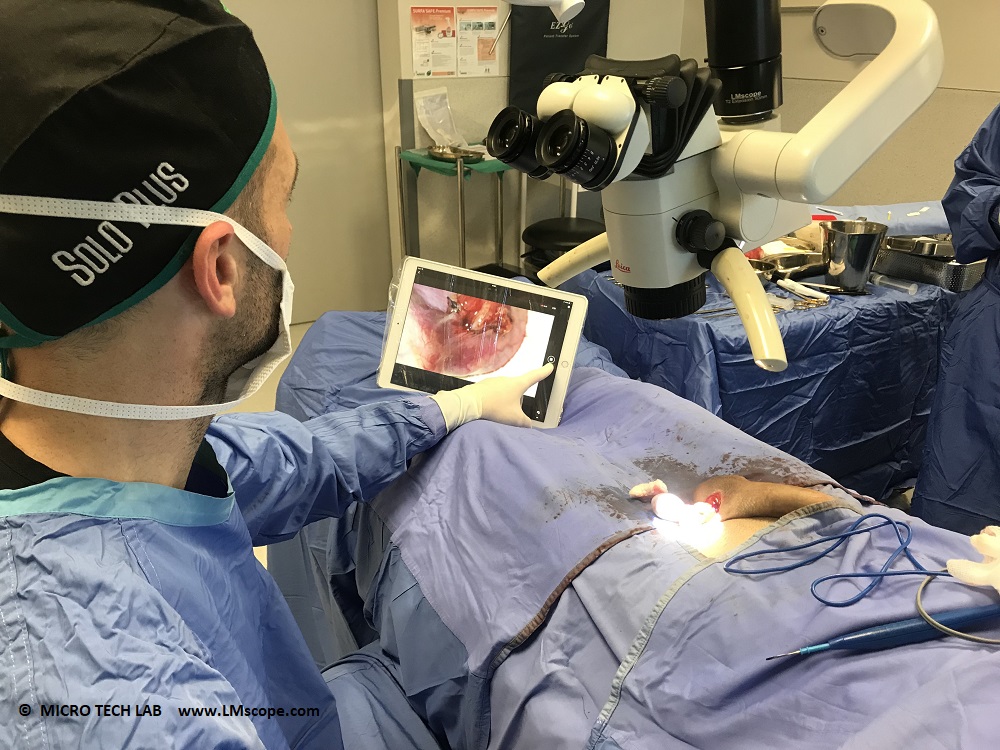 The LM digital SLR adapter solution features plan achromatic precision optics, which enables the camera to capture the largest possible field of view without any peripheral darkening. The adapter works with both APS-C and full-frame cameras. Thanks to its two-part design, the adapter solution also offers the possibility to focus the image, thereby enabling an optimal alignment of the image viewed through the eyepiece with that of the camera.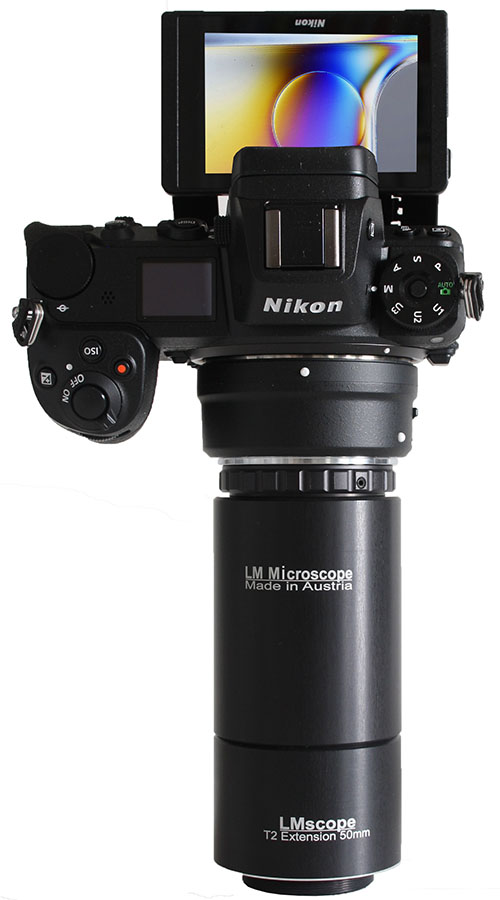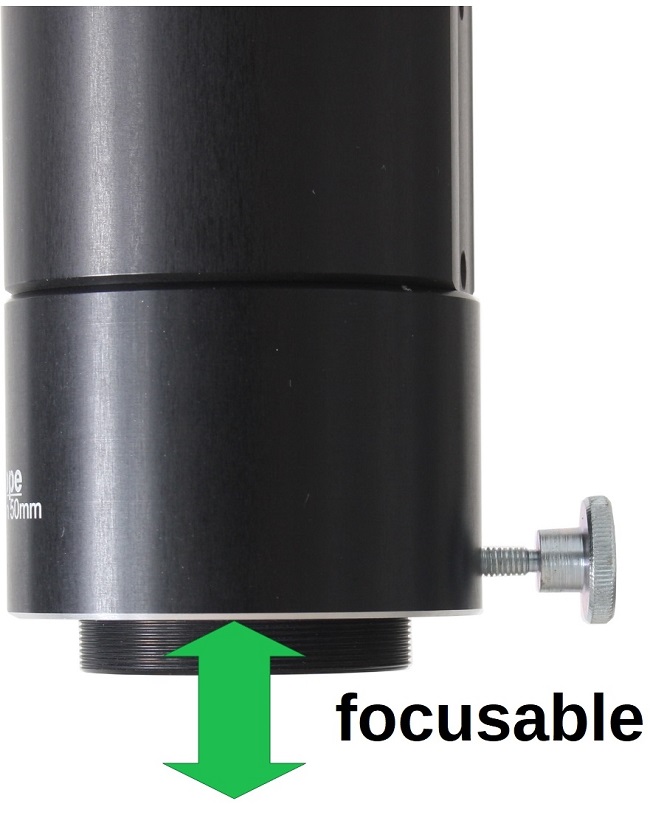 Affordable and powerful tablets or smartphones can be used to control the camera remotely and transfer images for live display on external screens.
In the lower and mid-tier price ranges, there is a wide selection of Android tablets to choose from. However, for excellent screen performance and ease of operation and reliability, we recommend the Apple iPad Pro tablets. Equipped with a large high-resolution retina display (measuring either 11 or 12.9 inches) and a powerful A12X Bionic CPU, the iPad Pro models are excellent for being able to concentrate on the task at hand.
Modern DSLR and DSLN cameras are incredibly powerful and versatile, which enables the user to save costs and achieve a higher level of image quality. DSLR cameras with large APS-C sensors are offered from as low as € 300. Today, live video recording in HD or even Ultra HD/4K quality and exporting the live feed to an external monitor or projector via HDMI cable has become a standard feature in these cameras. In most cases, they are also capable of wirelessly transferring the live image via Wi-Fi to another device. Tablets and smartphones can also be used to receive and display live images transmitted from the camera, and they are also great devices for controlling the camera remotely, either via a cable connection (USB) or a wireless network (Wi-Fi). This is how modern photographic and video documentation technology looks like: simple, uncomplicated, versatile and without a bank-breaking price tag. And of course, photos can also be taken at full resolution. Visit our website for extensive information resources on making a camera selection and for test reports: Camera recommendations / Camera ranking
We will gladly provide tailored advice. Contact
The camera body is attached to the microscope via the bayonet mount, using our LM adapter solution. This modular system offers future-proof functionality: if the camera ever breaks or if you want to upgrade to a more advanced model, you only need to change the camera body, but can still use all the other components. Assembly and set-up is very easy; you don't need an expert to help you. You can also work with just the camera – a computer is not required.
If you would like to switch to another camera brand, you only need to change out the bayonet adapter, which is a very inexpensive part. For more information, click here.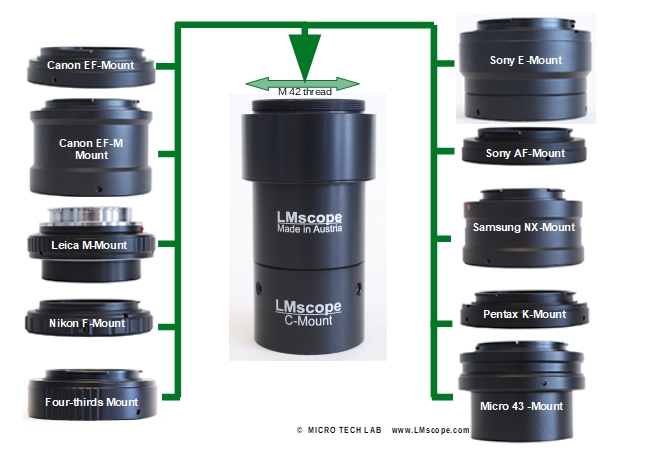 More information on our adapter solution is available here.
07.04.2019
Ordering code

Product description

Price

Price

Available




DD6XC

LM Digital SLR Adapter for full frame sensor with special hard anti-reflection coating, plan achromatic optics with C-Mount thread, inclusive Camera Lens Mount Adapter



Info

For EU (European Union) VAT (IVA, TVA) not included
New LM Digital Adapter for:
Nikon Z9 / Nikon Z8 / Sony Alpha 7R V / Sony Alpha 1 / Sony FX3 Cinema Line / Sony Alpha 9 II (ILCE-9M2) / Sony Alpha 9 / Nikon D6 / Canon EOS R3 / Canon EOS R6 Mark II / Canon EOS R8 / Sony Alpha 7R IV / Canon EOS R5 / Sony Alpha 7S II / Sony Alpha 7S III / Sony Alpha 7R III / Canon EOS R6 / Nikon Z6 / Nikon Z6II / Sony Alpha 7R II / Nikon Z7 / Nikon Z7II / Canon EOS R / Canon EOS Ra (Astro) / Nikon Z5 / Sony Alpha 7C / Canon EOS RP / Sony Alpha 7S / Canon EOS R7 / Leica SL2-S / Canon EOS R10 / Canon EOS 1D X Mark III / Nikon Z50 / Nikon Z30 / Nikon Z fc / Nikon D850 / Canon EOS 1D X Mark II / Nikon D780 / Olympus OM-1 / Sony Alpha 7III / Olympus OM-D E-M1 Mark III / Canon EOS R100 / Sony Alpha 6700 / Nikon D5 / Sony Alpha 6600 / Fujifilm X-H2S / Fujifilm X-S10 / Fujifilm X-E4 / Fujifilm X-Pro3 / Olympus OM-D E-M1X / Sony Alpha 6400 /