The mirrorless system camera Pentax Q – the most lightweight camera with an interchangeable lens mount currently available
When used with our LM macro 80 close-up lens, its small, handy design and low weight make the Pentax Q an ideal companion for outdoor applications.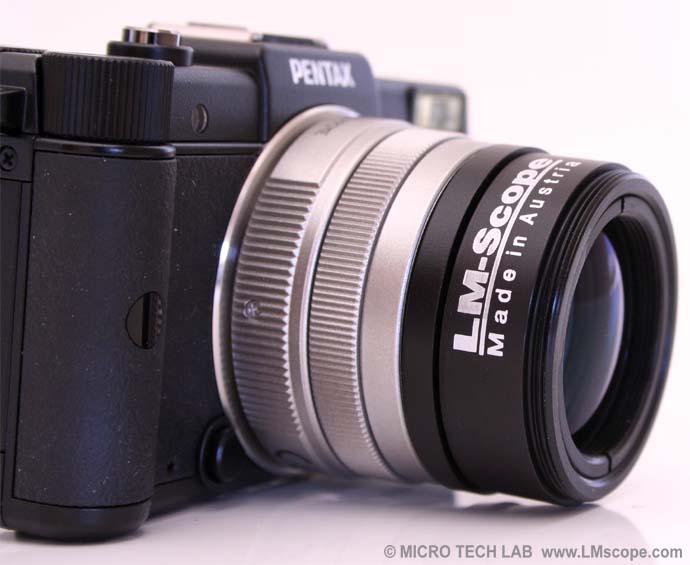 The main advantages of the Pentax Q are its light weight and small size. It is therefore perfectly designed for outdoor applications where it is impossible, or at least undesirable, to lug too much weight around. As there is no Pentax macro lens yet, the LM macro close-up lenses are the only possibility of taking macro images with Pentax Q.
We have tested the Pentax Q (lens 01 Standard Prime – SMC 1:1.9; 8.5 mm; 40.5 mm filter thread) with our two LM macro close-up lenses. The FOV (field of view) with the LM macro 80 close-up lens is 50 mm x 27 mm. Using the LM macro 40 close-up lens, the FOV is 27 mm x 20 mm.
If you lie in wait for insects in the grass, it would be handy if the Pentax Q had a rotatable display. Since this is not the case, using a display mirror is the next best option. The colour depth is 36 bit (in jpeg you will get only 8 bits per channel as that is the limitation of the 8 bit file format) . A good signal-to-noise ratio can only be achieved at low ISO values.
The Pentax Q does not score very high marks in colour reproduction. Certain colours appear altered: orange and yellow look greenish, while cyan and magenta are too dark.
If we could submit a wish list to Pentax, we would ask for a faster continuous advance function (currently five frames per second).
Overall, we like the Pentax Q for macrophotography applications and would definitely bring it along on outdoor excursions.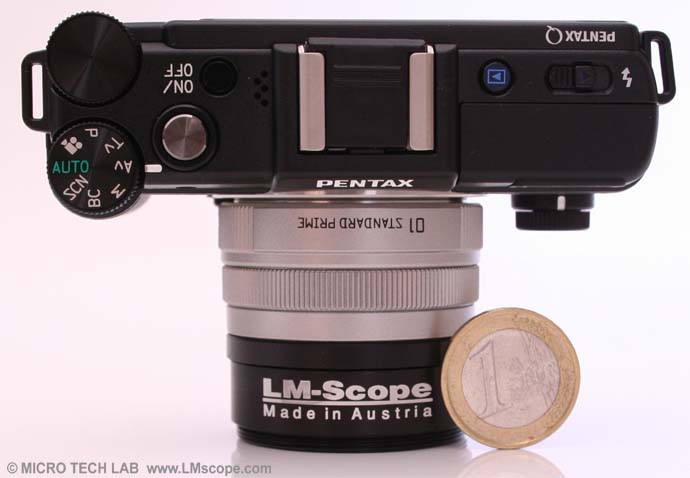 12.06.2012
Ordering code

Product description

Price

Price

Available

DMLDSLR40

LM Macro 40 - close-up lens 40mm (37mm thread)



Data Sheet0
Operating Instructions1


DMLDSLR40S

Set LM Macro 40: consists of two LM Macro 80 connected with LM Connection Ring M40 and LM Filter Step Down Ring



Data Sheet0
Data Sheet1
Data Sheet2
Operating Instructions3


DMLDSLR80

LM Macro 80 - close-up lens 80mm (37mm thread)



Data Sheet0
Operating Instructions1


Makrostativ3

LM macro stand 3 with an extremely stable profile pillar with a length of 500mm, precise height adjustment with rack and pinion, quick coupling with quick-release plate, both black anodized and a black and white removable object disk



Data Sheet

For EU (European Union) VAT (IVA, TVA) not included
New LM Digital Adapter for:
Pentax K-5 / Pentax K-3 II / Pentax K-500 / Pentax K-S2 / Pentax K-r / Pentax K-5 II / Pentax K-5 IIs / Pentax K-3 / Pentax K-50 / Pentax K-S1 / Pentax K-x / Pentax K-7 / Pentax RS1000 / Pentax RZ10 / Pentax RS1500 / Pentax S1 / Pentax A40 / Pentax S12 / Pentax X70 / Pentax Optio P70 / Pentax Optio P80 / Pentax Optio W80 / Pentax Optio H90 / Pentax Optio I-10 / Pentax Optio W90 / Pentax Optio X90 / Pentax M60 / Pentax E60 / Pentax W60 / Pentax Optio E70L / Pentax Optio E70 /

Related Links

--