238
Photography with a display mirror on the micro- or macroscope. A highly practical accessory for cameras without a moveable display
Once you have gotten used to working with a rotatable display on a camera, it is difficult to do without the convenience! Since unfortunately many cameras are not equipped with this useful additional feature as standard, we set out in search of alternatives. And lo and behold, display mirrors can be retrofitted at a reasonable price to almost every camera! The only prerequisite is a camera stand socket.
This simple little mirror significantly improves digital cameras with "Live View" function that do not have a moveable display. It makes photography easier both when working on the microscope and with macro lenses out in the field. When hunting for insects, the mirror makes it possible to select the optimum perspective while maintaining a comfortable body position. No additional external control monitor is therefore needed for ergonomic work on the microscope.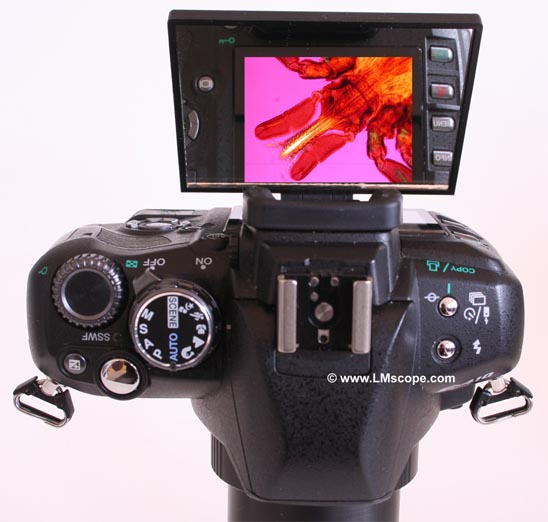 The mirror is fastened to the camera body with the camera stand socket screw. This simple assembly enables the mirror to be positioned to the right height. It is aligned on both sides by means of the track on the rear of the mirror.
A simple hinge joint makes it possible to adjust the mirror to the optimum setting in accordance with the desired angle.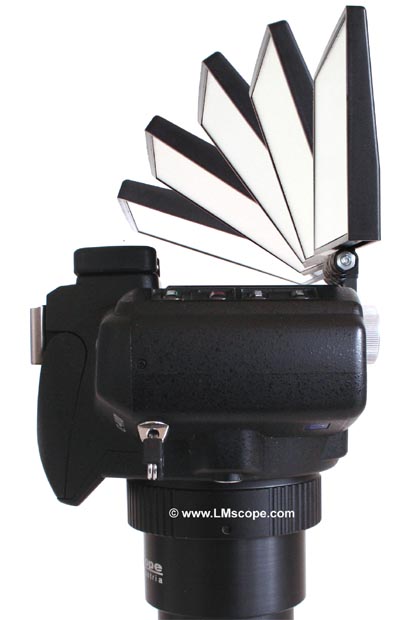 Conclusion: A must-have for anyone whose camera is not equipped with a moveable display. The attractive price of around € 18.00 makes the mirror affordable for every budget.
27.06.2011
New LM Digital Adapter for:
Nikon D6 / Canon EOS 1D X Mark III / Canon EOS 1D X Mark II / Nikon D5 / Canon EOS 1D X / Nikon D4s / Canon EOS 5D Mark IV / Nikon D4 / Nikon D810 / Nikon D800 / Nikon D800E / Nikon Df / Nikon D610 / Nikon D600 / Canon EOS 6D / Canon EOS 5DS R ( without low-pass filter) / Canon EOS 5DS / Nikon D7200 / Canon EOS 5D Mark III / Nikon DS-Qi2 (Microscope Camera) / Nikon D3x / Olympus OM-D E-M1 / Nikon D3S / Canon EOS 5D Mark II / Nikon D7100 / Pentax K-5 / Canon EOS 1D Mark IV / Nikon D7000 / Canon EOS 7D Mark II / Canon EOS 2000D / Rebel T7 / Canon EOS 7D / Canon EOS 550D / Rebel T2i / Kiss X4 Digital / Canon EOS 1300D / EOS Rebel T6 / Canon EOS 4000D / Canon EOS 100D / Nikon DS-Ri2 (Microscope Camera) / Canon EOS 50D / Canon EOS 1200D / EOS Rebel T5 / EOS Kiss X70 / Canon EOS 1100D / Rebel T3 / Sony Alpha 68 / Canon EOS 1D Mark III / Canon EOS 40D / Pentax K-3 II / Pentax K-500 / Nikon D700 / Nikon D3 / Canon EOS 1000D / Digital Rebel XS / Canon EOS 1Ds Mark III / Pentax K-r / Pentax K-5 II / Pentax K-5 IIs / Pentax K-3 / Pentax K-50 / Pentax K-S1 / Sony Alpha 35 / Pentax K-x / Olympus Pen E-PM2 / Canon EOS M3 / Canon EOS 500D / Digital Rebel T1i / Nikon D300 / Olympus E-520 / Canon EOS 450D / Digital Rebel XSi / Olympus E-420 / Olympus E-450 / Canon EOS M / Nikon D3500 / Nikon D3400 / Olympus E-510 / Olympus E-410 / Sony Alpha 700 / Fujifilm X-E1 /