299
Explaining the world to children – with the Breukhoven BMS 76420 entry-level/students' microscope for around € 160.
It doesn't take much to stimulate the interest of children in microscopy: a cheap, easy to operate microscope, some exciting specimens and a patient adult. It is also very simple to attach a digital camera (SLR, system or USB camera) to discuss specimens in groups such as school classes.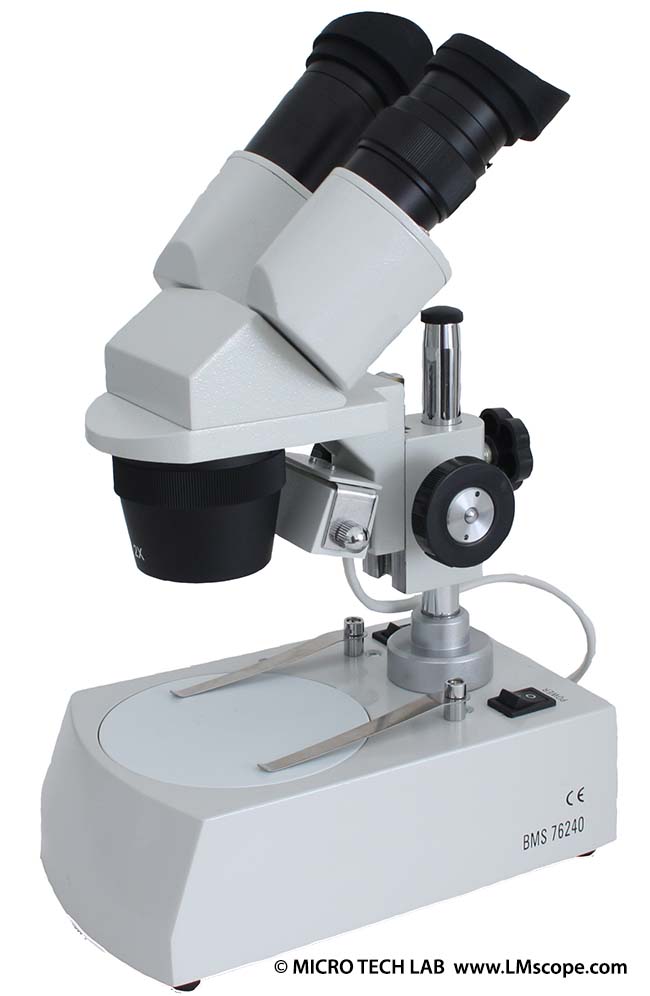 A good example of a suitable microscope is the Breukhoven BMS 76420 – a stereo microscope in the lower price category (approx. € 160) which, however, has good optical qualities. The build quality is satisfactory and it even offers two different magnifications (20x and 40x). Anyone needing more variability and a stronger optical performance (200x lens) should consider the Euromex Novex Zoom RZ, which is available for around € 800.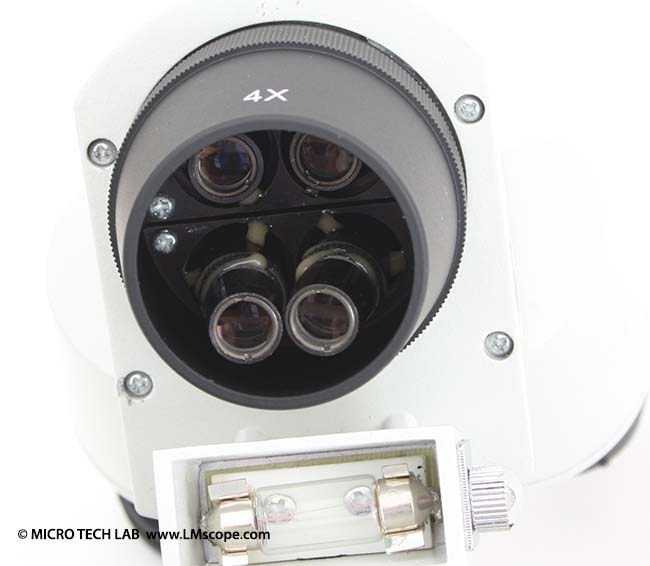 Transmitted light and incident light are available for illumination purposes.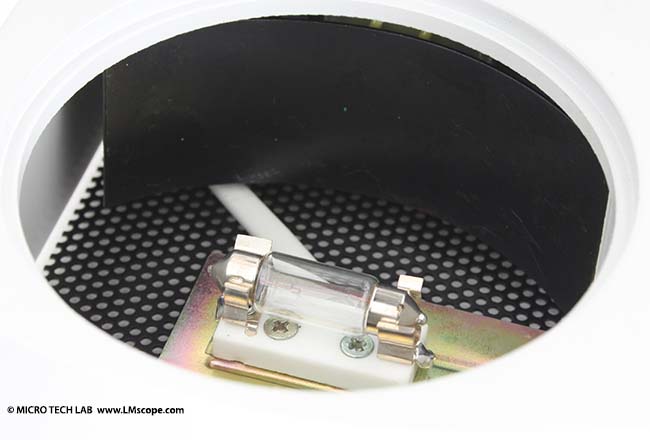 The specimen stage has enough room for smaller objects (in this image a bee's leg), but to view larger specimens, the stand column would need to be slightly longer.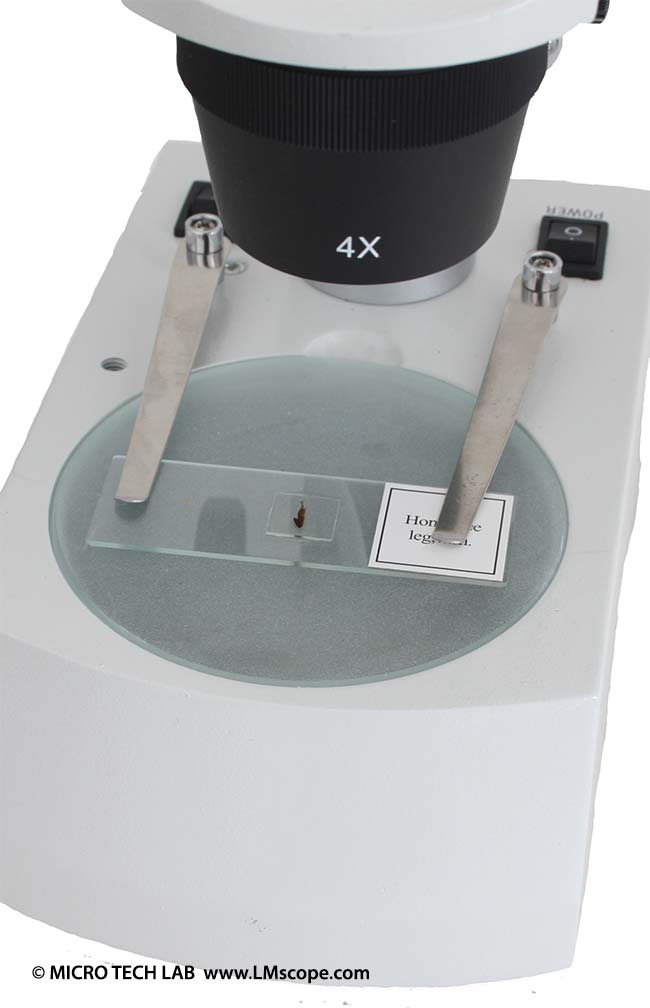 The external diameter of the eyepiece differs somewhat from the standard measurement (30 mm). One eyepiece can be removed: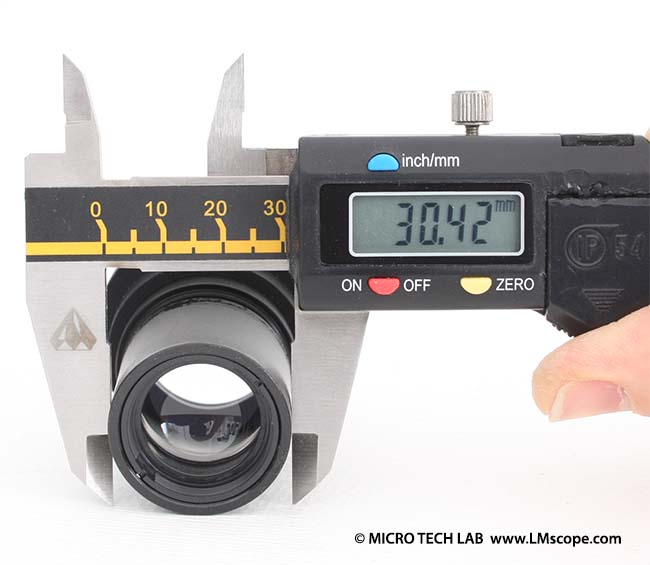 This makes it possible to attach a camera, so as to show the children the specimens on a monitor or even a projector screen. Especially during lessons, this is a very convenient feature, since all students will be able to see the specimens irrespective of whether there is a microscope available for them or not.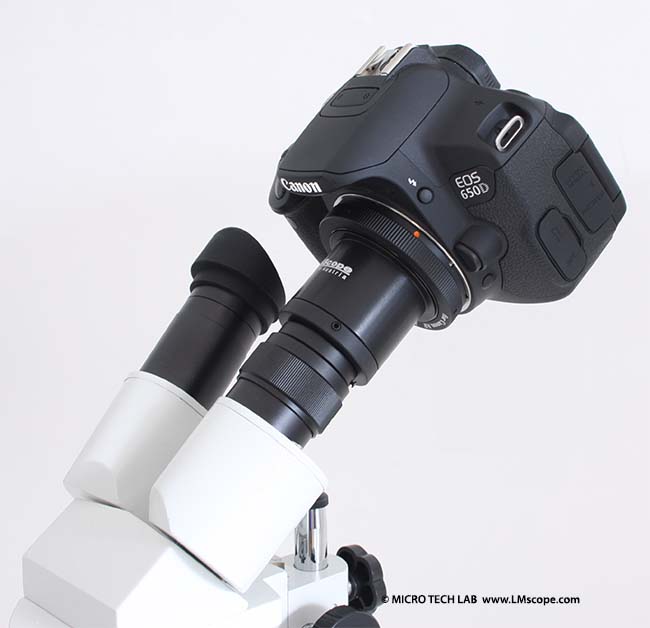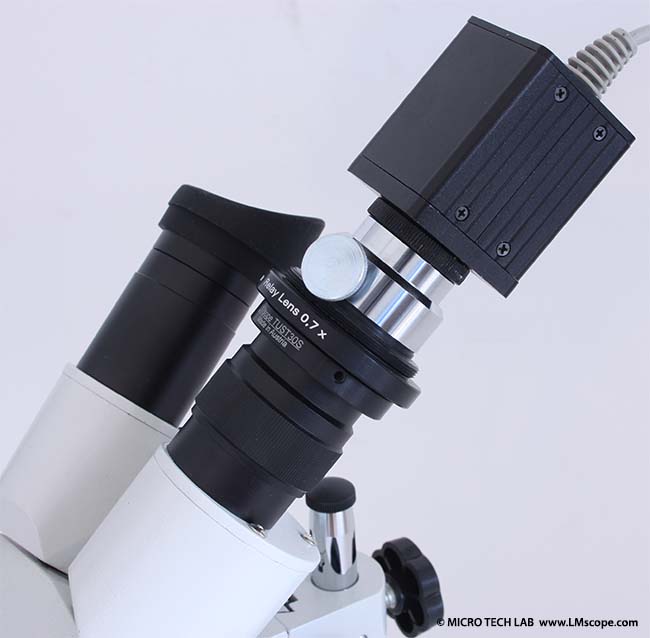 In the first image we have attached a Canon EOS 650D to the microscope using an LM DSLRCT digital adapter and a TUST30.5S.
The second image shows the adapter solution for a USB camera (sensor size: 2/3"). For this, an LM RelayLens07T and a TUST30.5S are required.
We have taken a few sample images with the Breukhoven BMS and a Canon EOS 650D:
Leaf veins: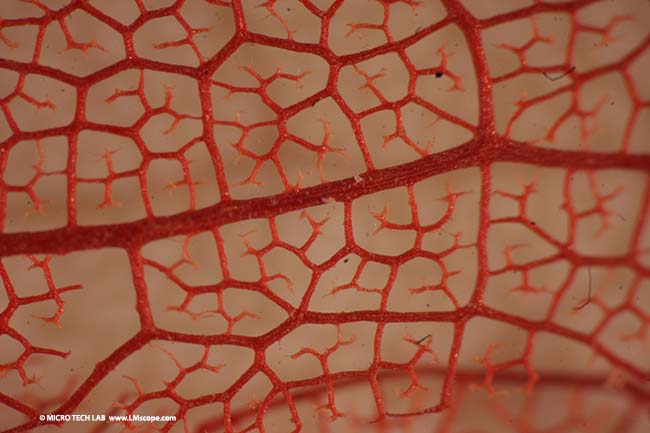 Computer chip, circuit board or strip conductors: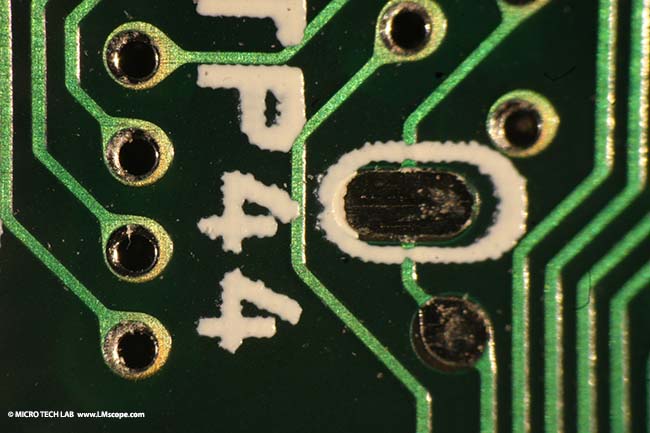 Eyes of a dead spider: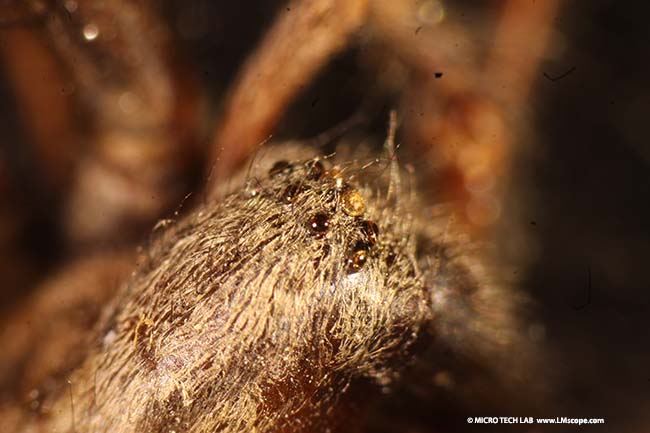 Differences to higher priced microscopes:
Higher priced microscopes have high-aperture objectives with large lenses and diameters.
Microscopes in the upper quality segment offer more magnification options (20x and 30x). They usually have a microscope body with integrated zoom. The advantage of this is an infinitely adjustable magnification (in most cases from 6x to 50x). Although the zoom lens may offer more convenience, the image quality generally does not improve. The complex lens structure in lower priced microscopes (under € 2,000) often exhibits clearly visible flaws in the image.
The stand column is longer in higher priced microscopes, such that larger specimens can also be examined without difficulty..
Cheaper instruments typically do not have an extra phototube for connecting the microscope to a camera.
LED illumination is only available on microscopes above a certain price level.
Conclusion:
Considering the price, the optical characteristics of the Breukhoven BMS 76240 are more than adequate. Thanks to its ease of use (only two magnifications) it is especially well suited for children. The instrument is certainly an option for primary school students. The magnifications are sufficient to show the children exciting details of interesting specimens.
19.09.2013
New LM Digital Adapter for:
Nikon Z9 / Nikon Z8 / Sony Alpha 7R V / Sony Alpha 1 / Sony FX3 Cinema Line / Sony Alpha 9 II (ILCE-9M2) / Sony Alpha 9 / Nikon D6 / Canon EOS R3 / Canon EOS R6 Mark II / Canon EOS R8 / Sony Alpha 7R IV / Canon EOS R5 / Sony Alpha 7S II / Sony Alpha 7S III / Sony Alpha 7R III / Canon EOS R6 / Nikon Z6 / Nikon Z6II / Sony Alpha 7R II / Nikon Z7 / Nikon Z7II / Canon EOS R / Canon EOS Ra (Astro) / Nikon Z5 / Sony Alpha 7C / Canon EOS RP / Sony Alpha 7S / Canon EOS R7 / Leica SL2-S / Canon EOS R10 /