276
Microphotography with Pentax K-5
We have already read a great deal about Pentax DSLRs, but we have never tested them for microscope applications. For this reason we thought that it was about time we started a series of tests using Pentax cameras. The first Pentax we tested was the K-5, which has been on the market for quite a while, and we will look at the K-5 II next.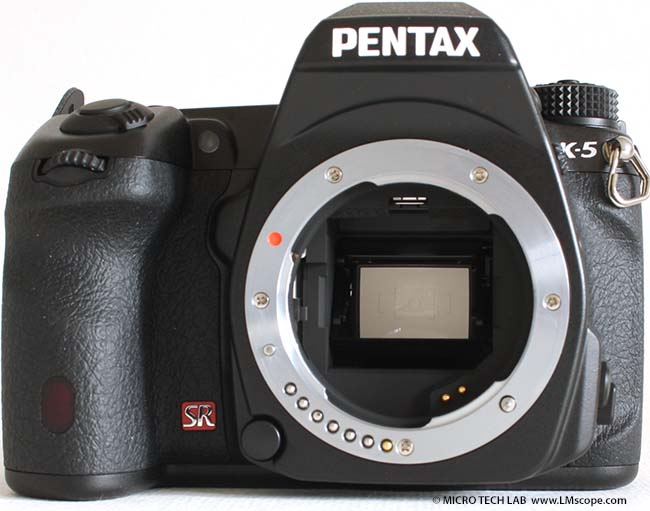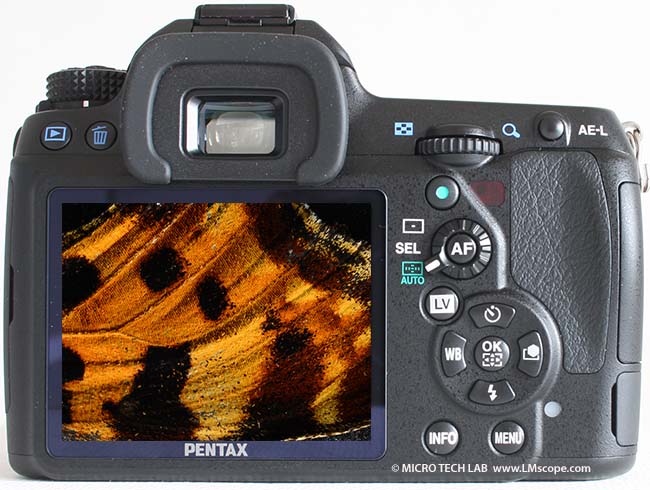 The Pentax K-5 has a very aesthetic look and style. It is not particularly bulky but relatively heavy (750 grams for the camera body alone), and is also very well built. Its CMOS sensor has 16 megapixels. The display is sufficiently large (3") and features a special scratch-proof coating. Unfortunately, however, it is not mobile.
For our test series we used a Micros Lotus MCX51 microscope. On the first image you see, that we chose to connect the camera to the photo port. With other microscopes without photo port it is, of course, also possible to attach the Pentax K-5 to the eyepiece tube (30 mm diameter) (see second image).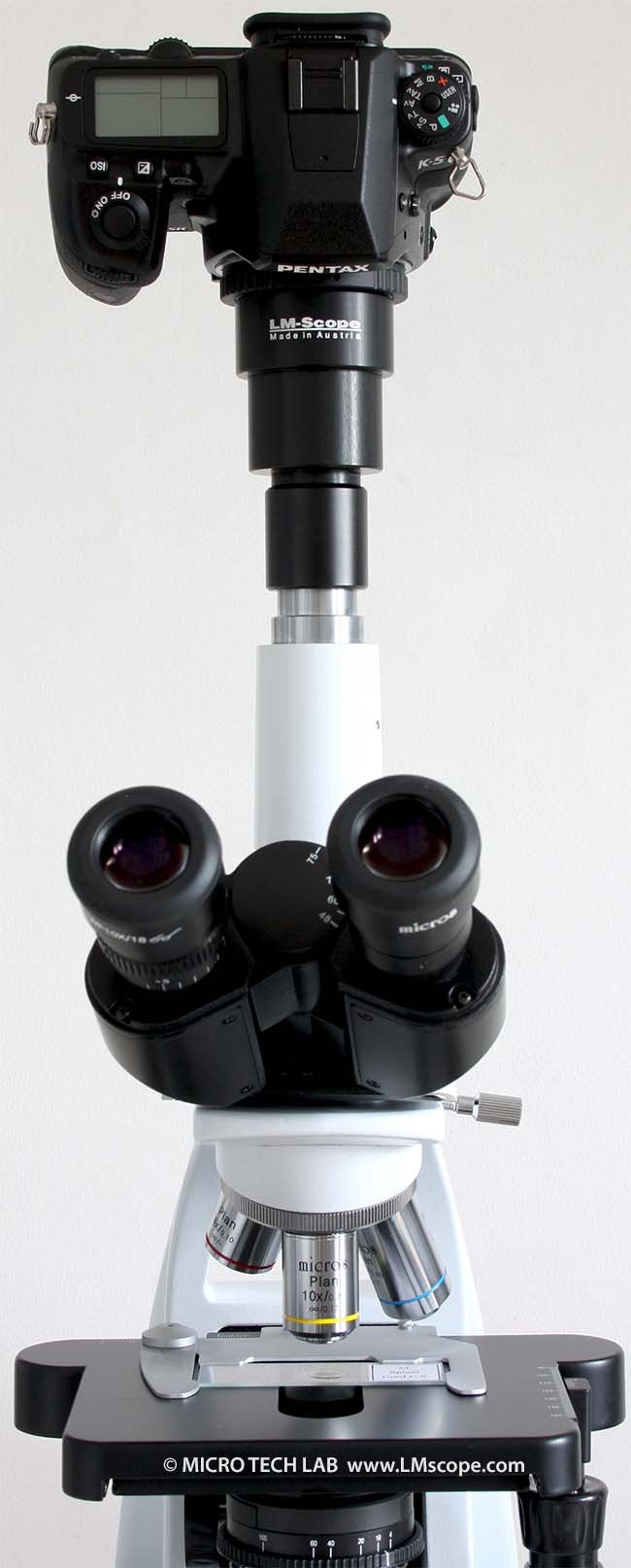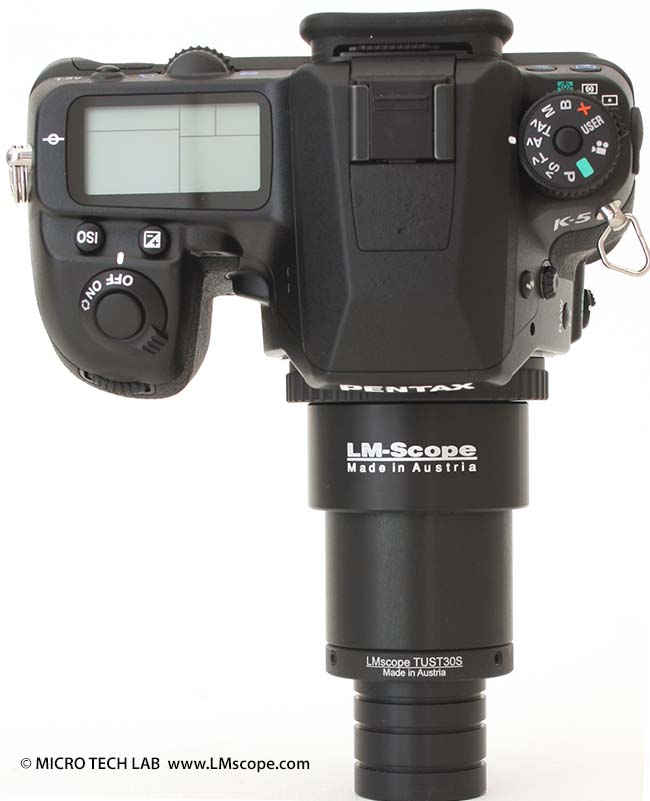 The Pentax K-5 also supports non-CPU lenses, and therefore, when using the LM microscope adapter, all auto functions – especially auto exposure – are available. The camera also has a Live View mode (Pentax calls it real-time view), which, unfortunately, can only be set for a brief five minutes. This is very little for our purposes. The Live View mode needs to be constantly switched on again. A positive aspect is, however, that the magnification function can also be used in Live View.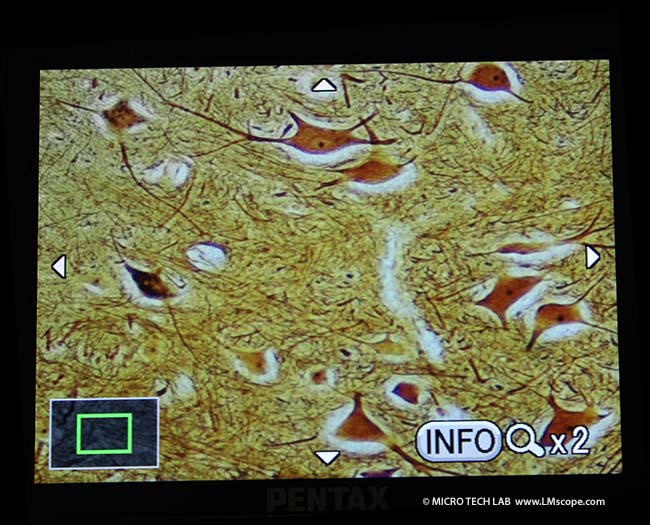 We also very much liked the fact that the Live View feature works when transmitted to an external monitor via HDMI. .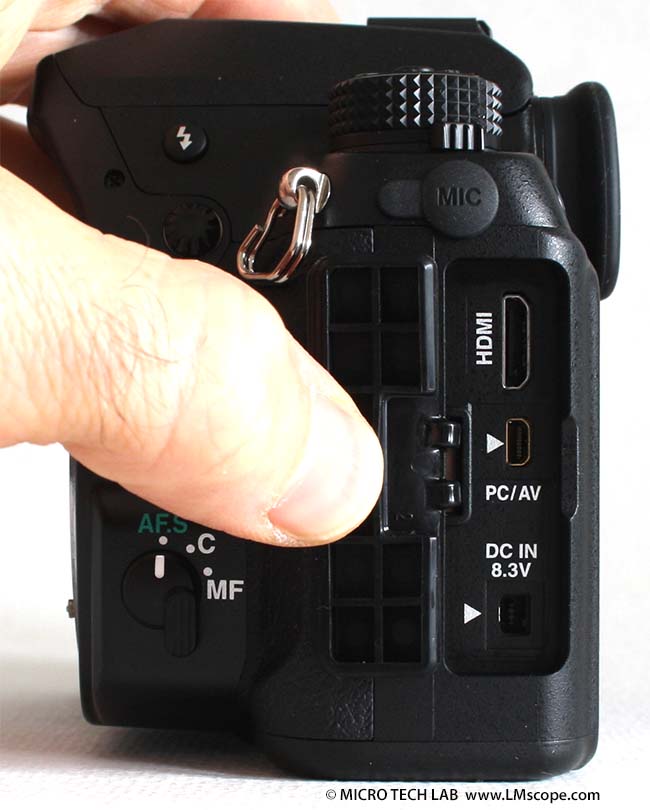 The camera's quiet shutter should also be particularly emphasised. There is really no other camera that shoots with as little noise as the Pentax K-5. Nevertheless, in our specialised applications it is important to try to reduce every vibration, no matter how small. Another possibility to minimise vibration to the greatest extent possible is to use the mirror lock-up. The Pentax offers two types of mirror lock-up shooting: M.UP – mirror lock-up shooting with the shutter release button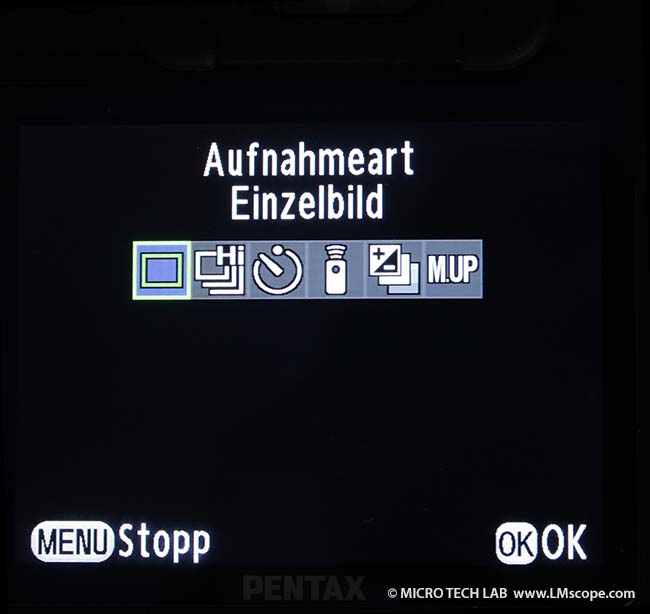 and M.UP + small camera symbol below: mirror lock-up shooting with the remote control. The shutter will be released immediately after the shutter release button on the remote control unit is pressed.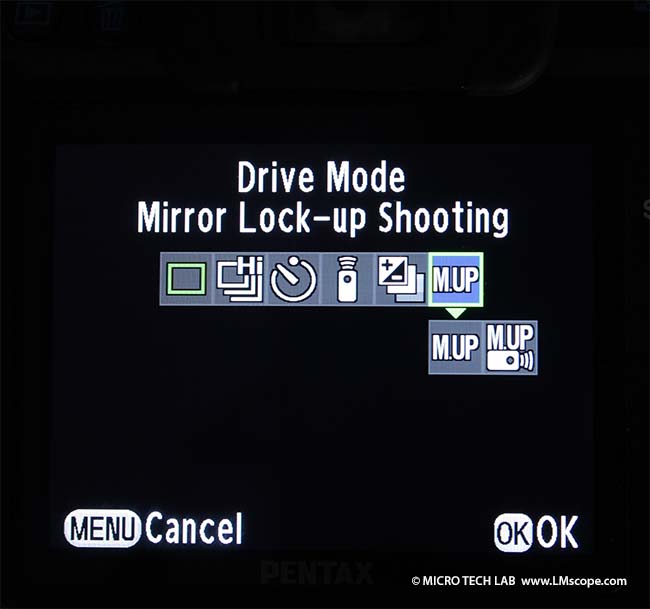 Of course, it is also possible to shoot videos in full HD format with the Pentax K-5. The camera outputs up to 25 frames per second. Strangely enough, Pentax uses Motion JPEG as its video format, which is already somewhat dated. According to the manual, 25 minutes of recording are possible, but in practice it has been shown that the maximum file size of 4 GB will be reached well before this. It is to be hoped that with the successor model, a more up-to-date video format will be used, so that longer recordings are possible.
ISO sensitivity ranges from 100 to 25,600 in auto mode, and in manual mode, it is even possible to select a range from ISO 80 to 51,200.
The operation of the Pentax K-5 is definitely geared toward more advanced users. Individual settings can be saved manually.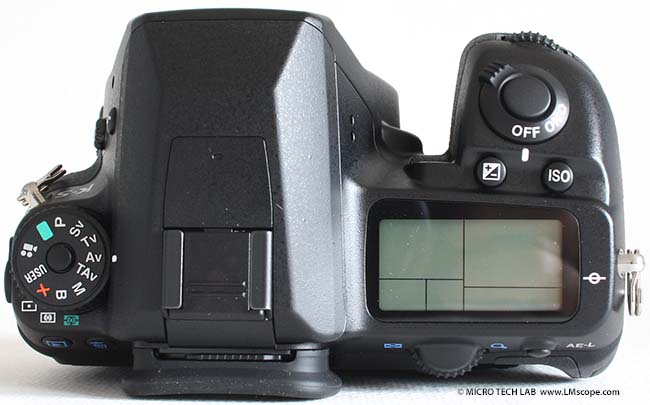 The image quality is very good, and the signal-to-noise ratio is also excellent. We are also very satisfied with the colour rendition. The colour depth is 42 bits.
For producing professional photo documentation with a microscope, a remote control software program is very useful. Unfortunately, a program of that kind is not (yet?) available from Pentax. For this reason, we would put this right at the top of our wish list for Pentax!
Conclusion:
All in all, the Pentax K-5 is a very good camera that really impresses with its image quality and the variety of available settings. When it comes to microphotography, however, we could really do with a remote control software program, and the Live View time limit should be raised to at least 30 minutes. Due to the video format used, the video recording time is very short. This is rather inconvenient, as it is necessary to either switch memory cards or download the recorded videos frequently.
06.12.2012