Time lapse shots with the Canon Utility software – using the timer function
Very few DSLR cameras can take shots at defined time intervals. However, this function is important for many fields of scientific research where the issue at stake is documenting processes (e.g. the growth of cells, bacteria or fungi, or the polymerisation of plastics, etc.). The free Canon Utility software offers a feature that enables time lapse shooting.
In microscopy, the camera is ideally controlled remotely via PC or Mac, as this eliminates image-degrading vibrations caused by physically pressing the shutter. At the same time, it is also more convenient and less time-consuming if the images can be checked and, where necessary, edited directly on the screen. In addition, no camera memory card is needed because the images are transferred directly to the PC and stored there.
Many scientific fields (medicine, biology, etc.) document changes. With time lapse shots it is possible to record films or capture images of motion sequences or developments at a lower image frequency than in real time over an extended period of time. They are then played back at normal speed so that changes are made visible that either would not be apparent, or would be hard to identify, in real time.
Later, the time lapse shots can be further processed (measuring, etc.).
Using the "timer shooting" function of the Canon Utility 2 software (version: 2.14.20.0) is very easy:
Clicking on the "clock" button (see the middle right image below) opens the window for the relevant settings.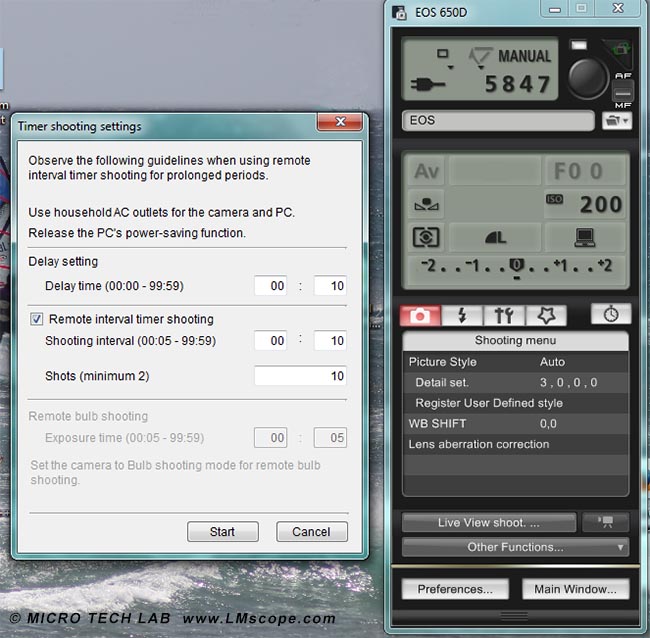 Delay Setting: When should time lapse shooting start?
Shooting Interval: At what intervals should shots be taken? The intervals are set in increments of seconds, ranging from 5 seconds to 99 minutes and 59 seconds.
Shots: How many images in total should be taken? The minimum number is two.
22.12.2015
New LM Digital Adapter for:
Canon EOS 6D Mark II / Canon EOS 1D X / Canon EOS 6D / Canon EOS 5DS R ( without low-pass filter) / Canon EOS 80D / Canon EOS 5DS / Canon EOS 70D / Canon EOS 200D / Canon EOS 800D / Rebel T7i / Canon EOS 77D / Canon EOS 5D Mark III / Canon EOS 60D / Canon EOS 750D / Rebel T6i / Canon EOS 760D / Rebel T6s / Canon EOS 5D Mark II / Canon EOS 1D Mark IV / Canon EOS 7D Mark II / Canon EOS 600D / Rebel T3i / Canon EOS 650D / Rebel T4i / Canon EOS 700D / Rebel T5i / Canon EOS 2000D / Rebel T7 / Canon EOS 7D / Canon EOS 550D / Rebel T2i / Kiss X4 Digital / Canon EOS 1300D / EOS Rebel T6 / Canon EOS 4000D / Canon EOS 100D / Canon EOS 50D / Canon EOS 1200D / EOS Rebel T5 / EOS Kiss X70 / Canon EOS 1100D / Rebel T3 / Canon EOS 1D Mark III /

Related Links

--