323
Creating digital photographic documentation with entry-level (stereo and laboratory) microscopes
Even affordably priced entry-level (stereo and laboratory) microscopes yield excellent photographic results. We carry adapter solutions for attaching DSLR, system and C-mount cameras to microscopes with a photo tube of 23.2 mm internal diameter.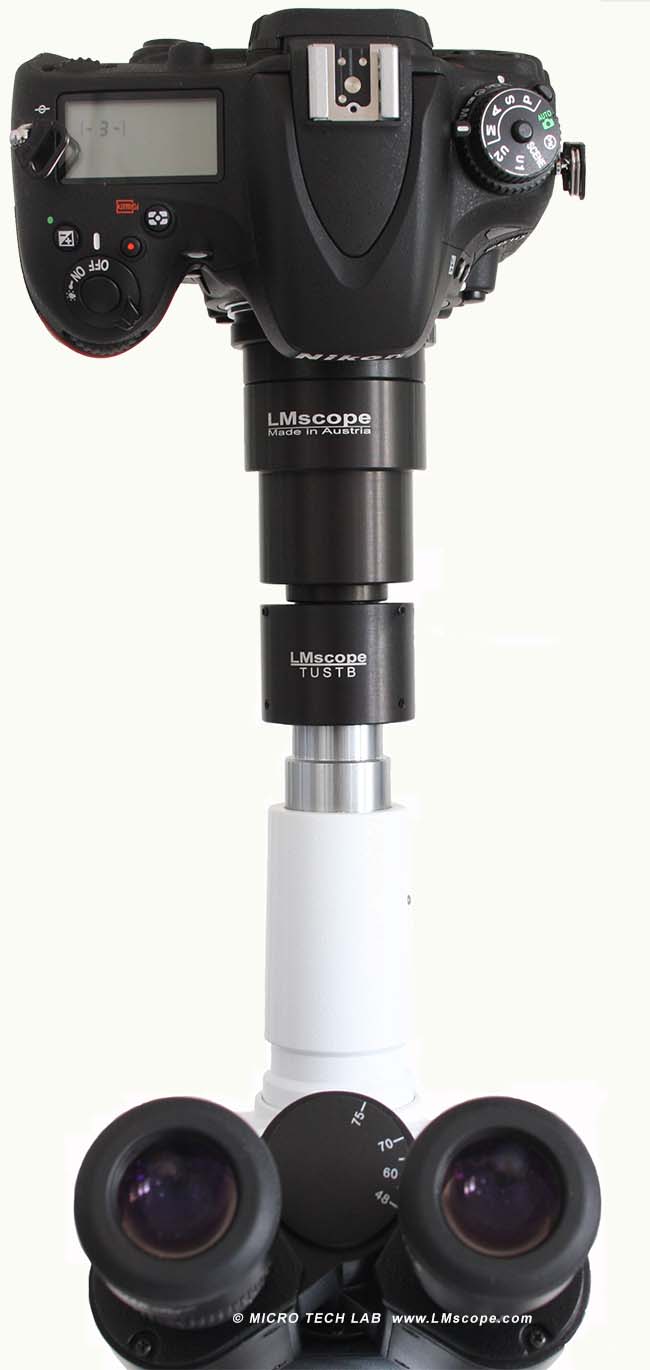 Currently, there are plenty of low-priced "reproduction" microscopes available, especially from Asian manufacturers, that are extremely interesting, both in terms of price and features. If, when buying a microscope, you intend to take microphotographs, then you should definitely use an instrument with an infinity-corrected system and plan objective lenses. If you want to attach a digital camera to the photo tube, this can easily be done using our LM digital adapters. In most cases, the microscope has a photo tube with an internal diameter of 23.2 mm as standard. If this is not the case, then it is usually possible to order one. The photo tube is often chrome-plated and serves as the basis for all further adapter solutions. In terms of cameras, we recommend digital SLR cameras with Live View and magnification function. In comparison to C-mount microscope cameras in the same price category, DSLR cameras deliver considerably better image quality. To help you choose the camera that is best suited for your needs, we have put together a guide and a list of camera rankings that will help you with your decision.
Among others, the following microscopes are available with a photo tube of this kind:
A.KRÜSS MSZ5000
A.KRÜSS MSZ5300
Euromex StereoZoom ZE.1659-20
Euromex trinocular phasecontrast microscope GE.3045
Euromex trinocular inverted microscope for phasecontrast FE.2955
Euromex trinocular inverted microscope FE.2930
Euromex trinocular microscope FE.2935
Euromex trinocular microscope FE.2955
Euromex Stereomicroscope D-Zoom Body 1400
Euromex binoculares 1:10 Zoom-Stereomicroscope DZ.1100
Euromex trinocular Stereomicroscope E-series: EE.1552
Euromex trinocular Stereomicroscope E-series: EE.1553
Euromex trinocular Stereomicroscope E-series: EE.1554
Euromex trinocular Stereomicroscope Z-series: ZE.1654
Euromex trinocular Stereomicroscope Z-series: ZE.1671
Euromex trinocular Stereomicroscope Z-series: ZE.1657
Bresser microscope Advance ICD 10x - 160x: 5804000
Bresser microscope Researcher Trino 40x - 1000x: 5723100
BTC-Industry IND-C2T Industry Zoom Stereomicroscope
BTC-Industry BIM313T trinocular-microscope with LED illumination
BTC-Industry BIM312T trinocular-microscope
BTC-Industry H-100 Material inspection microscope with 100x magnification
Optika (Italy) B-193 Trino-microscope
Nectaris NX3 trinocular Stereo-, incident light-,transmitted light microscope
We offer adapter solutions for almost every digital camera type (DSLR, system cameras, compact cameras, C-mount cameras).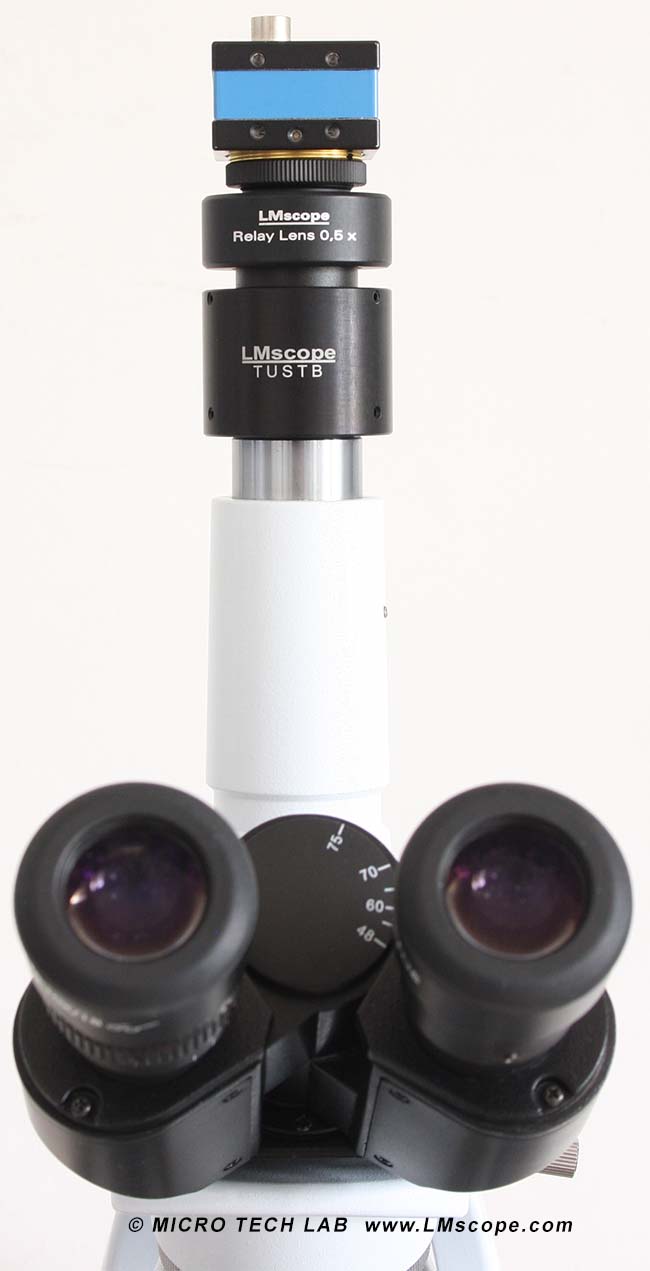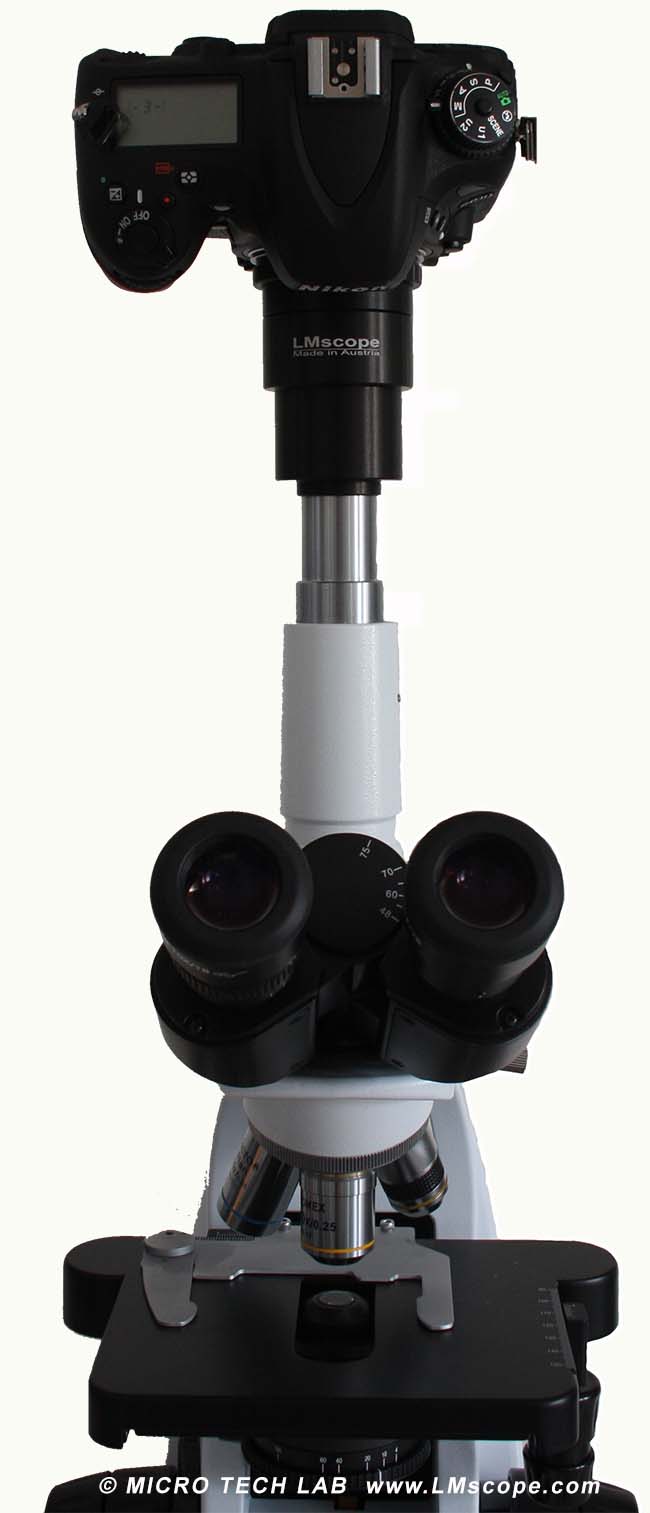 If the microscope does not have a photo tube and none can be retrofitted, it is always possible to mount the camera to the eyepiece tube. While using a photo tube is more convenient in terms of work flow, the optical quality is equally good with either technique.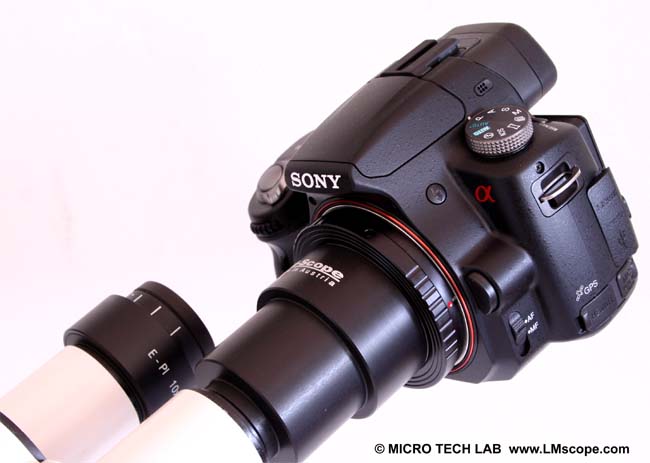 Please contact us for further informations
28.10.2014
New LM Digital Adapter for:
Nikon Z9 / Nikon Z8 / Sony Alpha 7R V / Sony Alpha 1 / Sony FX3 Cinema Line / Sony Alpha 9 II (ILCE-9M2) / Sony Alpha 9 / Nikon D6 / Canon EOS R3 / Canon EOS R6 Mark II / Canon EOS R8 / Sony Alpha 7R IV / Canon EOS R5 / Sony Alpha 7S II / Sony Alpha 7S III / Sony Alpha 7R III / Canon EOS R6 / Nikon Z6 / Nikon Z6II / Sony Alpha 7R II / Nikon Z7 / Nikon Z7II / Canon EOS R / Canon EOS Ra (Astro) / Nikon Z5 / Sony Alpha 7C / Canon EOS RP / Sony Alpha 7S / Canon EOS R7 / Leica SL2-S / Canon EOS R10 / Canon EOS 1D X Mark III / Nikon Z50 / Nikon Z30 / Nikon Z fc / Nikon D850 / Canon EOS 1D X Mark II / Nikon D780 / Olympus OM-1 / Sony Alpha 7III / Olympus OM-D E-M1 Mark III / Canon EOS R100 / Sony Alpha 6700 / Nikon D5 / Sony Alpha 6600 / Fujifilm X-H2S / Fujifilm X-S10 / Fujifilm X-E4 / Fujifilm X-Pro3 / Olympus OM-D E-M1X / Sony Alpha 6400 / Sony Alpha 6100 / Sony ZV-E10 / Canon EOS 1D X / Nikon D4s / Olympus OM-D E-M5 III / Canon EOS 90D / Canon EOS 5D Mark IV / Nikon D4 / Nikon D750 / Canon EOS 6D Mark II / Fujifilm X-T4 / Fujifilm X-T3 / Sony Alpha 6300 / Sony Alpha 6500 / Nikon D500 / Nikon D810 / Nikon D800 / Canon EOS M6 Mark II / Nikon D800E / Nikon Df / Panasonic Lumix DC-G9 / Nikon D610 / Nikon D600 / Canon EOS 250D / Canon EOS 850D / Rebel T8i / Canon EOS 6D / Sony Alpha 99 II (SLT-A99 II) / Canon EOS M200 / Canon EOS 5DS R ( without low-pass filter) / Olympus OM-D E-M1 Mark II / Canon EOS 80D / Canon EOS M50 Mark II / Canon EOS 5DS / Canon EOS M50 / Sony Alpha 77 II / Canon EOS 70D / Nikon D7200 / Pentax K-1 Mark II / Canon EOS 200D / Canon EOS 800D / Rebel T7i / Canon EOS 77D / Canon EOS 5D Mark III / Canon EOS 60D / Sony Alpha 7R / Sony Alpha 7 / Nikon DS-Qi2 (Microscope Camera) / Olympus OM-D E-M5 II / Nikon D3x / Olympus OM-D E-M1 / Pentax KP /