189
Analogue video output (AV) versus the digital HD output (HDMI) of digital cameras (digicams)
In search of the last iota of image quality in digital microphotography!
With the new full HD flat screens in conjunction with HDMI cameras with Live View it is now also possible for extremely good image quality to reach the monitoring screen. The analogue video output is only a stopgap for digital systems and was designed primarily for analogue video cameras. The digital image information is converted to analogue format in the digital camera and transmitted to the monitor via a 2-wire cable. Once it arrives, the analogue signal must again be converted to a digital signal. As a result of the conversion from digital to analogue and back again, the image quality suffers a great deal.
The analogue standards for PAL and NTSC video transfer were devised over 40 years ago and only support resolutions up to 768 x 576 pixels with minimal colour depth.
There is no reduction in image quality with a digital transfer via HDMI from the camera to the monitor.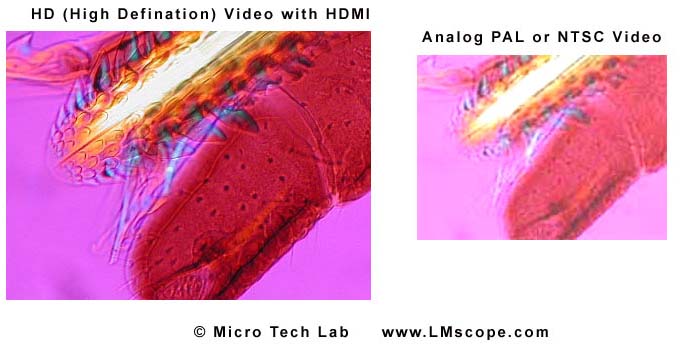 The HDMI output offers a considerable advantage when using a digital camera at the microscope. A high degree of image quality on the monitoring screen enables the user to focus the image very precisely. In frequent cases, selecting the optimum focal plane is not all that easy, and the focus setting is always done manually via the microscope. Using a monitor is a quick and simple way of optimising the image quality. However, other optimisation methods are available: "for example, controlling the camera via PC or using the magnifying function on the camera's own display.



Conclusion:
When buying a new camera, it should definitely come with an HDMI output. For live presentations and discussions in particular, a large HD monitor or projector rewards the user with excellent image quality.