New scoring criteria for our popular microscope camera ranking

In their pursuit of even better meeting individual customer requirements, camera manufacturers invest a lot of energy in the development of their products. In order to adequately incorporate the recent advancements in this field into our microscope ranking, we have expanded the range of scoring criteria and also made some slight changes to the scoring system.
New - the "ISO range" and "colour depth" categories:

With the latest-generation digital cameras (provided they have a high ISO setting = light sensitivity) it is possible to create quality images even when light conditions are poor. Due to significant improvements in sensor technology, coupled with a higher signal-to-noise ratio and greater colour depth, these cameras now offer the possibility to effectively process images at higher ISO settings.
Changed - the weighting of the "pixel number" category within the scoring system:

The weighting of the pixel number criterion was reduced, since particularly in microscopy, higher pixel numbers do not yield any additional advantage. This is because the resolution capability of the microscope, and not the camera's pixel number, is decisive for the level of detail that can be achieved.
A detailed description of the scoring system used for our camera ranking is available on our website.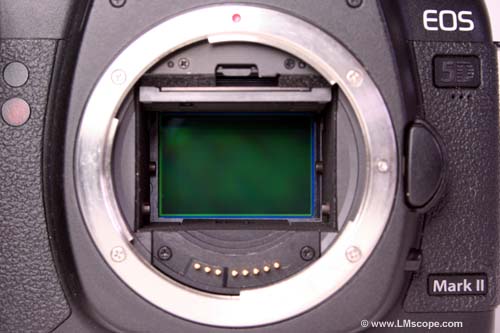 20.12.2011
New LM Digital Adapter for:
Nikon D850 / Sony Alpha 7III / Sony Alpha 9 / Nikon D5 / Sony Alpha 7S II / Sony Alpha 7R II / Sony Alpha 7R III / Sony Alpha 7S / Canon EOS 5D Mark IV / Nikon D750 / Canon EOS 6D Mark II / Sony Alpha 6300 / Sony Alpha 6500 / Nikon D500 / Canon EOS 1D X / Nikon D810 / Nikon D4s / Nikon D800 / Nikon D800E / Nikon D4 / Nikon Df / Nikon D610 / Nikon D600 / Canon EOS 6D / Canon EOS 5DS R ( without low-pass filter) / Olympus OM-D E-M1 Mark II / Canon EOS 80D / Canon EOS 5DS / Sony Alpha 77 II / Canon EOS 70D / Nikon D7200 / Canon EOS 200D / Canon EOS 800D / Rebel T7i / Canon EOS 77D / Canon EOS 5D Mark III / Canon EOS 60D / Sony Alpha 7R / Sony Alpha 7 / Nikon DS-Qi2 (Microscope Camera) / Nikon D3x / Olympus OM-D E-M1 /

Related Links

--