Full HD video macroscope for a bargain price with Aiptek AHD H5 Extreme digital full HD camcorder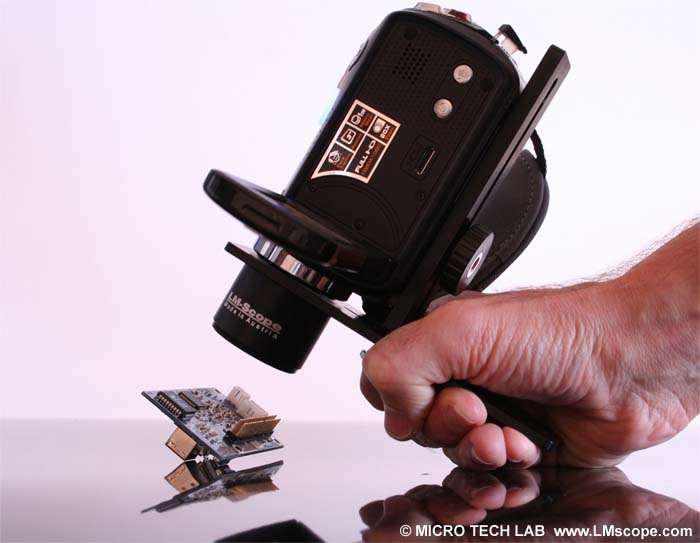 In just a few seconds, the Aiptek AHD H5 Extreme full HD camcorder can be transformed into a mobile macroscope. All you need is the LM universal filter adapter and an LM DSLR macro lens. The high-quality macro lens with a plan achromatic lens design delivers first-rate videos and macro images. Depending on the specific requirements in each case, either the 40 mm or 80 mm lens can be used. The LM DSLR macro lens with a focal length of 40 mm delivers a higher magnification. At the camcorder's maximum zoom setting (5x), objects of 5 mm x 3 mm are depicted in full frame, while at the minimum zoom setting, objects of 20 mm x 12 mm are displayed in full frame. Due to the central optical path of the recording unit (camcorder and LM DSLR macro lens), a significantly better image and video quality can be achieved than with conventional stereo microscopes (see "Are normal stereo microscopes suitable for high-quality photographic documentation?"). The Aiptek camcorder is very well equipped for its reasonable price (approx. € 170.00).
Full HD 1920x1080p AVC H.264 camcorder

HDMI and AV out (NTSC/PAL)

5x optical zoom with auto focus

Swivel-mounted 270° 3.0" wide screen LTPS LCD display

The continuous capture function makes it possible to take up to 10 pictures per second in video resolution

Macro mode for close-ups at distances of up to 1 centimetre

SD/SDHC/MMC cards up to 32 GB can be used

AIPTEK AHD H5 HD Camcorder with 40 mm and 80 mm LM DSLR macro lens and LM universal filter adapter
| | | | |
| --- | --- | --- | --- |
| | Working distance | Image field with zoom setting: wide | Image field with zoom setting: tele 5x |
| LM DSLR macro lens 80mm | 60 mm | 33 mm x 18 mm | 10 mm x 6 mm |
| LM DSLR macro lens 40mm | 27 mm | 20 mm x 12 mm | 5 mm x 3 mm |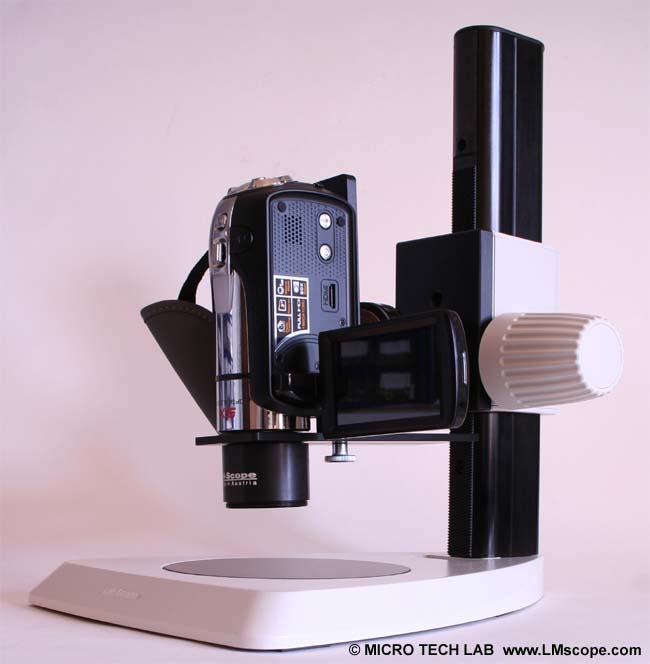 For stationary use we recommend the LM macro stand 2. The exact focal plane can be set using the stand's rack and pinion adjustment control. Particularly at high magnifications, a robust precision stand is a great advantage, as it eliminates motion blurs. As the camcorder is equipped with a digital video out (HDMI port) and supports video display in "Live View" mode, the quality of the live image can conveniently be assessed on a full HD monitor. This means that the "Live View" image can be presented to a large group of people in very good quality on a large monitor or projector. Due to the higher number of pixels in full HD mode (1920x1080) on the monitoring screen, the focal plane can be set even more precisely than on the camcorder's own 3" display with only 960x240 pixels. This trick helps to further enhance the image quality. All photos and videos are saved on a flash memory card. The camcorder supports the following media formats: SD/SDHC/MMC.
| | | | | | |
| --- | --- | --- | --- | --- | --- |
| | Ordering code | Product description | Price | Price | Available |
| | kein Produkt | no | | | |
For EU (European Union) VAT (IVA, TVA) not included
New LM Digital Adapter for:
Panasonic Lumix DMC-FZ38 / Panasonic DMC-FT3 / Panasonic HDC-SD800 / Panasonic HDC-SD909 / Panasonic HDC-TM900 / Panasonic HDC-HS900 / Nikon Coolpix S8100 / Nikon Coolpix S9100 / Sony DSC-HX9V / Sony DSC-HX100V / Sony DSC-WX7 / Sony DSC-WX10 / Sony DSC-H70 / Sony DSC-HX7V / Sony DSC-TX10 / Sony DSC-TX100V / Panasonic DMC-FS18 / Panasonic DMC-FS35 / Panasonic DMC-FS37 / Fujifilm FinePix F550EXR / Fujifilm FinePix F500EXR / Fujifilm FinePix HS20EXR / Canon IXUS 1000 HS / Panasonic DMC-TZ22 / Canon IXUS 310 HS / Sigma DP2s / Panasonic DMC-FS16 / Panasonic DMC-TZ18 / Olympus SP-610UZ / Fujifilm FinePix Z90 / Fujifilm FinePix T300 / Fujifilm FinePix XP30 / Fujifilm FinePix S2950 / Fujifilm FinePix S3300 / Fujifilm FinePix S4000 / Canon PowerShot S80 / Olympus C-7070 Wide Zoom / Sony HDR-CX700 / Nikon Coolpix P500 / Panasonic DMC-FX77 / Panasonic DMC-FT3 / Sony DSC-HX7V / Casio Exilim EX-H30 / Panasonic Lumix DMC-FS35 / JVC GZ-HM845 / Canon PowerShot A3300 IS / Samsung PL170 / Nikon Coolpix S6100 / Sony DSC-W570 / Sony DSC-J10 / Sony DSC-T110 /

Related Links

--