Creating a simple, convenient transparency unit for macroscopy and microscopy that leaves almost nothing to be desired.

All you need for building your own efficient transparency unit is a mirror, a stainless steel tube and an LED ring light! It is even possible to use two polarisation filters with this device.

Our suggestion is aimed at people who only need to use a transparency unit every now and again. Incidentally, the LED ring light can also be used for capturing images in reflective mode. In our test setup, we used an LM macroscope 8x and an LM LED ring light. Essentially, any other LM macroscope (4x / 8x / 16x / 26x) as well as macroscopes from other manufacturers will work as well.
A small trick makes it possible to use the LED ring light, which is basically designed for reflected light systems, for applications employing transmitted light.
The LM LED ring light with a 60 mm focal length is positioned so that the light is directed downwards onto the base plate of the stand. A small mirror is located there, which reflects the light to the camera/lens combination. A stainless steel tube with a height of 30 mm and a diameter of 80 mm is used to increase the distance. This enables the light to be optimally focussed on the specimen plane. If the LED light were to have a different focal length, the length of the stainless steel tube would need to be adjusted to match the difference.

Illustration of the ready-to-use device: LM macroscope 8x and transparency unit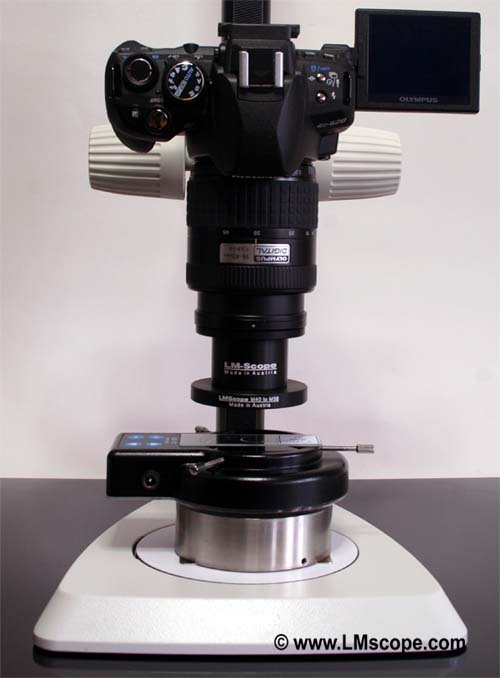 A small metallic mirror is positioned in the centre. We used a thin metallic mirror.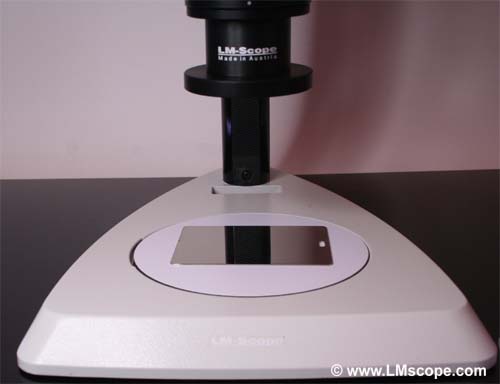 The stainless steel tube (diameter 80 mm) is placed on the mirror. Depending on the focal length of the LED light and the desired illuminated surface, the height of the ring must be adjusted accordingly. In our test, the best results were achieved with a tube length of 30 mm. An image circle of 40 mm in diameter is illuminated evenly.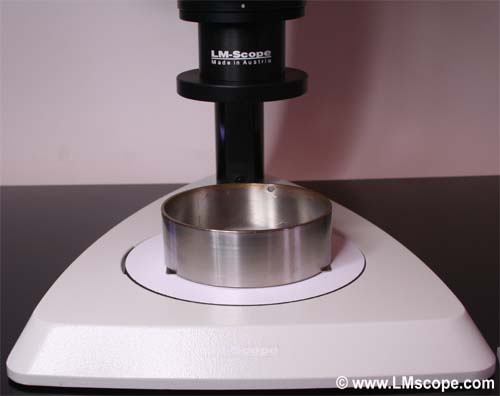 The LED ring light is placed on the stainless steel tube in such a way that the LEDs cast their light towards the mirror. For many applications, the use of filters is indispensable and with our solution it is possible to use even two filters. The first filter can be mounted in front of the lens in the LM step-up ring (filter thread 58 mm), while the second mirror can be screwed into the LM LED ring light.
Histological thin-section specimen with transparency unit. A frosted pane under the specimen ensures homogenous illumination.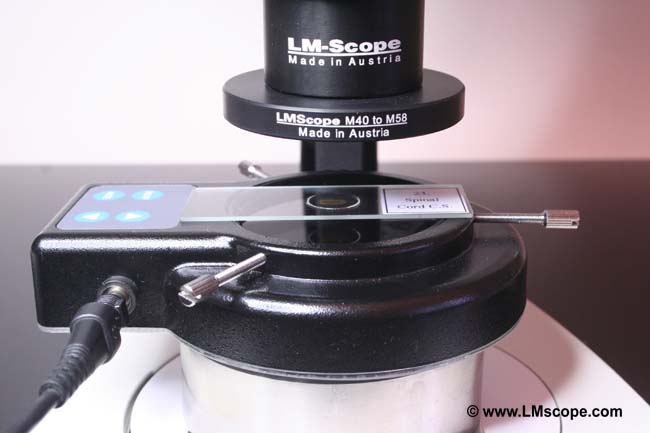 Please also take a look at our range of macroscopes!
Related Links
--