Using modern digital cameras on conventional stereo microscopes and macroscopes

In recent years, camera manufacturers have been making giant strides with their products. Cameras with 20 megapixels and more are nothing special these days and fall into price ranges that almost anyone can afford. Less than ten years ago, even top-of-the-line microscopes weren't operated with nearly as powerful cameras as many people are now using for family snapshots.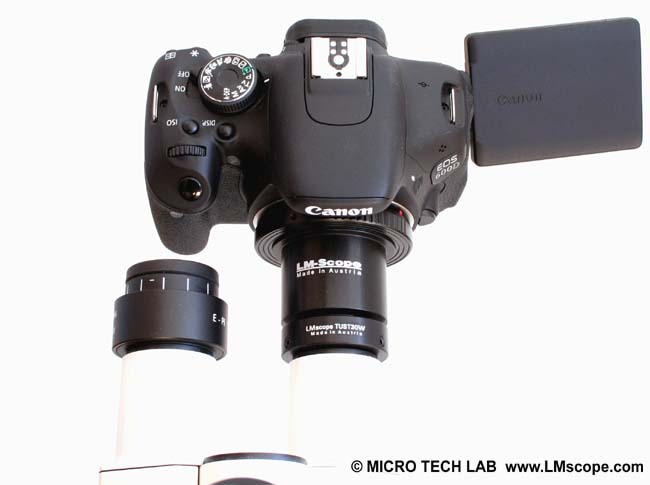 The development of microscopes has not even come close to paralleling that of digital photography. Conventional stereo microscopes with parallel optical path design, the most commonly used type of microscope, have been left far behind by modern DSLR cameras and system cameras (mirrorless cameras with interchangeable lens mounts). The camera systems used can resolve details to a degree that is too fine to be displayed by the microscope. This means that a camera with high resolution (a high number of pixels) does not benefit microscopy: the images are merely "inflated empty", in a manner of speaking. As a rule of thumb, cameras with five megapixels are completely adequate for photography with such microscopes.

Conventional stereo microscopes with parallel optical path design can, however, take advantage of the extra features that come with high-quality cameras. Greater colour depth, better signal-to-noise ratios, HD video functions, the possibility of displaying a Live View image, HDMI interfaces for HD monitors and special software for remote control from a PC make microphotography easier in many respects.

Conventional stereomicroscopes were originally designed primarily for visual stereographic viewing through the eyepiece. This microscope design has been in continued use, without any changes, for this group of microscopes for nearly 30 years. The total magnification and resolution capability of such instruments are adapted to the human eye rather than to a camera sensor chip.

For applications involving specimen activities, a long working distance is required. However, this working distance affects the optical instrument's resolution capability. Large working distances are very practical when working with a microscope and the depth of field of the image increases as well, which is especially advantageous for three-dimensional objects. On the other hand, due to physical reasons, a large working distance reduces the resolution capability of the lens. The numerical aperture describes the light-gathering ability of microscopes and macro lenses (close-up lenses). In the case of a normal lens without immersion (air space between the object and the lens), an aperture of one is theoretically optimal.

NA = n * sin(Alpha)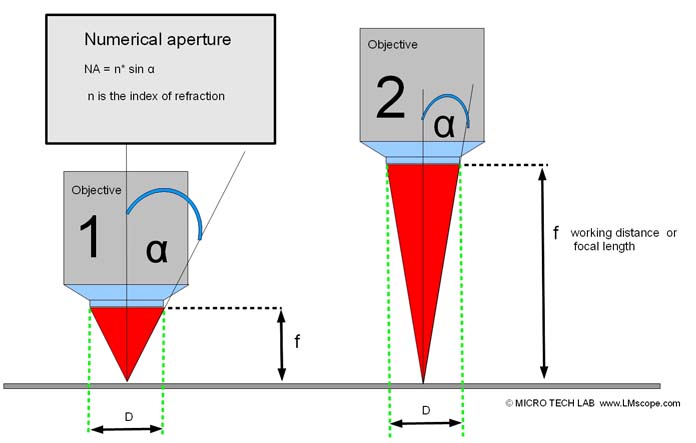 However, this theoretical maximum cannot be achieved in practice. The working distance would have to be infinitely small and the front lens infinitely large. The total magnification should generally not exceed 500 to 1,000 times the numerical aperture; anything above this is just "empty magnifying". This physical limit is reached very soon with achromatic lenses, and a bit later with apochromatic lenses.

For professional photo documentation, conventional stereomicroscopes are therefore not the first choice, since, as noted above, they were designed for visual work through the eyepiece and such microscopes are not capable of taking full advantage of modern cameras with a resolution greater than 10 megapixels.

All major microscope manufacturers offer specific solutions for micro photography and – above all – macro photography. These instruments, however, tend to fall into the higher price bracket (starting from € 10,000).

We developed our LM macroscopes specifically for professional photo documentation. They are far more powerful than traditional stereomicroscopes.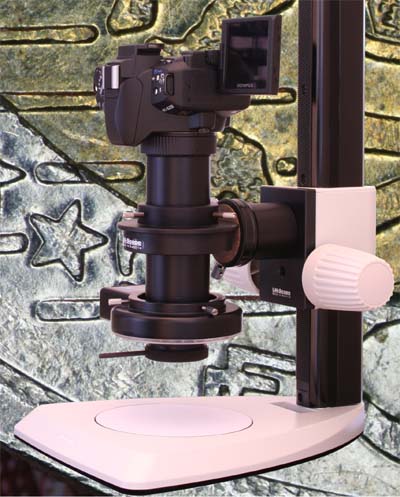 The preferred solution for many applications is therefore an LM macroscope with a DSLR camera featuring "Live View" and HD video. The slide can then be evaluated on a high-resolution monitor in "Full HD" instead of through the eyepiece.

This, in turn, increases flexibility and thus productivity. If details need to be displayed on the monitor, you can zoom into the image using the camera's zoom feature. The zoom feature makes more and more details visible without sacrificing resolution. This is possible because the video resolution (Full HD) only amounts to a fraction of the maximum sensor chip (> 20 megapixels).
Conclusion:

Conventional stereo microscopes with parallel optical path design cannot take advantage of all the strengths of modern DSLR cameras. The optical quality of the microscope lens and of the parallel optical path system with a long working distance challenges the user's photographic skills. If you want to make the most of digital camera performance, it is advisable to use other systems  the LM macroscope, for instance. These systems make it possible to produce sophisticated photographic documentation in no time at all!

23.02.2012
New LM Digital Adapter for:
Nikon D850 / Sony Alpha 7III / Sony Alpha 9 / Nikon D5 / Sony Alpha 7S II / Sony Alpha 7R II / Sony Alpha 7R III / Sony Alpha 7S / Canon EOS 5D Mark IV / Nikon D750 / Canon EOS 6D Mark II / Sony Alpha 6300 / Sony Alpha 6500 / Nikon D500 / Canon EOS 1D X / Nikon D810 / Nikon D4s / Nikon D800 / Nikon D800E / Nikon D4 / Nikon Df / Nikon D610 / Nikon D600 / Canon EOS 6D / Canon EOS 5DS R ( without low-pass filter) / Olympus OM-D E-M1 Mark II / Canon EOS 80D / Canon EOS 5DS / Sony Alpha 77 II / Canon EOS 70D / Nikon D7200 /

Related Links

--