325
Zoom stereo microscopes with infinity-corrected optical systems
There is a multitude of zoom stereo microscopes available on the market. The offer ranges from instruments manufactured by the leading microscope brands to lower-priced, newer brands.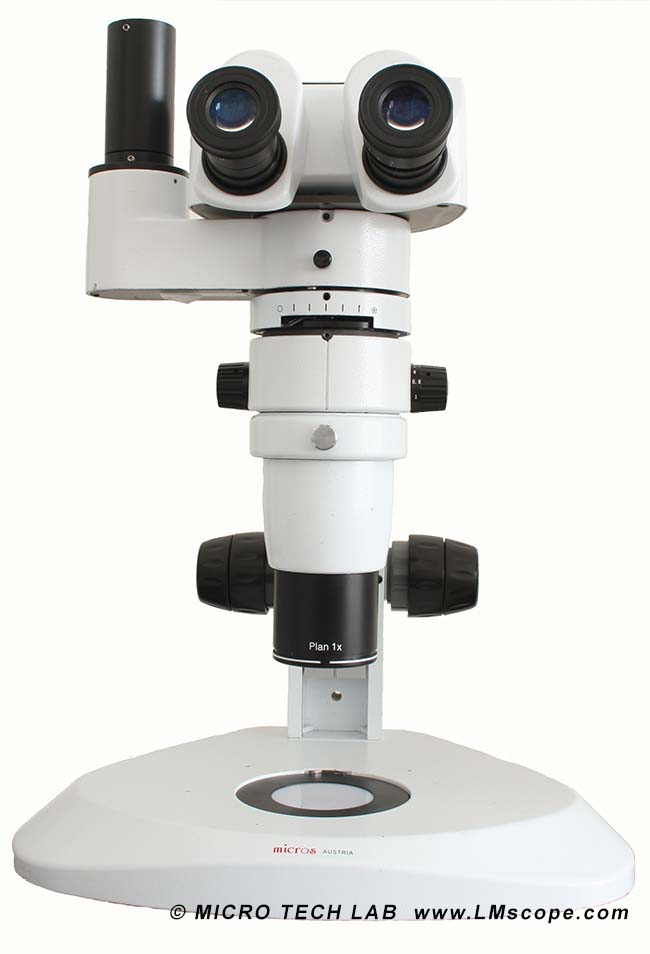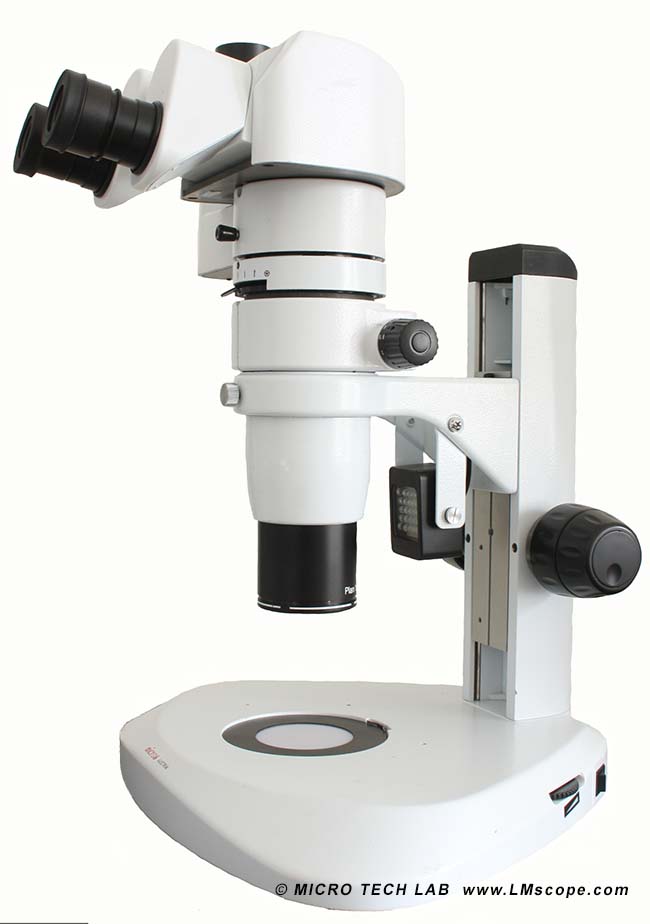 We took a closer look at the Micros Viper MZ3000 stereo microscope and tested it for our applications. The workmanship of the microscope is of good quality, and the stand is solidly constructed with a rack and pinion adjustment control. An ergo tube enables the microscope to be set to suit the user's individual needs. The working distance is 78 mm; the light source is an LED lamp for incident and transmitted illumination.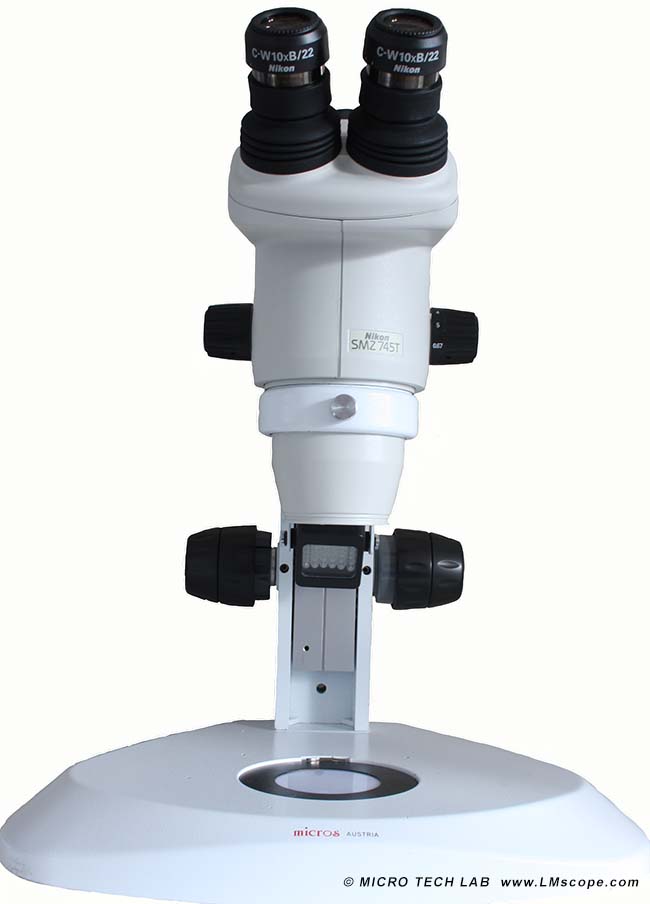 The body is similar to that of the Nikon SMZ745, and the Nikon stereo microscope head also fits the stand of the Micros Viper MZ3000 very well.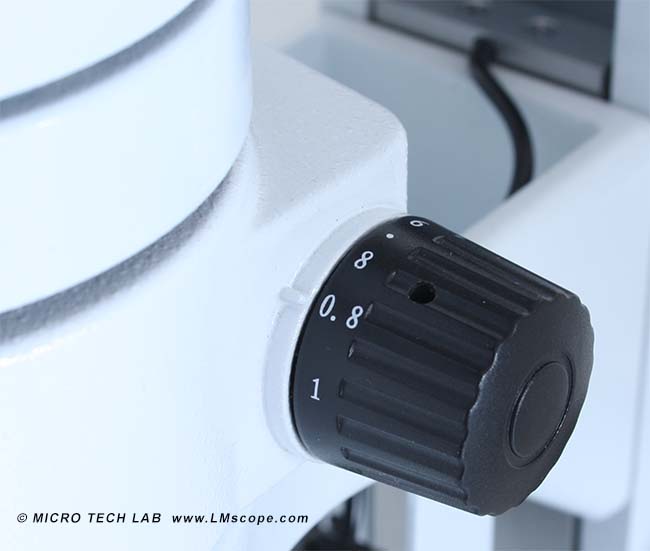 Magnification can be infinitely adjusted from 0.8x to 8x. Combined with a 10x eyepiece and a 1x objective lens, the magnification range extends from 0.8x to 80x. The Micros Viper MZ3000 is equipped with a modern infinity-corrected optical system, which means that is easy to expand the microscope with additional accessories, for example a fluorescence unit with four filter blocks and 100 watt mercury arc lamp.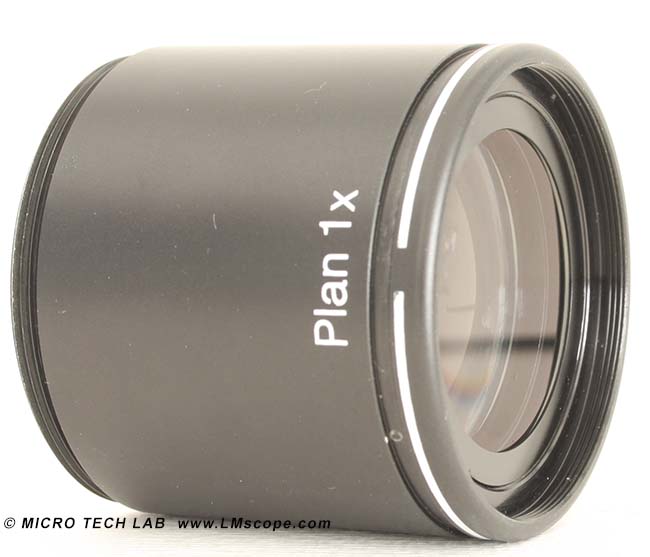 The Micros Viper MZ3000 is also available with a photo tube. If you plan to also take photographs through the microscope, then you should definitely get the model that comes with the photo tube. This is because working with a photo tube when creating photographic documentation makes the entire process much easier and simpler. We offer special adapter solutions for the photo tube of the Micros MZ3000 Viper which make it possible to attach almost every conventional DSLR, system, C-mount and compact camera to the microscope.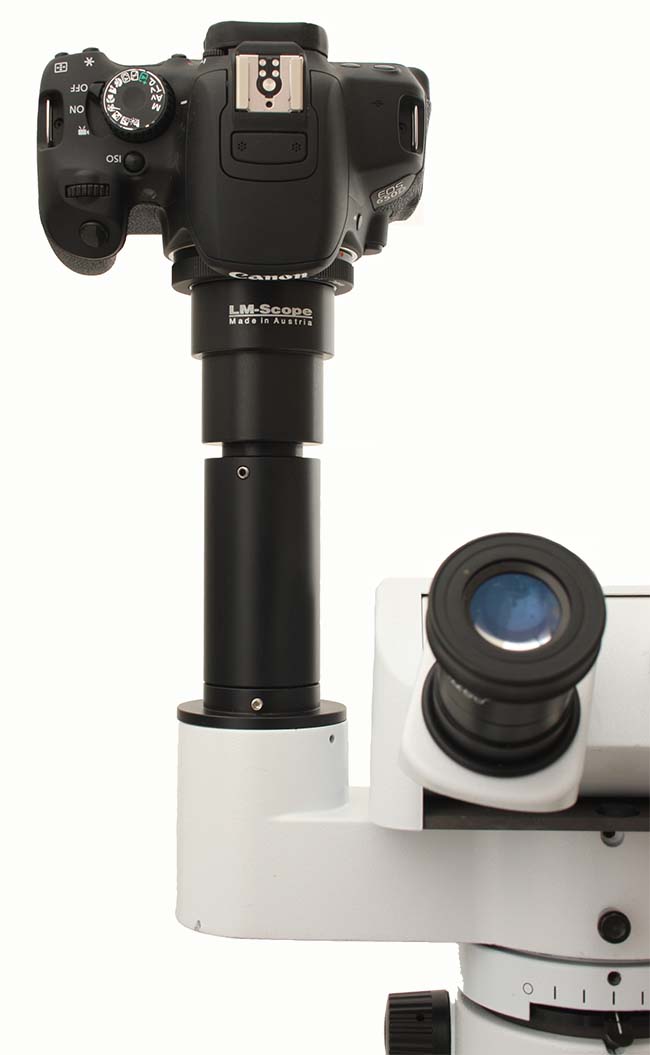 Our test instrument was equipped with a 1x plan objective lens. Although the image quality was satisfactory in the lower magnification range (0.8x to approx. 40x), it declined significantly in the upper range (40x to 80x), with colour fringing (chromatic aberrations) appearing in the image. If you mainly wish to create series of photos in this magnification range, then we recommend that you use plan apochromatic objective lenses which are also available. This will result in fewer such image flaws.
Various other manufacturers offer very similar microscopes which are very close to the Viper MZ3000 in terms of external appearance and technical specifications. This leads to the assumption that all of these instruments are manufactured in the same Asian factory, which has the advantage that they are all mutually compatible.
The following microscopes made by other manufacturers are similar to the model described:
Delta IPOS-810
Euromex DZ-Reihe
Conclusion: The Micros Viper MZ3000 zoom stereo microscope with infinity-corrected optical system offers a good price/performance ratio. If the emphasis of your microscopy work is on creating appealing photographs, then we recommend that you use one of the higher-quality plan achromatic objective lenses that are also available.
Photographie :
Les appareils photo réflex numériques (DSLR), hybrides ( mirrorless / DSLM) ou à monture C (C-Mount) peuvent être connectés très facilement aux adaptateurs LM numériques SLR dotés d´une optique planacromatique. Avec nos produits, vous réussirez à faire des photos d´une qualité étonnante au microscope. Pour choisir la solution d'adaptateur la plus appropriée à vos besoins, vous pouvez utiliser notre configurateur en ligne ou nous contacter par courriel (en nous envoyant une photo de votre instrument).

Les appareils photo réflex numériques à miroir et les hybrides disposent de la technologie la plus avancée et conviennent très bien aux applications de microscopie. La plupart d´entre eux peuvent être contrôlés depuis le PC / Mac facilement. En raison du nombre elevé d´unités vendues, ils offrent un excellent rapport qualité-prix.

Caractéristiques des appareils numériques réflex et hybrides haut de gamme :
- capteurs plein format grands et puissants (36 x 24 mm)
- définition de 60 mégapixels ou 240 mégapixels avec la technologie Pixel Shift
- haute sensibilité ISO (400.000+)
- grande gamme dynamique (à peu près 15 valeurs d´ouverture)
- temps d´exposition courts (1/8000 secondes) jusqu'à 1/32 000 secondes avec l'obturateur numérique
- fonction vidéo Ultra HD (4K / 8K)
- enregistrement vidéo en visée directe de qualité Ultra HD sur des moniteurs externes

Dans la plupart des cas, ces appareils photo sont nettement plus performants que des appareils photo de microscope avec des capteurs plus petits (1/2" ou 2/3"). Vous trouverez également sur notre site Internet nos recommandations actuelles et un classement des appareils photo élaboré spécifiquement pour la microscopie.

Adaptateurs numèriques LM pour:
Nikon Z9 / Nikon Z8 / Sony Alpha 7R V / Sony Alpha 1 / Sony FX3 Cinema Line / Sony Alpha 9 II (ILCE-9M2) / Sony Alpha 9 / Nikon D6 / Canon EOS R3 / Canon EOS R6 Mark II / Canon EOS R8 / Sony Alpha 7R IV / Canon EOS R5 / Sony Alpha 7S II / Sony Alpha 7S III / Sony Alpha 7R III / Canon EOS R6 / Nikon Z6 / Nikon Z6II / Sony Alpha 7R II / Nikon Z7 / Nikon Z7II / Canon EOS R / Canon EOS Ra (Astro) / Nikon Z5 / Sony Alpha 7C / Canon EOS RP / Sony Alpha 7S / Canon EOS R7 / Leica SL2-S / Canon EOS R10 / Canon EOS 1D X Mark III / Nikon Z50 / Nikon Z30 / Nikon Z fc / Nikon D850 / Canon EOS 1D X Mark II / Nikon D780 / Olympus OM-1 / Sony Alpha 7III / Olympus OM-D E-M1 Mark III / Canon EOS R100 / Sony Alpha 6700 / Nikon D5 / Sony Alpha 6600 / Fujifilm X-H2S / Fujifilm X-S10 / Fujifilm X-E4 / Fujifilm X-Pro3 / Olympus OM-D E-M1X / Sony Alpha 6400 / Sony Alpha 6100 / Sony ZV-E10 / Canon EOS 1D X / Nikon D4s / Olympus OM-D E-M5 III / Canon EOS 90D / Canon EOS 5D Mark IV / Nikon D4 / Nikon D750 / Canon EOS 6D Mark II /