Setting up and editing a database of video sequences by using the video compression system DivX®5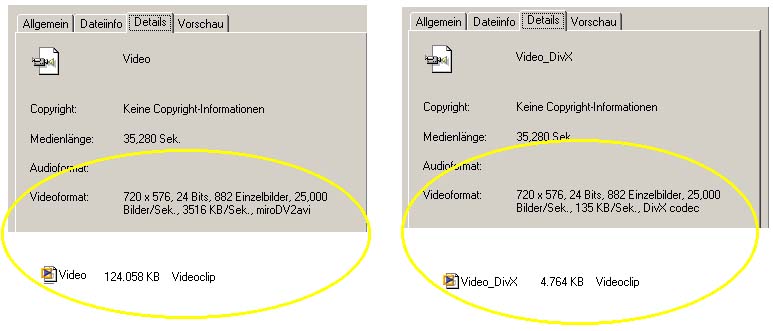 Video sequences need a lot of disc space if they are not compressed: for one hour in full DV quality you need approx. 13 GB. Depending on the range of application and the desired compatibliliy several different compression modes are available. The most common video compression modes are: MPEG1, MPEG2, MPEG4, mov (QUICKTIME®:) and VHS VideoCD. However, the compression system that offers the best proportion between the required disc space and image quality is momentarily the DivX® Networks Codec with free download in the internet.

This DivX®-Codec enables recording a 90 min video on a normal recordable CD (700 MB) and therefore is the best suited system for setting up a database for long camcorder videos. So a 16 min video sequence in full DV quality (resolution of 720x574) needs approx. 3 GB without compression, whereas after compression it occupies just 200 MB disc space. The compressed video is 20 times smaller than the original file.
To be able to play the compressed video sequences (and generally for all actions in digital video editing) it is recommendable to use a fast CPU.
In the playback mode, the DivX® Codec offers the so-called Postprocessing Setting option which can be adjusted in the player (Media Player® etc.). This function enables the rendering of each single picture while playing the video and so improves the image quality. A wrong (too high) postprocessing level causes a discontinuous image sequence.

To be able to play back the video sequences, the DIVX® Codec has to be installed on the computer.

What do you need for video compression in DivX®?


| | | |
| --- | --- | --- |
| 1. DivX® Codec, at present: | Divx® Codec 5 | |
| 2. Video cutting software, like: | Pinnacle Studio 7 ®: | |
| | or Virtual Dub (Freeware) | |
| 3. Player to play the videos: | e.g. Windows Media Player ® | |
First steps for compression with Virtual Dub



After opening the video with the Open Video File Button, choose the compression Codec DivX®. Click then onto the Configure Button on the right side.


Now adjust the DivX® Codec. It offers a lot of adjustment possibilities to cover a large range of applications. For beginners, the easiest possibility is to choose "1 pass", to adjust the encoding bitrate between 700 and 1000 kbps and not to change all the other options. All adjustments have a great influence on the image quality and on the required disc space which makes it possible to find out the best individual adjustments and filter options by trying out.


In equivalence to the video codec you can choose the audio codec at will. At the moment MP3 or the Lame Codec are the most efficient codecs.


Rename your video sequence and press the "Save"-button.


Now the computer starts encoding the video in DivX®. The status window of Virtual Dub shows all information concerning progress, projected file size (Mb), rendering rate (fps = frames per second) and the estimated total time.





Used computer: Notebook Gericom®: Webboy PIII 1000 , Win ME®
New LM Digital Adapter for:
Canon HR10 / Sony HDR-SR8 / Sony HDR-SR7 / Sony HDR-CX6 / Sony HDR-CX 11 / Sony HDR-SR 11 / Sony HDR-SR 1 / Sony HDR-HC7 / Sony HDR-SR5 / Sony HDR-HC5 / Sanyo XACTI VPC-HD1000 / Canon HF 100 / Canon HG 21 / Canon HG 20 / Canon HF 11 / Canon HF 10 / Sony HDR-HC 9 / Sony HDR-CX 6 / Sony HDR-HC3 / Sony HDR-SR1 / Sony HDR-HC1E / Sanyo XACTI VPC-HD1010 / Sony DCR-SR 210 / Canon HV 30 / Sony HDR-UX 19 / Sony HDR-SR 10 / Canon HG 10 / SonyHDR-UX 9 / Sony HDR-UX7 / Sony HDR-UX3 / Sony DCR-DVD 510 / Sony DCR-SR 75 / Sony DCR-HC 62 / Sony DCR-SR 55 / Sony HDR-FX 7 / Sony HDR-UX1 / Sony DCR-DVD 310 / Sony DCR-DVD 410 / Panasonic SDR-S 150 / Sony DCR-DVD 115 / Sony HDC-SD 100 /

Related Links

--