Micro Tech Lab
Professional solutions for digital micro and macro photography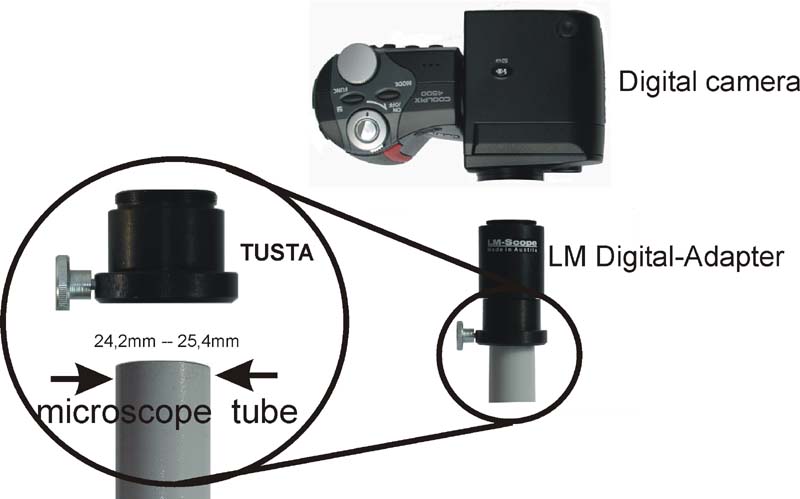 For all microscopes without C-Mount thread, especially for older instruments with norm tubes with an outer diameter of ca. 25 mm. All LM digital adapters with tubus husk include a tubus husk with a standard inner diameter of 23,20 mm.
Some microscopes´ tubes vary from the standard diameter of 23,20 mm. In this case the adapter does not fit tightly in the tube. The camera´s asymetrical weight makes the camera´s body rotate downwards, which makes it difficult to take landscape format photos.
To compensate this mechanical tolerance of the microscope, we now offer our tubus husk #TUSTA. The #TUSTA is fixed with a knurled screw and an integrated brass ring which guarantees a stabile tight connection. Therefore we recommend the #TUSTA especially for using with digital cameras on inclined tubes (minimum tubus length 15 mm).



New LM Digital Adapter for:
Nikon D850 / Sony Alpha 7III / Sony Alpha 9 / Nikon D5 / Sony Alpha 7S II / Sony Alpha 7R II / Sony Alpha 7R III / Sony Alpha 7S / Canon EOS 5D Mark IV / Nikon D750 / Canon EOS 6D Mark II / Sony Alpha 6300 / Sony Alpha 6500 / Nikon D500 / Canon EOS 1D X / Nikon D810 / Nikon D4s / Nikon D800 / Nikon D800E / Nikon D4 / Nikon Df / Nikon D610 / Nikon D600 / Canon EOS 6D / Canon EOS 5DS R ( without low-pass filter) / Olympus OM-D E-M1 Mark II / Canon EOS 80D / Canon EOS 5DS / Sony Alpha 77 II / Canon EOS 70D / Nikon D7200 / Canon EOS 200D / Canon EOS 800D / Rebel T7i / Canon EOS 77D / Canon EOS 5D Mark III / Canon EOS 60D / Sony Alpha 7R / Sony Alpha 7 / Nikon DS-Qi2 (Microscope Camera) / Nikon D3x / Olympus OM-D E-M1 /

Related Links

--