313
Microscope photos with the mirrorless system camera Sony NEX-6
For some years now, Sony has been successfully developing mirrorless system cameras and launching them on the market on a regular basis.
Due to their small size and weight, these cameras would also be interesting for use in photomicrography, especially for light microscopes without phototubes. That is why we have been eagerly awaiting further developments in this segment of Sony cameras, after having already tested the NEX-3 and NEX-5 models.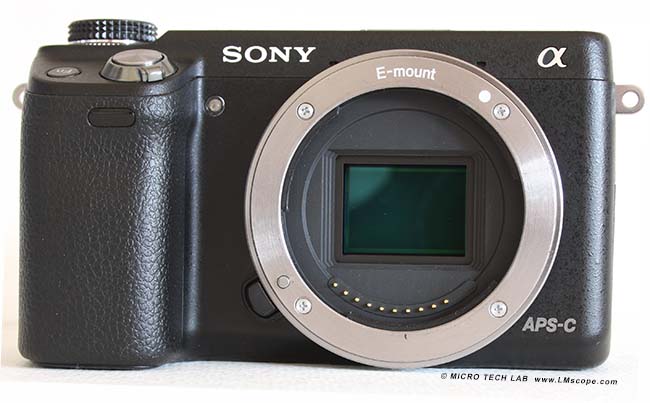 The Sony NEX-6 is positioned between the Sony NEX-7 and the Sony NEX-5R. It has a sleek, high-quality plastic body that is very well built. Operation of the camera is geared towards more advanced users who like using their own settings. For example, there are two unlabelled buttons whose functions at any given time are explained on the screen. Weighing in at only 340 grams without the lens, this camera is definitely in the "featherweight" class.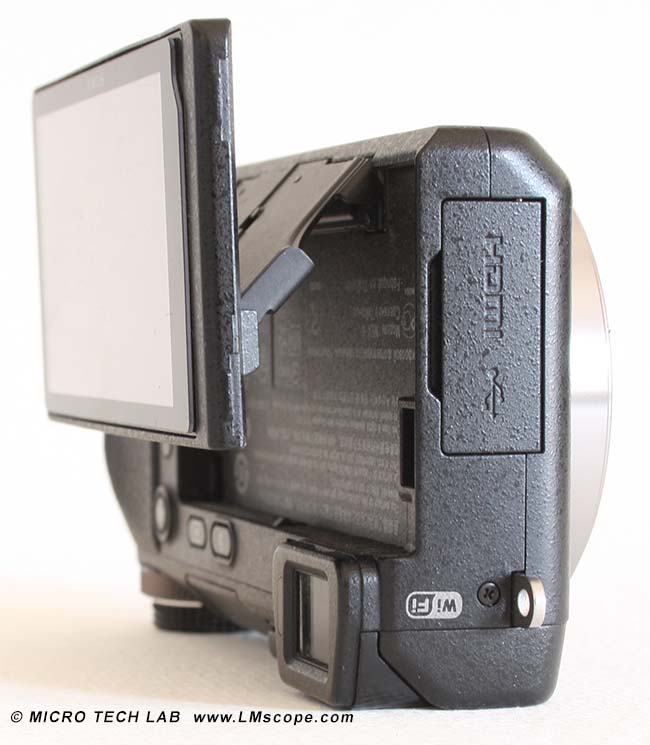 The screen on the back seems very big, with 921,000 pixels and 3 inches across diagonal corners. It can be tilted up 90 degrees and down about 45 degrees, but unfortunately it cannot be rotated or pivoted and is not touch-sensitive, either. The colour reproduction is very good, however. New features include an electronic viewfinder, WiFi and a mode-selection thumbwheel.

For our purposes, an electronic viewfinder is not required. In photomicrography and macrophotography, we usually rely on the display or, ideally, on an external monitor or HD monitor connected via an HDMI port, since we want to capture and display even the smallest details.
At 16 megapixels, the camera sensor (APS-C) is bigger than the 14-megapixel sensor on the Sony NEX-5. ISO speed ranges from 100 to 3,200 (set automatically); in manual mode, it can be set from ISO 100 to 25,600. Continuous shooting speed is very fast (9 images per second). The colour depth is 36 bits. Videos can be recorded in full HD resolution (1,920 x 1,080 pixels). The frame rate can be set to anywhere between 50 and 25 full frames per second.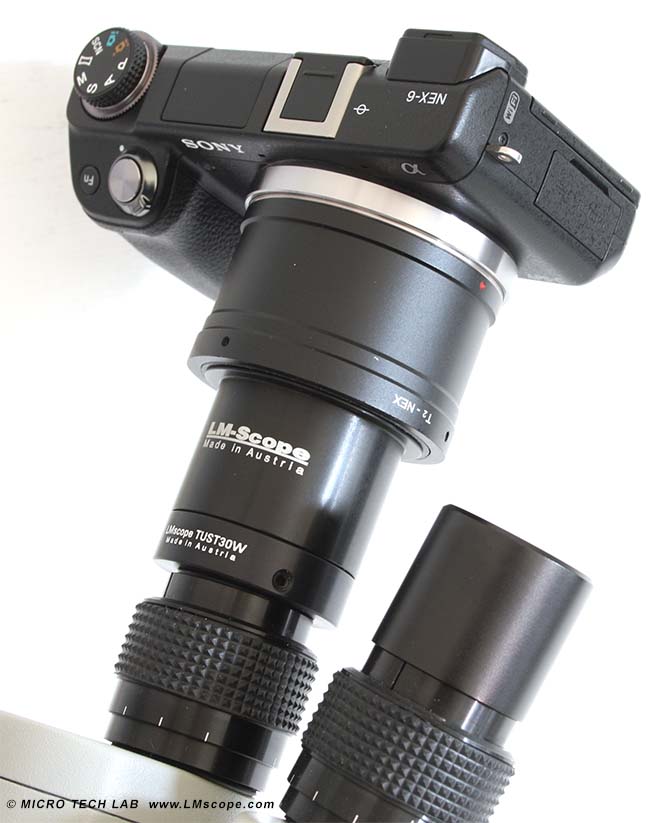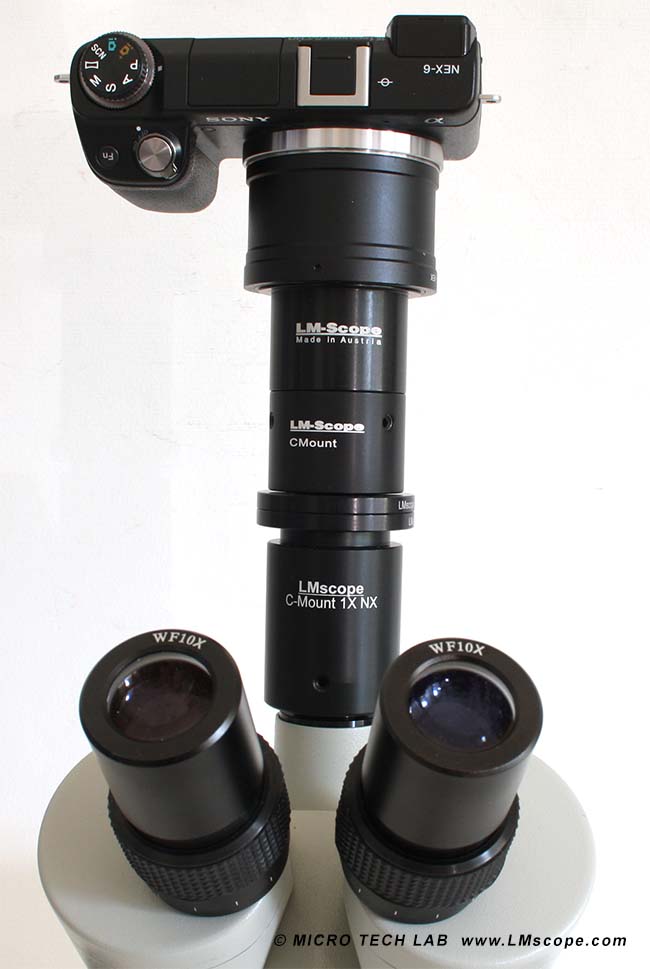 The Sony NEX-6 can be attached to a microscope in a few quick steps using our LM adapter solutions, which are designed for connection via eyepiece or phototube and are available for all commonly used microscopes. The magnifying function in Live View mode makes it possible to optimally adjust the focus of the microscope image.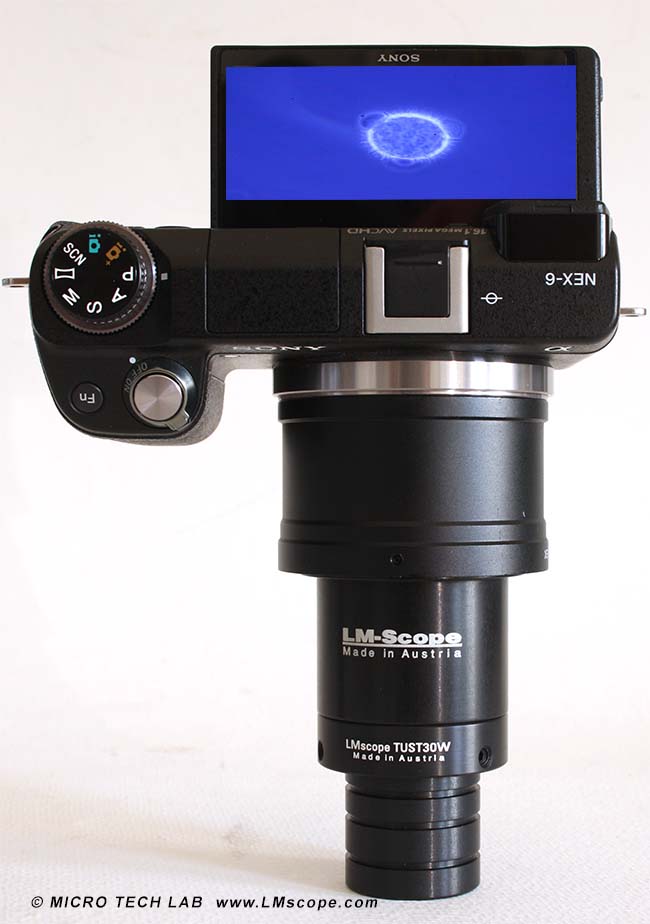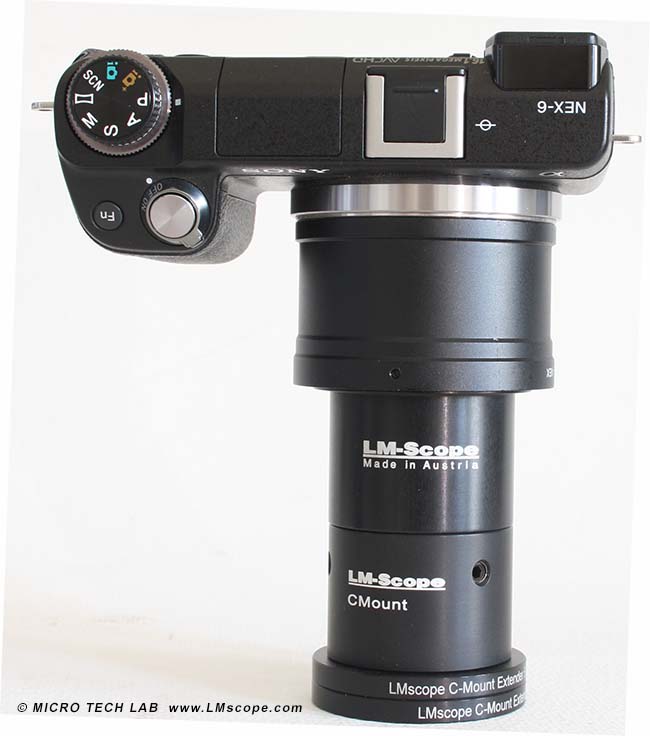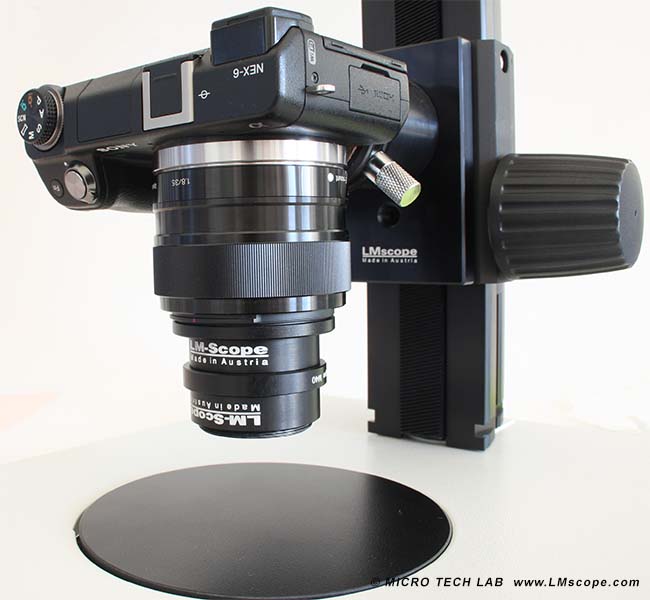 Until now, Sony cameras did not allow the user to control the camera remotely with Live View through a computer or to save images directly to the hard drive – features that the competitors Nikon and Canon do offer. The new WLAN feature on the Sony NEX-6, however, gives us hope that it will be possible to view and control the camera's Live View images using a tablet (iPad).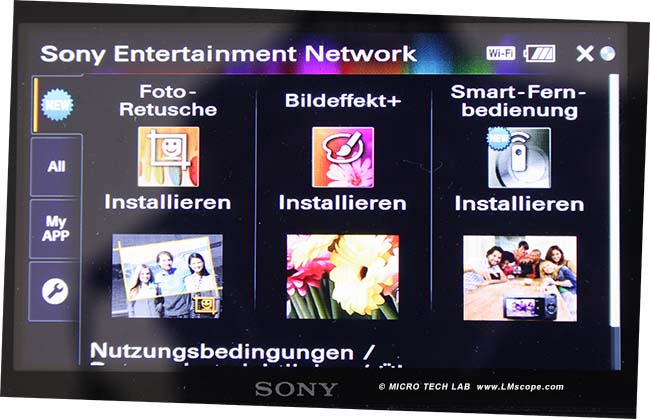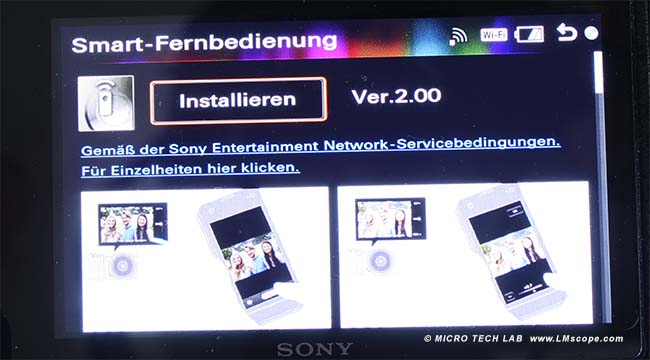 The "Play Memories Mobile" app can be found in the App Store and is quick and easy to install. Before the camera can communicate with the tablet, however, it is necessary to set up the network. For security reasons, we use very long passwords in our networks. However, it is very difficult entering long passwords on the keypad field without a touchscreen. We can't really understand why the Sony NEX-6 doesn't have a touchscreen but the Sony NEX-5R does. For cameras in that price range and having such sophisticated functions, you would expect a touchscreen display.
The camera has an integrated basic web browser, so you can download apps directly off the web using the menu of the PlayMemories Mobile" app. Sony offers a few apps for the Sony NEX-6, including a remote control app, as we had hoped it would. However, when we tried to install it, we immediately met with another obstacle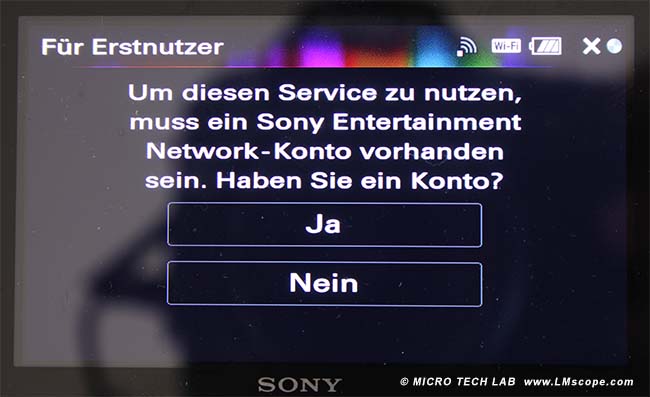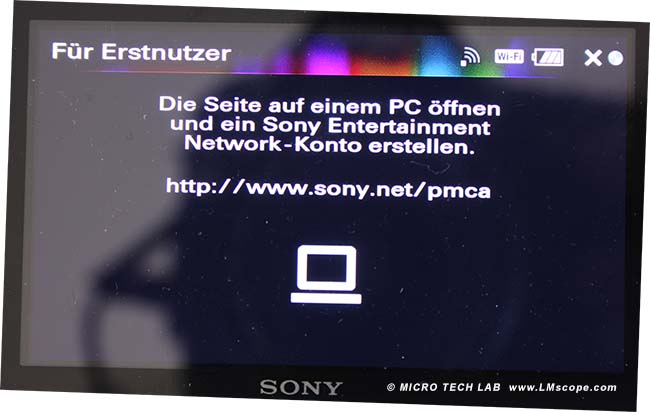 Before being able to start the installation process, you need to open a Sony account on your PC or tablet by signing up with your personal data. We did so right away, of course. Then we had to enter the WLAN passwords on the camera, which again made the lack of a touchscreen monitor sorely apparent. For security reasons, we chose very long passwords that were extremely difficult to enter on the camera without a touchscreen. Once we succeeded in entering the passwords, the application was loaded – and we encountered another setback with the following error message: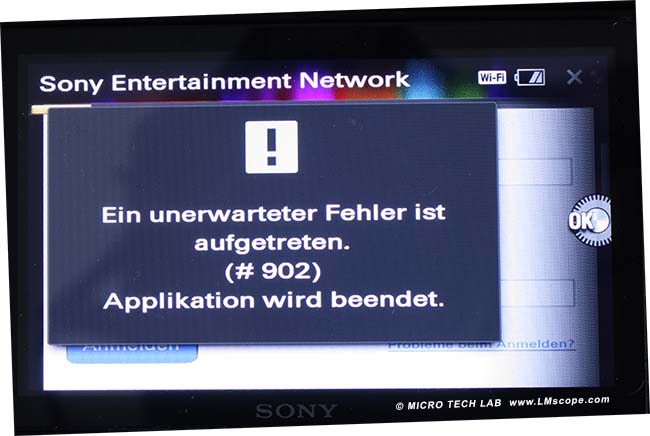 After several attempts, we became very frustrated and finally gave up.
Conclusion:
The camera itself is very well made. In this series, Sony has strengthened its focus on outdoor photography, and the camera can be used very well for that purpose. It cannot be unconditionally recommended for use in photomicrography and macrophotography, however, because of the lack of software for remote control via a PC. The camera's optical quality is definitely very good, but other cameras are substantially easier to use and can also be remotely controlled through a PC. The WLAN app still suffers from a number of initial bugs and, as a "next generation camera", it definitely needs a touchscreen display. In our opinion, the "mandatory registration" makes it unnecessarily difficult to use the apps.
19.03.2014
New LM Digital Adapter for:
Sony Alpha 7R V / Sony Alpha 1 / Sony FX3 Cinema Line / Sony Alpha 9 II (ILCE-9M2) / Sony Alpha 9 / Sony Alpha 7R IV / Sony Alpha 7S II / Sony Alpha 7S III / Sony Alpha 7R III / Sony Alpha 7R II / Sony Alpha 7C / Sony Alpha 7S / Sony Alpha 7III / Sony Alpha 6600 / Sony Alpha 6400 / Sony Alpha 6100 / Sony ZV-E10 / Sony Alpha 6300 / Sony Alpha 6500 / Sony Alpha 99 II (SLT-A99 II) / Sony Alpha 77 II /