The mirrorless Panasonic Lumix DMC-GF3 system camera tested on the microscope
Panasonic already has some successful system camera models on the market, which means that the company already had a chance to adapt and optimise the Lumix GF3 according to its customers' requirements. We are particularly interested in finding out whether any modifications to the camera make a difference to its suitability for photomicrography.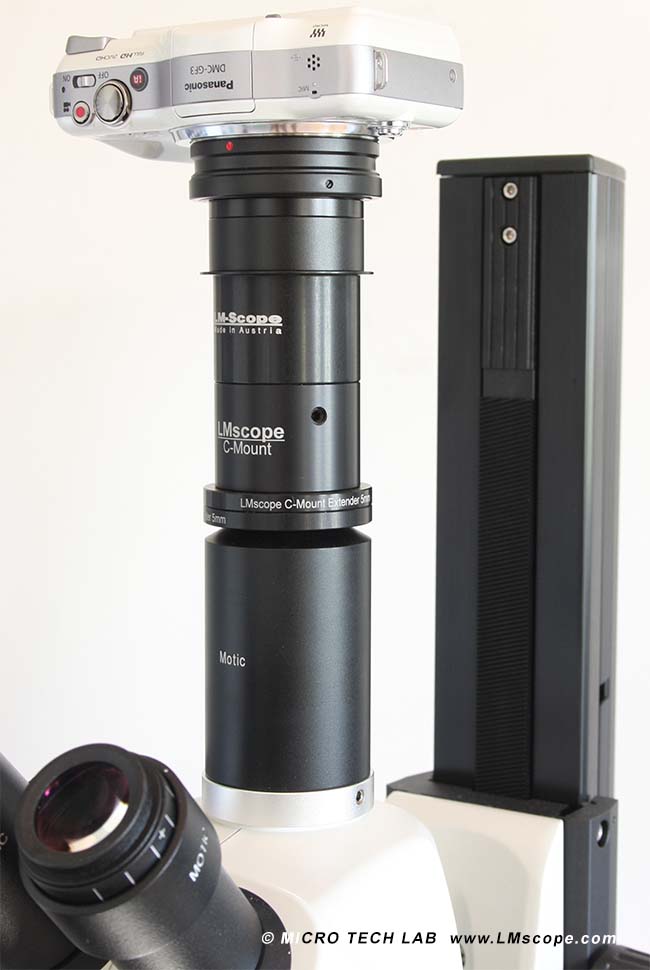 In terms of external appearance, the camera has an attractive, compact shape. It has become so small that there is hardly room for the lens mount. The rear has a very clear layout. Almost all of the space is taken up by the display (Ø 7.6 cm) with only a minimum of operating controls. With this tactic, Panasonic has succeeded in making the camera even smaller than its predecessor model.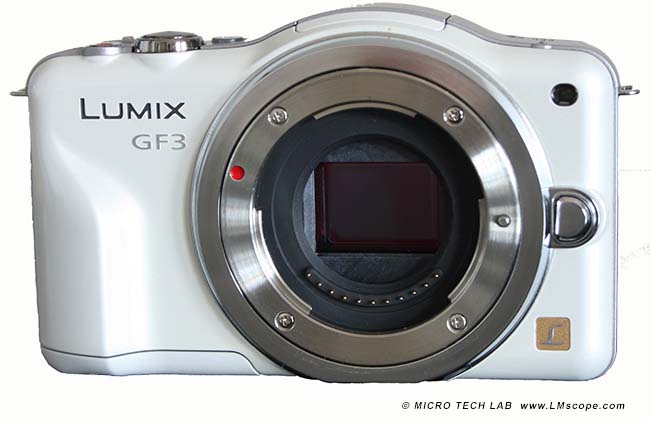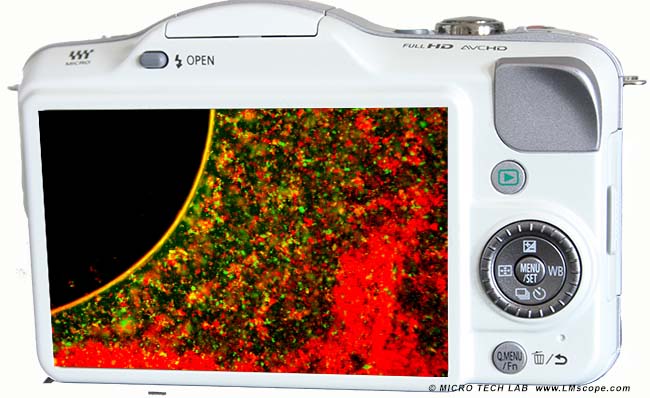 The camera uses the micro four thirds system, and therefore the sensor is somewhat smaller than that in DSLR cameras or system cameras made by other manufacturers, for example the Sony NEX series. The sensor only has a meagre 12 megapixels and the light sensitivity can only be set between ISO 160 and ISO 6,400.
The Panasonic Lumix GF3 is intended for amateur and ambitious hobby photographers. Due to its low weight (265 g) and small size, the camera is ideal for outdoor use. It does not take up much space in the backpack and can therefore be taken along on any leisure activity.
Unfortunately, the Panasonic Lumix GF3 is not well enough suited for efficient use on the microscope. During our test we were somewhat irritated to find that the magnification function could only be operated via the touchscreen.
In general, the camera is awkward to use on the microscope since there is also no software to enable it to be controlled via the PC. In practice, this means that the camera display has to be used as the control monitor. Once the camera is attached to the microscope, it is located quite high up, which in our case meant that anyone under 6 feet tall had to resort to a footstool.
It was not even possible to display the Live View image via the HDMI output. This is an important function – on the one hand for focussing the image, and on the other hand for presentations. With the Panasonic Lumix GF3, only images that have already been captured can be displayed via the HDMI output.
All in all, the lack of control software combined with the reduction in important operating elements significantly complicates working with the Panasonic Lumix GF3 on the microscope.
Conclusion:
In a nutshell, the Panasonic Lumix GF3 cannot be recommended for photomicrography. It is clearly designed for outdoor use. However, its small, lightweight design is not relevant for use with microscopes. The performance level of the camera corresponds to that of the year 2006. Older Olympus DSLR models (E330/E420/E620) featuring the micro four thirds system have a similar sensor quality, but are considerably more convenient to use.
06.11.2014
New LM Digital Adapter for:
Panasonic Lumix DMC-GH4 / Panasonic Lumix DMC-GX7 / Panasonic Lumix DMC-GH3 / Panasonic Lumix DC-GH5 / Panasonic Lumix DMC-GH2 / Panasonic Lumix DMC-GX1 / Panasonic Lumix DMC-GF5 / Panasonic Lumix DMC-G2 / Panasonic Lumix DMC-GH1 / Panasonic Lumix DMC-GF2 / Panasonic Lumix DMC-GF3 / Panasonic Lumix DMC-G10 / Panasonic Lumix DMC-G1 / Panasonic Lumix DMC-GF1 / Panasonic Lumix DMC-FZ38 / Panasonic DMC-FT3 / Panasonic HDC-SD800 / Panasonic HDC-SD909 / Panasonic HDC-TM900 / Panasonic HDC-HS900 / Panasonic DMC-FS18 / Panasonic DMC-FS35 / Panasonic DMC-FS37 / Panasonic DMC-TZ22 / Panasonic DMC-FS16 / Panasonic DMC-TZ18 / Panasonic DMC-FX77 / Panasonic DMC-FT3 / Panasonic Lumix DMC-FS35 / Panasonic Lumix DMC-FZ100 / Panasonic HDC-SD99 /

Related Links

--