Creative, highly effective macroscopic lighting from IKEA
A simple off-the-shelf IKEA LED lamp with 3 watts (power consumption) is perfectly well suited for professional use with macroscopes and microscopes.
When it comes to light sources for our work at the macroscope, we prefer simple off-the-shelf IKEA LED lamps. This usually helps us save on expensive macroscopic lighting systems. Lighting with IKEA LED lamps works easiest with models that come with a clamp and suction cup. These can be fastened directly to the stand or the base plate with no effort at all. This simple method provides more flexibility, thereby allowing the user to quickly adjust to new lighting conditions. The flexible gooseneck of the lamps also makes it possible to precisely adjust the lighting angle to the object to be captured in the image. This is not possible with ring lights, for instance, because their angle of incidence is always the same.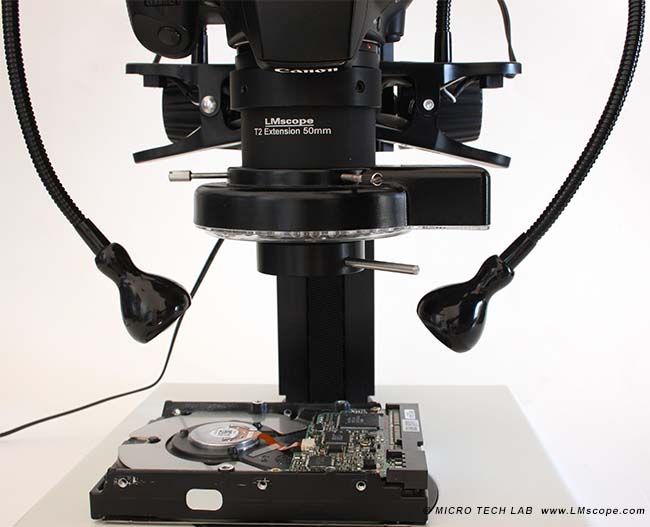 The IKEA LED lamps also perform quite well with side light configurations, as object details and surface structures are much better visible with this type of lighting.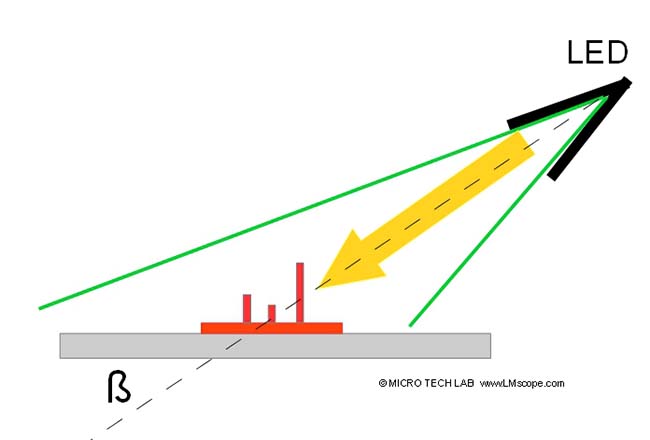 To work as productively as possible, we recommend attaching multiple LED lamps to the macroscope or microscope. This way, depending on the specific requirements, different lamps can be switched on or off without having to make substantial changes to the lighting assembly. This is why an IKEA LED lamp comes as standard with the delivery of our LM macroscopes.
It would be even better if the IKEA lamps also included a dimmer switch along with the on- and off-switch. However, this is not a major flaw as the brightness can be adjusted by increasing or decreasing the distance of the light source from the object and altering the angle of incidence.
The light intensity of 70 lumens is roughly equivalent to the luminous flux of a 15 watt light bulb. This amount of light is not overly bright, so requiring even less light will not be a very common occurrence. This is also the reason why we recommend using multiple LED lamps.
Conclusion:
The IKEA LED lamps produce a pleasant, economical light and offer flexible possibilities of application, especially when multiple lamps are being used simultaneously. They are quite well suited for macroscopic applications, but can also be put to good use with microscopes. The price-performance ratio is unbeatable at any rate.
28.07.2014
New LM Digital Adapter for:
Nikon D850 / Sony Alpha 7III / Sony Alpha 9 / Nikon D5 / Sony Alpha 7S II / Sony Alpha 7R II / Sony Alpha 7R III / Sony Alpha 7S / Canon EOS 5D Mark IV / Nikon D750 / Canon EOS 6D Mark II / Sony Alpha 6300 / Sony Alpha 6500 / Nikon D500 / Canon EOS 1D X / Nikon D810 / Nikon D4s / Nikon D800 / Nikon D800E / Nikon D4 / Nikon Df / Nikon D610 / Nikon D600 / Canon EOS 6D / Canon EOS 5DS R ( without low-pass filter) / Olympus OM-D E-M1 Mark II / Canon EOS 80D / Canon EOS 5DS / Sony Alpha 77 II / Canon EOS 70D / Nikon D7200 /

Related Links

--