Mounting diagram for LM macro lenses (close-up lenses): LM macro 40mm and LM macro 80mm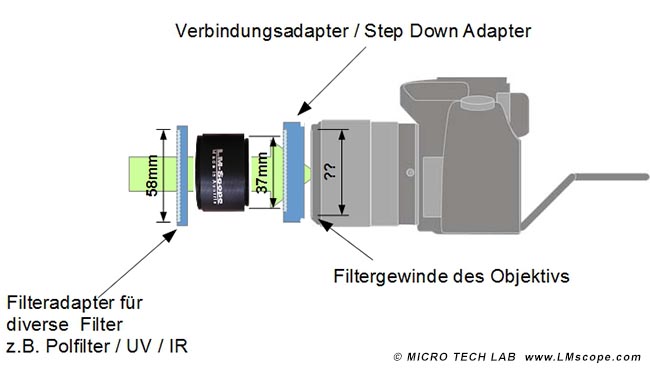 The LM close-up lenses (LM macro 80mm/40mm) are positioned directly in front of the master lens. Assembly is via the filter thread of the cameralens. Our LM close-up lenses have a M37 x 0,75 thread. That's the reason why an additional connecting adapter is needed (StepDown Ring). We have the most common sizes in stock (see list below).
We offer filteradapters with 58mm (STR4058) for the installation of various filters (UV, polar, IR,…) on our close-up lenses (LM Macro 80mm/ 40mm). For mounting filters on our LM Macro 40 Set (consisting of two pieces LM macro 80mm) we offer the filteradapter STR3758.
17.10.2014
[Further information and prices]
Ordering code

Product description

Price

Price

Available

STR2837

LM Filter Step Down Ring from 28 mm to 37 mm





STR3758

LM Filter Step Up Ring from 37 mm to 58 mm for Polarizing, Coloured and Neutral Density filters



Data Sheet


STR4058

LM Filter Step Up Ring from 40 mm to 58 mm for Polarizing, Coloured and Neutral Density filters



Data Sheet


STR4937

LM Filter Step Down Ring from 49 mm to 37 mm





STR5237

LM Filter Step Down Ring from 52 mm to 37 mm



Data Sheet


STR5537

LM Filter Step Down Ring from 55 mm to 37 mm



Data Sheet


STR5837

LM Filter Step Down Ring from 58 mm to 37 mm



Data Sheet


STR6237

LM Filter Step Down Ring from 62 mm to 37 mm




For EU (European Union) VAT (IVA, TVA) not included
Related Links
Digitalcamera , digital SLRs , digital SLR , DSLR , D-SLR , Phototubes of 38 mm or 37 mm internal diameter (ISO port) , Nikon microscopes with VT phototube , Zeiss microscope tubes with 30 mm internal diameter (Interface 60) ,
--