584
The LM Pro microscope camera adapters: achieving better image quality with an optimised aperture configuration
Adapter solution with integrated aperture diaphragm: maximum flexibility and professionalism with the LM wide field adapters
Depending on the microscope, an additional aperture diaphragm in the adapter unit can help achieve consistently better image quality. As a rule, a microscope is equipped with many different aperture diaphragms to get the best possible image quality and field of view. In laboratory microscopes, each individual objective lens has its own aperture diaphragm. Lower-priced stereo microscopes with zoom lenses usually come with a fixed aperture diaphragm. More expensive stereo microscopes and macroscopes have a variable iris diaphragm in the stand base, which can be adjusted to any given application.
To add even more flexibility, our adapter solutions offer the option of optimising the aperture configuration of the adapter.
We can deliver our LM wide field adapters with four aperture diaphragms, each featuring a different aperture diameter: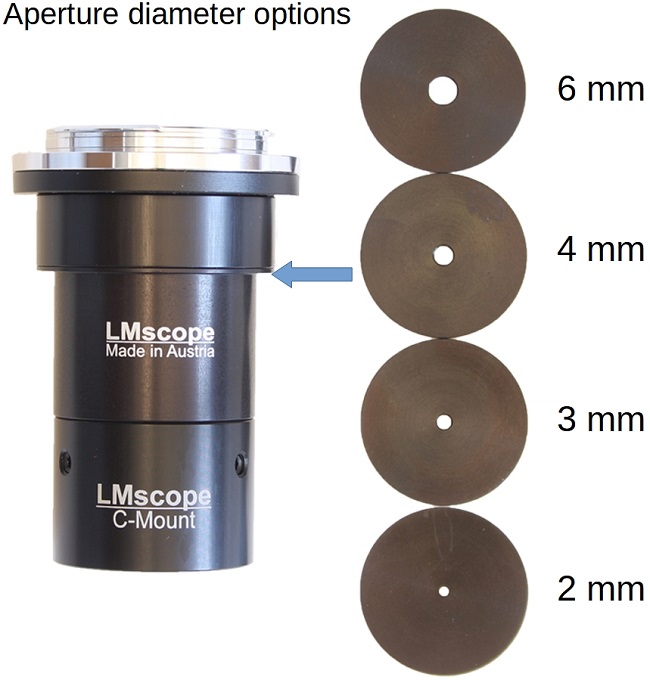 Especially in older and cheaper microscopes, image flaws may occur, which can be corrected by aperture size. With smaller apertures, less light is recorded and the depth of field is greater. Since the ideal aperture diameter is different for each microscope, we offer four diaphragm versions with diameters between 2 mm and 6 mm. The smaller the aperture, the longer the shutter speed you will need.
First, remove the silver bayonet adapter and the tube extension.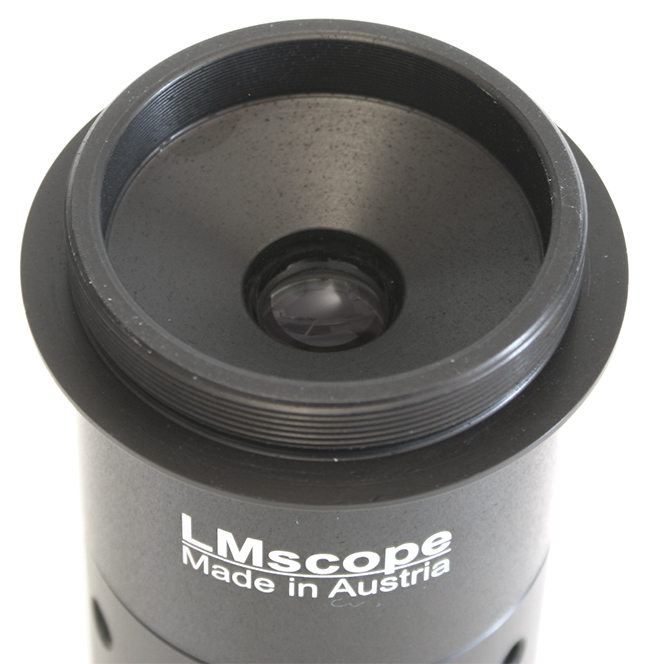 Then, place the aperture diaphragm on top of the smaller main tube.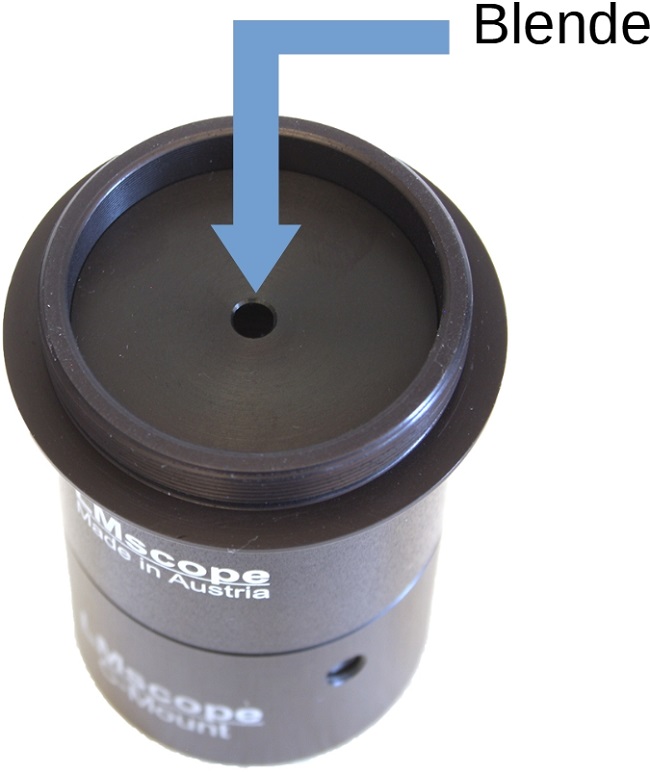 Next, reassemble the adapter – it can now be used as usual.

If you are interested, please feel free to contact us. We look forward to hearing from you!
07.05.2021
New LM Digital Adapter for:
Nikon Z9 / Nikon Z8 / Sony Alpha 7R V / Sony Alpha 1 / Sony FX3 Cinema Line / Sony Alpha 9 II (ILCE-9M2) / Sony Alpha 9 / Nikon D6 / Canon EOS R3 / Canon EOS R6 Mark II / Canon EOS R8 / Sony Alpha 7R IV / Canon EOS R5 / Sony Alpha 7S II / Sony Alpha 7S III / Sony Alpha 7R III / Canon EOS R6 / Nikon Z6 / Nikon Z6II / Sony Alpha 7R II / Nikon Z7 / Nikon Z7II / Canon EOS R / Canon EOS Ra (Astro) / Nikon Z5 / Sony Alpha 7C / Canon EOS RP / Sony Alpha 7S / Canon EOS R7 / Leica SL2-S / Canon EOS R10 / Canon EOS 1D X Mark III / Nikon Z50 / Nikon Z30 / Nikon Z fc / Nikon D850 / Canon EOS 1D X Mark II / Nikon D780 / Olympus OM-1 / Sony Alpha 7III / Olympus OM-D E-M1 Mark III / Canon EOS R100 / Sony Alpha 6700 / Nikon D5 / Sony Alpha 6600 / Fujifilm X-H2S / Fujifilm X-S10 / Fujifilm X-E4 / Fujifilm X-Pro3 / Olympus OM-D E-M1X / Sony Alpha 6400 / Sony Alpha 6100 / Sony ZV-E10 / Canon EOS 1D X / Nikon D4s / Olympus OM-D E-M5 III / Canon EOS 90D / Canon EOS 5D Mark IV / Nikon D4 / Nikon D750 / Canon EOS 6D Mark II / Fujifilm X-T4 / Fujifilm X-T3 / Sony Alpha 6300 / Sony Alpha 6500 / Nikon D500 / Nikon D810 / Nikon D800 / Canon EOS M6 Mark II / Nikon D800E / Nikon Df / Panasonic Lumix DC-G9 / Nikon D610 / Nikon D600 / Canon EOS 250D / Canon EOS 850D / Rebel T8i / Canon EOS 6D / Sony Alpha 99 II (SLT-A99 II) / Canon EOS M200 / Canon EOS 5DS R ( without low-pass filter) / Olympus OM-D E-M1 Mark II / Canon EOS 80D / Canon EOS M50 Mark II / Canon EOS 5DS / Canon EOS M50 / Sony Alpha 77 II / Canon EOS 70D / Nikon D7200 / Pentax K-1 Mark II / Canon EOS 200D / Canon EOS 800D / Rebel T7i / Canon EOS 77D / Canon EOS 5D Mark III / Canon EOS 60D / Sony Alpha 7R / Sony Alpha 7 / Nikon DS-Qi2 (Microscope Camera) / Olympus OM-D E-M5 II / Nikon D3x / Olympus OM-D E-M1 / Pentax KP /