Micro Tech Lab
Professional solutions for digital micro and macro photography
FAQ: I am unable to obtain equally focused images through the camera and eyepiece. There are a few millimetres between the two focal planes!


If the focal planes of the specimen differ widely (> 10 mm) between the camera display (through the phototube) and visual observation via the eyepiece, your instrument has a C-mount connection that differs from the general standards. Dental and operating microscopes in particular sometimes have C-mount connections that are incompatible with standard C-mount connections.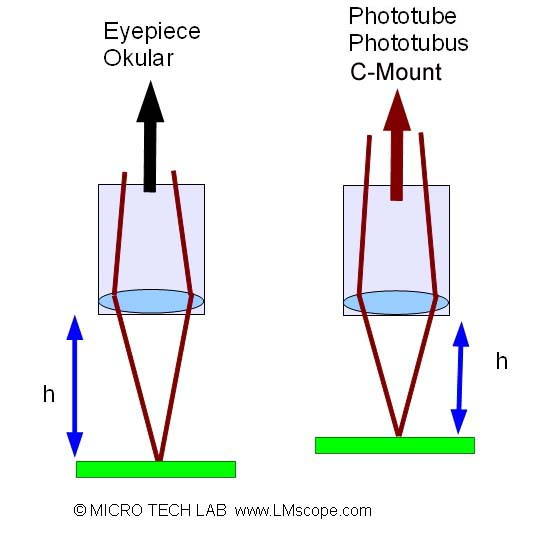 The above illustration shows a setup in which the two optical paths (eyepiece and phototube) are aligned differently. If the image through the eyepiece is focused, the image that the camera sees (through the phototube) is blurred. By turning the micrometer screw it is possible to ensure that the camera also sees a focused image. This process is known as defocusing. It changes the distance (h) between the object and the eyepiece. This difference should be corrected for reasons of optical quality.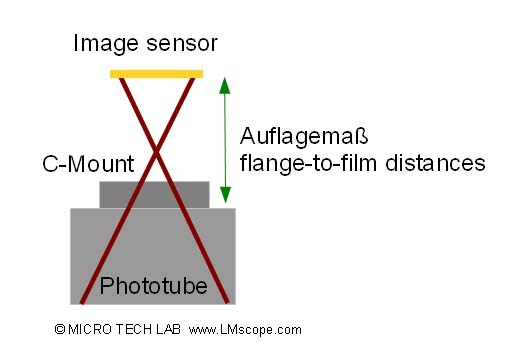 The C-mount connection is a standardised connection that has been designed for video cameras. Using this connection makes it possible to attach cameras made by different manufacturers to phototubes. The thread is imperial (inches) and has an external diameter of 25.4 mm. The distance from the camera's sensor chip is known as the flange focal distance (or flange-to-film distance) and is set at 17.52 mm.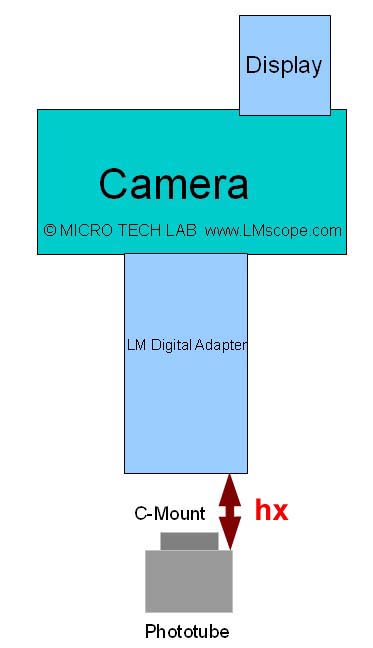 Possible solution:

We have developed a focusable LM Universal Adapter, which compensates the deviation of the instrument. For extreme differences you have the possibility to use a 5mm C-Mount extension.
Update: 04.04.2011

Caution! This manual is protected by copyright. Unauthorised reproduction thereof, in whole or in part, is punishable by law. Only use with MICRO TECH LABís approval.
New LM Digital Adapter for:
Nikon D850 / Sony Alpha 7III / Sony Alpha 9 / Nikon D5 / Sony Alpha 7S II / Sony Alpha 7R II / Sony Alpha 7R III / Sony Alpha 7S / Canon EOS 5D Mark IV / Nikon D750 / Canon EOS 6D Mark II / Sony Alpha 6300 / Sony Alpha 6500 / Nikon D500 / Canon EOS 1D X / Nikon D810 / Nikon D4s / Nikon D800 / Nikon D800E / Nikon D4 / Nikon Df / Nikon D610 / Nikon D600 / Canon EOS 6D / Canon EOS 5DS R ( without low-pass filter) / Olympus OM-D E-M1 Mark II / Canon EOS 80D / Canon EOS 5DS / Sony Alpha 77 II / Canon EOS 70D / Nikon D7200 / Canon EOS 200D / Canon EOS 800D / Rebel T7i / Canon EOS 77D / Canon EOS 5D Mark III / Canon EOS 60D / Sony Alpha 7R / Sony Alpha 7 / Nikon DS-Qi2 (Microscope Camera) / Nikon D3x / Olympus OM-D E-M1 /

Related Links

--