At the present time, our product range incorporates solutions for more than 400 digital cameras and several hundred microscopes. This means that there are many different options available, which unfortunately can no longer be adequately explained with a simple price list. Frequently, an adapter sleeve is also required in addition to our LM digital adapter in order to ensure a snug fit.
For this reason, there is an
online database
on our website which you can use to find the right solution for your camera and microscope.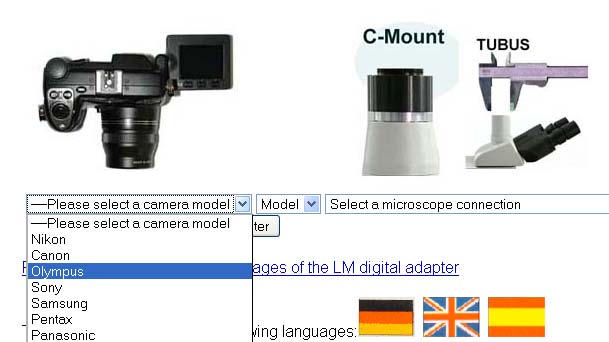 Simply select your digital camera and microscope connection in the form, and you will immediately receive information on the components that you need. This page will also give you details of availability and prices. If you need further help with selecting the right product, we will be pleased to be of assistance.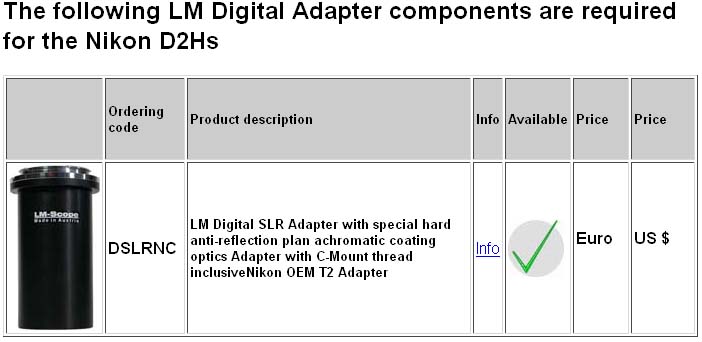 To help us deal with your enquiry, please give us the following information:
●
Camera model name
●
Microscope model name
●
Please specify whether your microscope has a binocular tube with an internal diameter of 23.2 mm or 30 mm
●
or a trinocular phototube with an internal diameter of 23.2 mm, 30 mm, 37 mm or 38 mm.
Caution! This manual is protected by copyright. Unauthorised reproduction thereof, in whole or in part, is punishable by law. Only use with MICRO TECH LABís approval.
New LM Digital Adapter for:
Nikon D850 / Sony Alpha 7III / Sony Alpha 9 / Nikon D5 / Sony Alpha 7S II / Sony Alpha 7R II / Sony Alpha 7R III / Sony Alpha 7S / Canon EOS 5D Mark IV / Nikon D750 / Canon EOS 6D Mark II / Sony Alpha 6300 / Sony Alpha 6500 / Nikon D500 / Canon EOS 1D X / Nikon D810 / Nikon D4s / Nikon D800 / Nikon D800E / Nikon D4 / Nikon Df / Nikon D610 / Nikon D600 / Canon EOS 6D / Canon EOS 5DS R ( without low-pass filter) / Olympus OM-D E-M1 Mark II / Canon EOS 80D / Canon EOS 5DS / Sony Alpha 77 II / Canon EOS 70D / Nikon D7200 / Canon EOS 200D / Canon EOS 800D / Rebel T7i / Canon EOS 77D / Canon EOS 5D Mark III / Canon EOS 60D / Sony Alpha 7R / Sony Alpha 7 / Nikon DS-Qi2 (Microscope Camera) / Nikon D3x / Olympus OM-D E-M1 /

Related Links

--