My microscope images always have a circular pattern on them. What am I doing wrong?
Is the LM digital adapter faulty?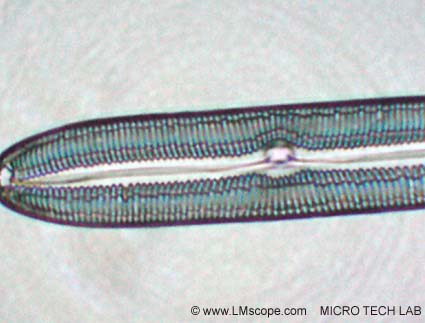 The phenomenon you are describing often occurs when using digital cameras with fixed, inbuilt zoom lenses. The reason for this has nothing to do with either the microscope itself or the LM digital adapter that is being used. It is far more likely to result from small artefacts on the lens of the camera, which are caused when the lenses are being produced. In general photography and macrophotography, these flaws are not visible; they can only be seen in parallel light paths in optical instruments.
Often, this phenomenon only appears after a certain amount of time. Sometimes plastic lenses are used in compact cameras, which are aged by UV light and other environmental influences. Since it is unfortunately not possible with compact cameras to exchange the lens, there is also no possibility to improve the image quality. The only thing that can be tried is to see whether a shorter focal length of the camera lens lessens the visibility of this circular pattern.
For professional work in microscopy we therefore recommend using digital single lens reflex cameras with Live View function.
A detailed discussion of this subject can be found at:
http://www.microscopy-uk.org.uk/mag/imgjan04/coolpix-artefact-report.pdf
[ Artefacts in Photomicrographs caused by Nikon Digital Cameras, Models Coolpix 990, 995 and 4500]
Caution! This manual is protected by copyright. Unauthorised reproduction thereof, in whole or in part, is punishable by law. Only use with MICRO TECH LABís approval.
New LM Digital Adapter for:
Nikon D850 / Sony Alpha 7III / Sony Alpha 9 / Nikon D5 / Sony Alpha 7S II / Sony Alpha 7R II / Sony Alpha 7R III / Sony Alpha 7S / Canon EOS 5D Mark IV / Nikon D750 / Canon EOS 6D Mark II / Sony Alpha 6300 / Sony Alpha 6500 / Nikon D500 / Canon EOS 1D X / Nikon D810 / Nikon D4s / Nikon D800 / Nikon D800E / Nikon D4 / Nikon Df / Nikon D610 / Nikon D600 / Canon EOS 6D / Canon EOS 5DS R ( without low-pass filter) / Olympus OM-D E-M1 Mark II / Canon EOS 80D / Canon EOS 5DS / Sony Alpha 77 II / Canon EOS 70D / Nikon D7200 / Canon EOS 200D / Canon EOS 800D / Rebel T7i / Canon EOS 77D / Canon EOS 5D Mark III / Canon EOS 60D / Sony Alpha 7R / Sony Alpha 7 / Nikon DS-Qi2 (Microscope Camera) / Nikon D3x / Olympus OM-D E-M1 /

Related Links

--