Micro Tech Lab
Professional solutions for digital micro and macro photography
I am currently using an LM digital adapter with an old microscope. My images are only focused in the centre, while at the edges they are flat and blurred (when I refocus, the edges become clear and the middle blurs).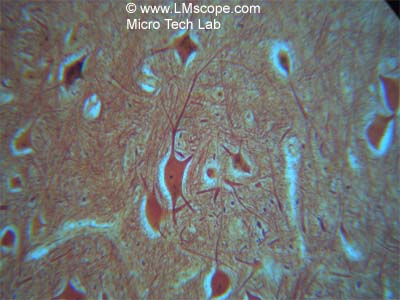 All of our LM digital adapters have been developed primarily for use with modern microscopes (made after 1980) that are manufactured by top name brands. These microscopes have an "infinity optical system" which delivers corrected images even without an eyepiece. These optical systems consist of two parts: a lens and a compatible tube lens for correcting flaws in the image. This means that the image is error-free after the tube lens, i.e. before the eyepiece or the LM digital adapter.

Older microscopes still tend to have a finite optical system (170/160 mm tube length). These microscopes have lenses that exhibit serious flaws (image warping, spherical and chromatic aberrations, etc.) and this applies to all lenses, no matter how much they cost. These flaws can be resolved by using what is known as a compensating eyepiece (or compensating projective eyepiece). As every microscope manufacturer's "finite lenses" exhibit different residual errors, unfortunately there is no single LM digital adapter that can improve or correct the various flaws of all the different makes. The only sensible solution is to use a microscope with an infinity optical system.

Caution! This manual is protected by copyright. Unauthorised reproduction thereof, in whole or in part, is punishable by law. Only use with MICRO TECH LABís approval.
New LM Digital Adapter for:
Nikon D850 / Sony Alpha 7III / Sony Alpha 9 / Nikon D5 / Sony Alpha 7S II / Sony Alpha 7R II / Sony Alpha 7R III / Sony Alpha 7S / Canon EOS 5D Mark IV / Nikon D750 / Canon EOS 6D Mark II / Sony Alpha 6300 / Sony Alpha 6500 / Nikon D500 / Canon EOS 1D X / Nikon D810 / Nikon D4s / Nikon D800 / Nikon D800E / Nikon D4 / Nikon Df / Nikon D610 / Nikon D600 / Canon EOS 6D / Canon EOS 5DS R ( without low-pass filter) / Olympus OM-D E-M1 Mark II / Canon EOS 80D / Canon EOS 5DS / Sony Alpha 77 II / Canon EOS 70D / Nikon D7200 / Canon EOS 200D / Canon EOS 800D / Rebel T7i / Canon EOS 77D / Canon EOS 5D Mark III / Canon EOS 60D / Sony Alpha 7R / Sony Alpha 7 / Nikon DS-Qi2 (Microscope Camera) / Nikon D3x / Olympus OM-D E-M1 /

Related Links

--