The Interlaced Method

Using DV camcorders and digital cameras with LM digital adapters in microscopy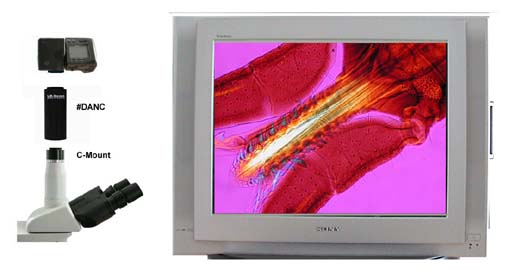 Television and video monitors are supplied with a PAL signal, which consists of 625 lines, of which only 576 contain usable image data. At least 16 images per second are needed to ensure that the appearance of motion is smooth. In television technology, 25 images are transmitted. Because of the simpler technical realization it was decided previously to only display half the image on the screen. This means that the human eye is presented with a half frame 50 times per second. The luminescence of the pixels merges the respective halves into one complete image.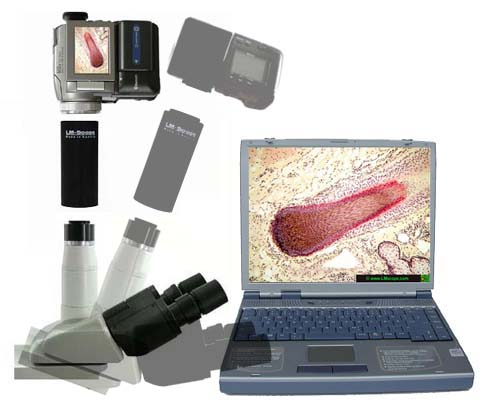 Computer monitors do not work with the interlaced technology, but always display the whole image. For example, 1024 x 788 resolution with 60 Hz: the screen displays the entire image 60 times per second, and no half frames.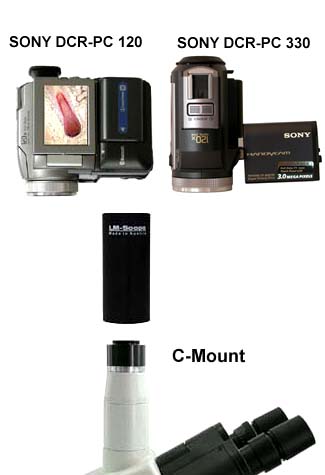 To satisfy customers' demands, modern camcorders must be able to prepare the image data for television monitors (PAL half images) and send video data via a digital output FireWire IE 1934. Depending on the method of recording on the magnetic tape, camcorders can be better or worse suited for various output types. With many camcorder models it is possible to save 50 full frames on the tape. This mode would be ideal for processing images on a computer and for presentation on the computer screen. If this mode is not available, then there are two possibilities to reduce interference effects: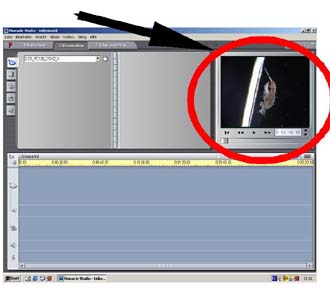 1. Delete a half frame as, for example, in the preview pf the Pinnacle Studio7 editing program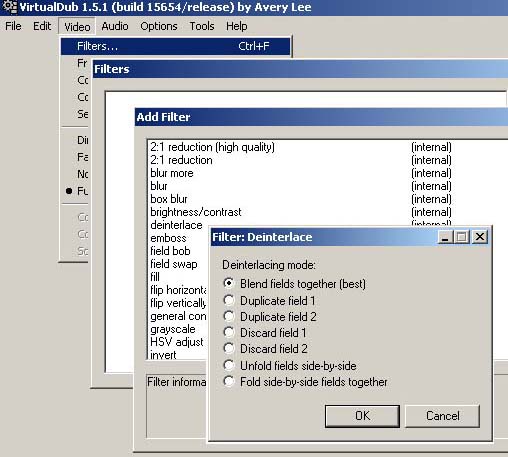 2. Use a deinterlacing filter. Here, the half frame artefacts are reduced to a minimum by means of a software algorithm.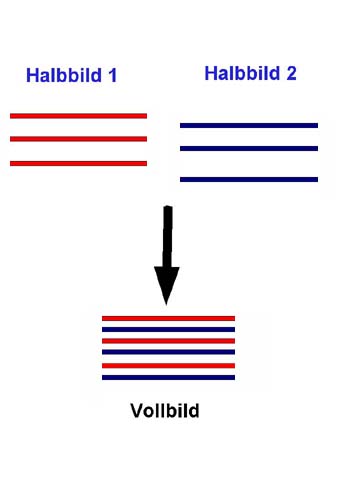 DV camcorders, such as the Sony PC 120, transfer video data via the FireWire interface with 25 full images with a 720 x 576 resolution and at 3.6 MB per second. If you view the saved AVI file in full resolution, then you will be disappointed by the poor quality of the picture. This is because the camcorder converts the original 50 half frames per second into 25 full frames per second. In this case, the full frame consists of two half frames, which are added together. The faster an image is changed, the lower the quality.
Modern processing programs avoid these effects in the preview by only ever displaying one half frame. If the film is only processed on a computer and is then rewritten onto the tape, it is not usually necessary to consider deinterlacing. When displaying the DV tape, 50 half frames are sent to the monitor, and no residual artefacts occur.

If you save the project in full quality on a computer (hard drive, CD) and also want to display it on the computer monitor, then the video must be processed using a deinterlacing filter.
New LM Digital Adapter for:
Canon HR10 / Sony HDR-SR8 / Sony HDR-SR7 / Sony HDR-CX6 / Sony HDR-CX 11 / Sony HDR-SR 11 / Sony HDR-SR 1 / Sony HDR-HC7 / Sony HDR-SR5 / Sony HDR-HC5 / Sanyo XACTI VPC-HD1000 / Canon HF 100 / Canon HG 21 / Canon HG 20 / Canon HF 11 / Canon HF 10 / Sony HDR-HC 9 / Sony HDR-CX 6 / Sony HDR-HC3 / Sony HDR-SR1 / Sony HDR-HC1E / Sanyo XACTI VPC-HD1010 / Sony DCR-SR 210 / Canon HV 30 / Sony HDR-UX 19 / Sony HDR-SR 10 / Canon HG 10 / SonyHDR-UX 9 / Sony HDR-UX7 / Sony HDR-UX3 / Sony DCR-DVD 510 / Sony DCR-SR 75 / Sony DCR-HC 62 / Sony DCR-SR 55 / Sony HDR-FX 7 / Sony HDR-UX1 / Sony DCR-DVD 310 / Sony DCR-DVD 410 / Panasonic SDR-S 150 / Sony DCR-DVD 115 / Sony HDC-SD 100 /

Related Links

--