231
Big news for micro- and macrophotographers!
Connection ring for two DSLR 80 mm lenses
Our 40 mm and 80 mm LM macro lenses (close-up lenses) are ideally suited for both micro- and macrophotography.
With our 40 mm LM macro lens (close-up lens) you can easily transform your digital SLR camera into a microscope. For high-resolution laboratory or studio work, we recommend our macro stand 2 for optimal results. With a minimum working distance of just 25 mm it is now possible to achieve an extremely good contrast and detail resolution capability. As a result, even large-scale biological or histological slides can be reproduced without the use of a microscope. For best results, however, illumination is recommended.
Our 80 mm LM macro lens (close-up lens) is ideally suited for outdoor use since its low weight makes it perfect for travel and excursions. Provided that the lighting conditions are good, a major advantage of the 80 mm LM macro lens (close-up lens) is that it enables freehand image capture up to a magnification ratio of 1.5:1. A reasonably priced zoom kit lens with a focal length of around 50 mm opens up the possibility of exploring macrophotography.

And the best part:
To capture images both outdoors and in the lab, our new M40 LM connection ring allows you to attach two 80 mm LM macro lens (close-up lens) to your camera. That way, you will see the same quality results as with a 40 mm LM macro lens (close-up lens)!

Another added advantage is that this solution enables you to fit two separate units with macro lenses (close-up lens).
The set also includes our LM filter adapter step-up ring (STR3758), which enables you to use any commercially available 58 mm filter.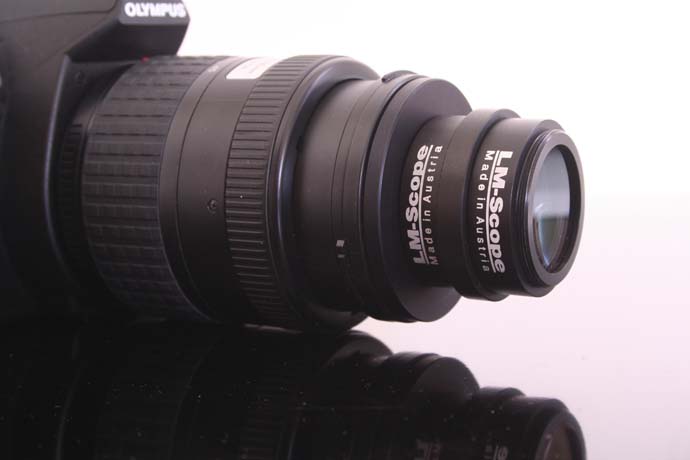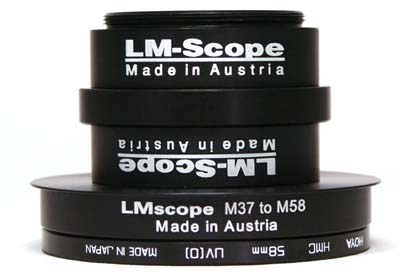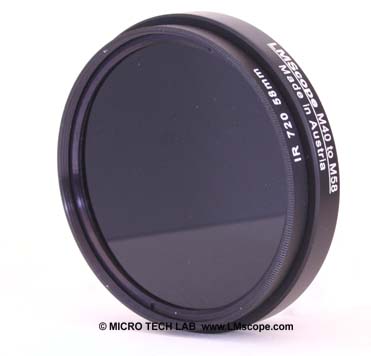 Examples of attached UV and IR filters.
For EU (European Union) VAT (IVA, TVA) not included
New LM Digital Adapter for:
Nikon Z9 / Sony Alpha 1 / Sony FX3 Cinema Line / Sony Alpha 9 II (ILCE-9M2) / Sony Alpha 9 / Nikon D6 / Canon EOS R3 / Sony Alpha 7R IV / Canon EOS R5 / Sony Alpha 7S II / Sony Alpha 7R III / Canon EOS R6 / Nikon Z6 / Nikon Z6II / Sony Alpha 7R II / Nikon Z7 / Nikon Z7II / Canon EOS R / Canon EOS Ra (Astro) / Nikon Z5 / Sony Alpha 7C / Canon EOS RP / Sony Alpha 7S / Canon EOS R7 / Canon EOS R10 / Canon EOS 1D X Mark III / Nikon Z50 / Nikon D850 / Canon EOS 1D X Mark II / Nikon D780 / Olympus OM-1 / Sony Alpha 7III / Olympus OM-D E-M1 Mark III / Nikon D5 / Sony Alpha 6600 / Olympus OM-D E-M1X / Sony Alpha 6400 / Sony Alpha 6100 / Sony ZV-E10 / Canon EOS 1D X / Nikon D4s /