Use of Digital SLRs with CMOS Full Format Sensors in Microscopy
The Canon EOS 5D is the first affordable digital reflex camera with full format sensor. The body costs approx. EUR 2,700 (as of February 2006). Combined with the LM Digital Adapter it is perfectly suitable for use in microscopy. Colour reproduction and image detail fidelity is extraordinary. With the optional 12.8 megapixels WLAN adapter (WFT-E1) the Canon EOS 5D leaves nothing to be desired. The 2.0 High-Speed USB interface enables you to transmit data to your computer without delay.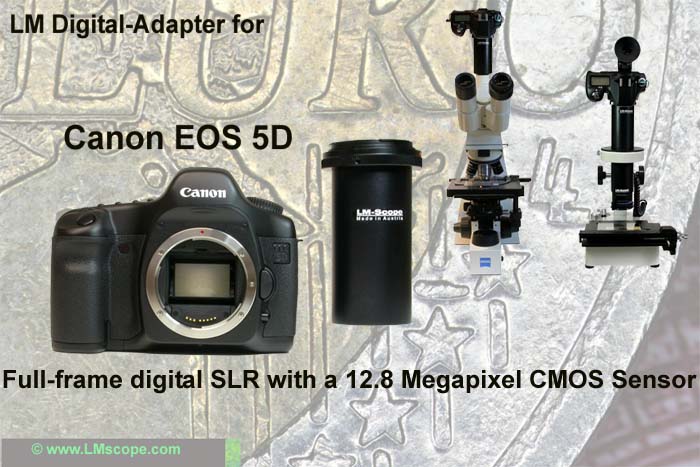 Due to the larger sensor format the number of pixels of the EOS 5D has also increased which leads to better light absorption because of the larger pixel plane. As a result the signal-noise ratio and the image quality is much better at high ISO values. Low-noise and light-sensitive sensors are especially important when capturing images by using extremely light absorbing methods, such as, e.g., fluorescent microscopy or polarisation microscopy.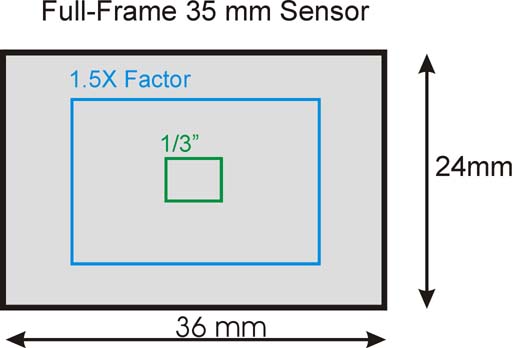 The images displayed on the 2.5" LCD screen are sharply defined and rich in contrast.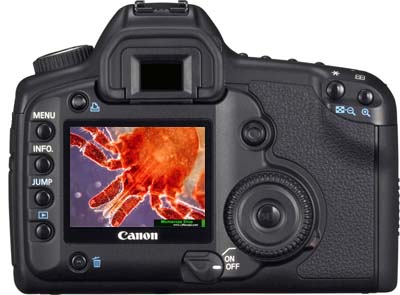 Side view of the Canon EOS 5D: 2.0 High-Speed USB (Mini-B, PTP), video output (PAL/NTSC), port for remote control release (via N3 contact), output for external flash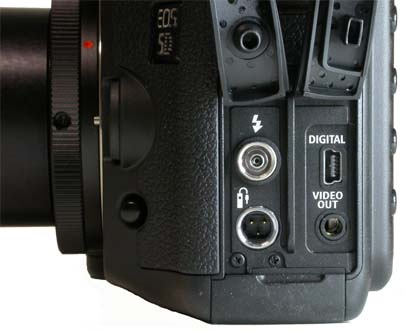 In addition, with the software included in the delivery you can store the images directly on your computer hard disk. Therefor, the camera must be connected to the PC with a USB cable. Furthermore, the mirror lock-up of the Canon EOS 5D must be activated. With this feature you can avoid fuzziness resulting from mirror vibrations.

Canon EOS R with Canon Adapter EF-EOS R / Canon EOS RP with Canon Adapter EF-EOS R / Canon EOS 1D X Mark II / Canon EOS 1D X / Canon EOS 5D Mark IV / Canon EOS 6D Mark II / Canon EOS M50 / Canon EOS 6D / Canon EOS 5DS R ( without low-pass filter) / Canon EOS 80D / Canon EOS 5DS / Canon EOS 70D / Canon EOS 200D / Canon EOS 800D / Rebel T7i / Canon EOS 77D / Canon EOS 5D Mark III / Canon EOS 60D / Canon EOS 750D / Rebel T6i / Canon EOS 760D / Rebel T6s / Canon EOS 5D Mark II / Canon EOS 1D Mark IV / Canon EOS 7D Mark II / Canon EOS 600D / Rebel T3i / Canon EOS 650D / Rebel T4i / Canon EOS 700D / Rebel T5i / Canon EOS 2000D / Rebel T7 / Canon EOS 7D / Canon EOS 550D / Rebel T2i / Kiss X4 Digital / Canon EOS 1300D / EOS Rebel T6 / Canon EOS 4000D / Canon EOS 100D / Canon EOS 50D / Canon EOS 1200D / EOS Rebel T5 / EOS Kiss X70 / Canon EOS 1100D / Rebel T3 / Canon EOS 1D Mark III / Canon EOS 40D / Canon EOS 60Da for astrophotography / Canon EOS M100 / Canon EOS M6 / Canon EOS M5 / Canon EOS 1000D / Digital Rebel XS /

Related Links