226
Professional photo documentation using a digital SLR camera with Zeiss microscopes equipped with a phototube (52 mm thread size)
Within a few seconds, almost any type of digital SLR camera can be attached to a Zeiss microscope with a 52 mm phototube. To produce microscope images of the highest quality, the LM digital adapter is the easiest, quickest and most competitively priced way to connect digital cameras (digital SLR cameras, interchangeable lens system cameras, compact cameras, camcorders and C-mount cameras) to Zeiss microscopes.

All you need is the LM Direct Image C-Mount Port 1x -52mm and an LM digital adapter. C-mount cameras with sensor sizes ranging between 3/4 and 1 inch can even be used without the LM digital adapter.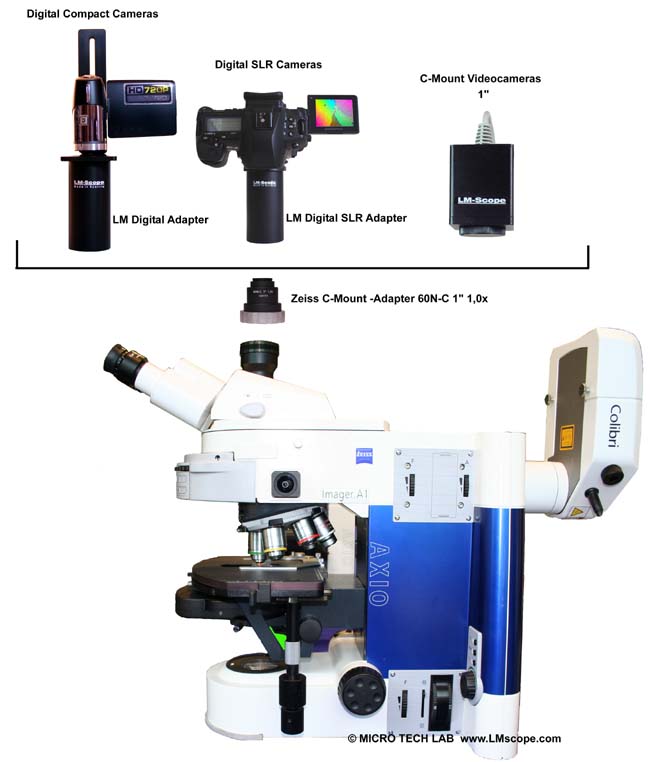 Compatible Zeiss microscopes:
Axio Examiner.A1
Axio Examiner.D1
Axio Examiner.Z1
Axio Imager Vario
Axio Imager.A1
Axio Imager.A1m
Axio Imager.A2
Axio Imager.A2m
Axio Imager.D1
Axio Imager.D1 für Auflicht-Fluoreszenz mit "ApoTome"
Axio Imager.D1m
Axio Imager.D2
Axio Imager.D2m
Axio Imager.M1
Axio Imager.M1m
Axio Imager.M2
Axio Imager.M2m
Axio Imager.Z1 + ApoTome
Axio Imager.Z1m
Axio Imager.Z1
Axio Imager.Z2
Axio Imager.Z2m
Axio Lab.A1
Axio Lab.A1 FL-LED
Axio Lab.A1 MAT
Axio Lab.A1 Pol
Axio Observer.A1
Axio Observer.A1 Entry
Axio Observer.D1
Axio Observer.D1 + ApoTome
Axio Observer.D1 Entry
Axio Observer.D1 Mid Range
Axio Observer.D1 TIRF 3
Axio Observer.Z1
Axio Observer.Z1 Cell Observer
Axio Observer.Z1 Cell Observer SD
Axio Observer.Z1 High End
Axio Observer.Z1 TIRF 3
Axio Observer.Z1m ACR
Axio Scope
Axioskop 40
Axioskop 2 plus
Axioskop 2 mot puls
Axioskop 2 FS plus
Axio Scope.A1
Axio Scope.A1 Pol
Axio Scope.A1 Vario
Axioplan 2 Imaging
Axiovert 200
Axiovert 200 für Auflicht-Fluoreszenz mit "ApoTome"
Axiovert 200 M
PALM CombiSystem Rel. 4.2
PALM MicroBeam
PALM MicroBeam Rel.4.2
PALM MicroTweezers Rel.4.2
SteREO Discovery.V12
SteREO Discovery.V8
SteREO Lumar.V12
For further information and prices see our database. Please select a camera model.
New LM Digital Adapter for:
Nikon Z9 / Nikon Z8 / Sony Alpha 7R V / Sony Alpha 1 / Sony FX3 Cinema Line / Sony Alpha 9 II (ILCE-9M2) / Sony Alpha 9 / Nikon D6 / Canon EOS R3 / Canon EOS R6 Mark II / Canon EOS R8 / Sony Alpha 7R IV / Canon EOS R5 / Sony Alpha 7S II / Sony Alpha 7S III / Sony Alpha 7R III / Canon EOS R6 / Nikon Z6 / Nikon Z6II / Sony Alpha 7R II / Nikon Z7 / Nikon Z7II / Canon EOS R / Canon EOS Ra (Astro) / Nikon Z5 / Sony Alpha 7C / Canon EOS RP / Sony Alpha 7S / Canon EOS R7 / Leica SL2-S / Canon EOS R10 / Canon EOS 1D X Mark III / Nikon Z50 / Nikon Z30 / Nikon Z fc / Nikon D850 / Canon EOS 1D X Mark II / Nikon D780 / Olympus OM-1 / Sony Alpha 7III / Olympus OM-D E-M1 Mark III /