Professional photo documentation using a digital SLR camera with Bresser microscopes equipped with a phototube (32 mm internal diameter )

Within a few seconds, almost any type of digital SLR camera can be attached to a Bresser microscope with a 32 mm phototube. To produce microscope images of the highest quality, the LM digital adapter is the easiest, quickest and most competitively priced way to connect digital cameras (digital SLR cameras, interchangeable lens system cameras, compact cameras, camcorders and C-mount cameras) to Bresser microscopes.

All you need is the LM Direct Image C-Mount Port 1x -32mm and an LM digital adapter. C-mount cameras with sensor sizes ranging between 3/4 and 1 inch can even be used without the LM digital adapter.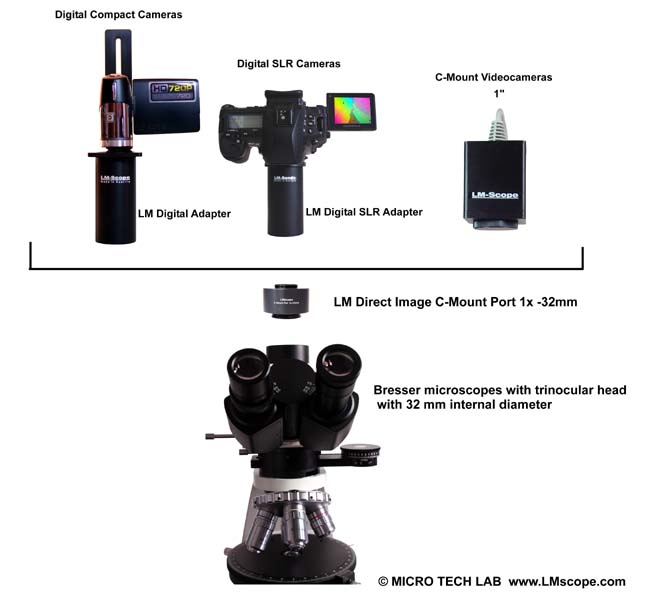 Bresser microscope with trinocular head with 32mm internal diameter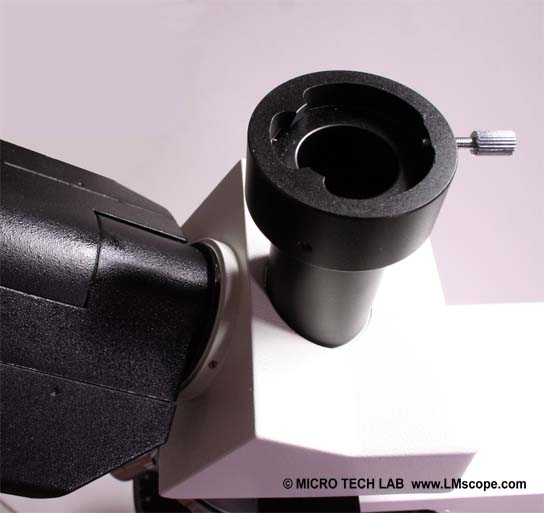 Compatible Bresser microscopes:

Bresser Science MTL-201
Bresser Science TRM 301
Bresser Science MPO-401
Bresser Science IVM-401
Bresser Science ADL-601
For further information and prices see our database. Please select a camera model:
New LM Digital Adapter for:
Nikon D850 / Sony Alpha 7III / Sony Alpha 9 / Nikon D5 / Sony Alpha 7S II / Sony Alpha 7R II / Sony Alpha 7R III / Sony Alpha 7S / Canon EOS 5D Mark IV / Nikon D750 / Canon EOS 6D Mark II / Sony Alpha 6300 / Sony Alpha 6500 / Nikon D500 / Canon EOS 1D X / Nikon D810 / Nikon D4s / Nikon D800 / Nikon D800E / Nikon D4 / Nikon Df / Nikon D610 / Nikon D600 / Canon EOS 6D / Canon EOS 5DS R ( without low-pass filter) / Olympus OM-D E-M1 Mark II / Canon EOS 80D / Canon EOS 5DS / Sony Alpha 77 II / Canon EOS 70D / Nikon D7200 / Canon EOS 200D / Canon EOS 800D / Rebel T7i / Canon EOS 77D / Canon EOS 5D Mark III / Canon EOS 60D / Sony Alpha 7R / Sony Alpha 7 / Nikon DS-Qi2 (Microscope Camera) / Nikon D3x / Olympus OM-D E-M1 /

Related Links

Digitalcameras , Digital cameras , digital SLRs , digital SLR , Digital single lens reflex camera , DSLR , D-SLR , D'SLR , Adapter , Optical Adaption , Connection Link , Tube Connection , Eyepiece Tube , Photo Tube / Phototube , Microcope Adaption , Photo Video Port , optical Adapter , simpler mechanical adapter, simple cylindrical adapter , stereo-microscope / Stereomicroscopes , capturing microscopic image and hd videos , lmscope microscope coupler ,
--