351
LM photo microscopes: the flexible photography solution for large sensor cameras!
We have taken our product range a step further! After the successful introduction of our LM macroscopes we wanted to take magnification to the next level and therefore developed our LM photo microscope: a microscope featuring a modern infinity-corrected optical system, optimised for photomicrography. The LM photo microscope is a ready-to-use optical system, which means that only a camera body is required to take stunning micro and macro shots.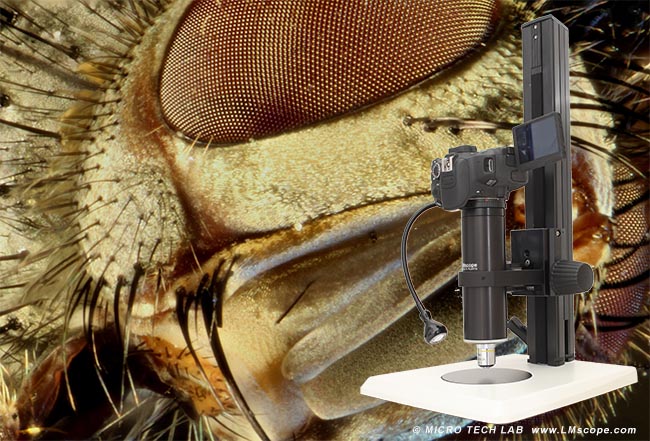 The LM photo microscope offers a no-frills, minimalist design. Due to its central optical path it is ideally suited for both photomicrography and -macrography, delivering superior image quality no matter what the application. The optical systems used in the professional sector mostly have a fixed magnification and a central optical path. This makes it possible to obtain images with a greater precision of focus and better quality than with stereo microscopes featuring a Greenough or Galileo optical design. Since the working distance is much shorter (about 10 mm with the LM microscope 80x) than with conventional stereo microscopes, a significantly higher numerical aperture can be achieved. As a result, the image resolution is markedly increased.
The LM photo microscope is optimally suited for digital cameras with high-quality, large sensors (four-thirds, APS-C or full frame). It offers a fixed magnification (no zoom) which depends on the lens and tube models selected (from 18x to about 560x).
The focus of the LM photo microscope is on the images which impress with their high contrast and excellent quality. To achieve optimum depth of field, we recommend using a motorised focusing rail (e.g. StackShot from Cognysis Inc.) which is screwed to the macro stand. This enables the user to combine a series of images into a single image with an extended depth using special software (e.g. Helicon Focus). It is also possible to manually take a series of images with different focal planes and then merge them into one image.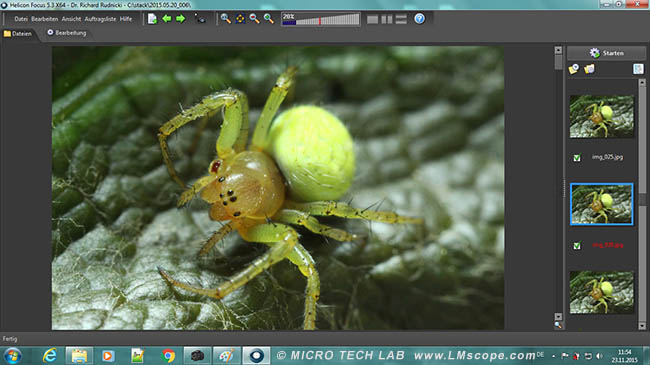 In our LM photo microscopes we only use plan objectives with infinity correction. The tube lenses are plan achromatic and hard-coated to offer excellent quality and durability. The numerical aperture is high for both macro and micro specimens, and due to the short working distance the resolution is much higher than with conventional stereo microscopes.
If you already have an infinity-corrected objective lens with a W0.8 inch thread size (the standard size), those can be used with LM photo microscopes without difficulty. You need to make sure, however, that the lenses are fully corrected, i.e. no aberrations or distortions are present (such as plan achromats, plan flourites, plan apochromats, etc.) because the LM photo microscope has a neutral optical system that does not perform any image corrections.
As all our products, the LM photo microscope is manufactured by hand in Austria using the most up-to-date technologies.
The LM photo microscope has a modular design, which means that all components can be ordered separately.
Watch our image gallery for demo pictures
Ordering code

Product description

Price

Price

Available




LM_P_M_160x_XL

Set LM Photo Microscope 160x consists of: LM DSLR Photo Microscope Module 16x with Plan Lens10x, LM Macrostand 6, LED spot, camera is not included



Data Sheet0
Operating Instructions1
Data Sheet2




LM_P_M_80x_XL

Set LM Photo Microscope 80x consists of: LM DSLR Photo Microscope Module 8x with Plan Lens 10x, LM Macrostand 6, LED spot, camera is not included



Data Sheet0
Operating Instructions1
Data Sheet2

For EU (European Union) VAT (IVA, TVA) not included
New LM Digital Adapter for:
Nikon Z9 / Nikon Z8 / Sony Alpha 7R V / Sony Alpha 1 / Sony FX3 Cinema Line / Sony Alpha 9 II (ILCE-9M2) / Sony Alpha 9 / Nikon D6 / Canon EOS R3 / Canon EOS R6 Mark II / Canon EOS R8 / Sony Alpha 7R IV / Canon EOS R5 / Sony Alpha 7S II / Sony Alpha 7S III / Sony Alpha 7R III / Canon EOS R6 / Nikon Z6 / Nikon Z6II / Sony Alpha 7R II / Nikon Z7 / Nikon Z7II / Canon EOS R / Canon EOS Ra (Astro) / Nikon Z5 / Sony Alpha 7C / Canon EOS RP / Sony Alpha 7S / Canon EOS R7 / Leica SL2-S / Canon EOS R10 / Canon EOS 1D X Mark III / Nikon Z50 / Nikon Z30 / Nikon Z fc / Nikon D850 / Canon EOS 1D X Mark II / Nikon D780 / Olympus OM-1 / Sony Alpha 7III / Olympus OM-D E-M1 Mark III / Canon EOS R100 / Sony Alpha 6700 / Nikon D5 / Sony Alpha 6600 / Fujifilm X-H2S / Fujifilm X-S10 / Fujifilm X-E4 / Fujifilm X-Pro3 / Olympus OM-D E-M1X / Sony Alpha 6400 / Sony Alpha 6100 / Sony ZV-E10 / Canon EOS 1D X / Nikon D4s / Olympus OM-D E-M5 III / Canon EOS 90D / Canon EOS 5D Mark IV / Nikon D4 / Nikon D750 / Canon EOS 6D Mark II / Fujifilm X-T4 / Fujifilm X-T3 / Sony Alpha 6300 / Sony Alpha 6500 / Nikon D500 / Nikon D810 / Nikon D800 / Canon EOS M6 Mark II / Nikon D800E / Nikon Df /