261
Upgrading the Olympus SZ series for digital microphotography
The trinocular microscopes of the Olympus SZ series (SZ4045TR, SZ6045TR, SZ1145TR) can quickly and easily be upgraded for digital photography with DSLR cameras and/or mirrorless system cameras.
When the Olympus SZ microscopes (SZ = Zoom Stereo) were introduced to the market, digital photography was still in its infancy. For this reason, they were configured for analogue photography.
However, it is extremely easy to convert the three microscope models Olympus SZ4045TR, Olympus SZ6045TR and Olympus SZ1145TR for digital photographic documentation. All three microscopes come with two different phototube adapters: the Olympus SZ-CTV and the Olympus SZ-PT. Especially the Olympus SZ-CTV is not ideally suited for using DSLRs or systemcameras, as he reduces the image (factor 0,5x). For high quality pictures c-mount ports with the factor 1x (not integrated optics) are recommended. For that reason we develloped the TUST42C_SZ for these three microscopes! This c-mount port will be mounted directly on the photoport and serves as a base for our LM digital adapters. To select the right adapter for your camera, please use the configurator at the end of this article.
Elements as the NFK projektiv are replaced by the CMOUNT_1X_SZ and are no longer necessary.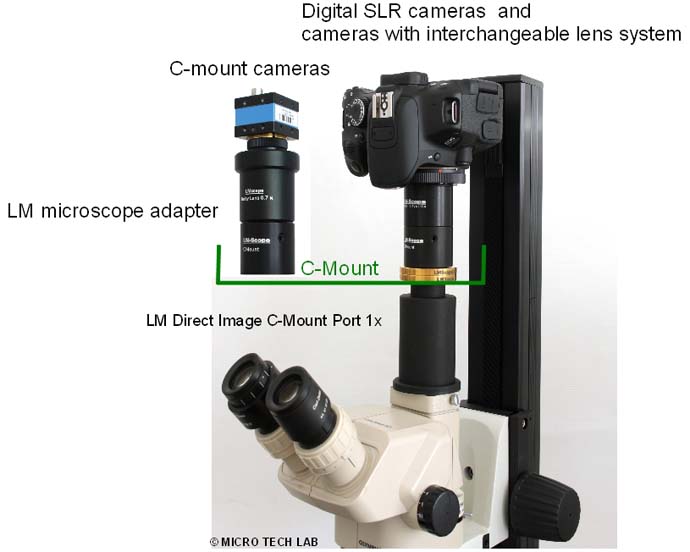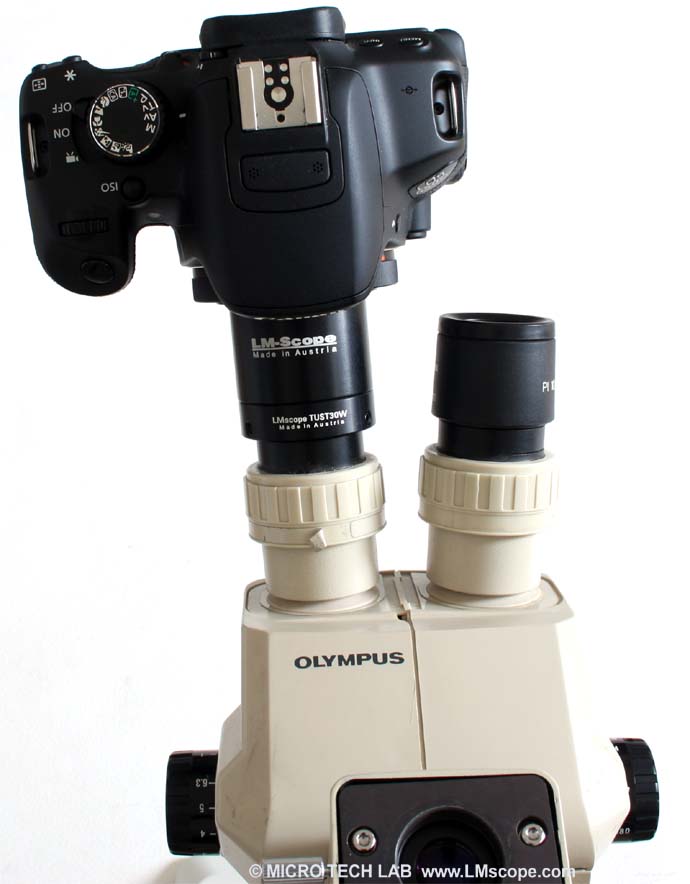 Photography:
Fitting the microscope to digital single-lens reflex (DSLR), system or C-mount cameras is easy with our LM digital SLR adapters, which feature a plan achromatic optical system. Our products make it possible to capture top-quality microscope images. To help you select the adapter that is right for your camera, we have set up an online configurator on our website. You can also email us – ideally with attached photographs of your microscope.
Modern DSLR and system cameras offer the latest technology and are generally very well suited for microscopy applications. Most of them can be controlled remotely via PC/Mac. Because of their high sales volumes, they offer an excellent price/performance ratio compared to special-purpose microscope cameras.
Features of top DSLR and system cameras:
- Large, powerful full-frame sensors (36 x 24 mm)
- Sensor resolution of 50 megapixels
- High light sensitivity (ISO 100,000+)
- Extensive dynamic range (up to 14 aperture stops/f-stops)
- Short exposure times (1/8000 second):
- Full/Ultra HD (4k) video function
- Live video capture on external monitors in ultra HD quality
In most cases, these cameras are significantly more powerful than microscope cameras with smaller sensors (1/2" or 2/3"). On our website you will find our current camera recommendations and a camera ranking which is specifically tailored to microscopy applications.