464
LM Macroscope 9x (5x and 3x) for focus stacking: highest resolution without compromise
The LM Macroscope 9x (5x and 3x) has been designed for modern full frame, APS-C and four thirds camera sensors. A special lens with high numerical aperture of 0.2 shows even the smallest details.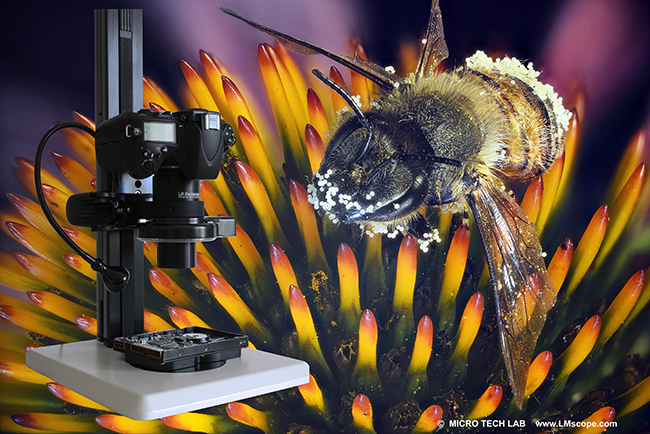 With the LM Macroscope 9x (5x and 3x) a new generation of objectives, designed specifically for focus stacking, is entering the market. Thanks to this technology, the image quality of professional-level photographs can be enhanced even further.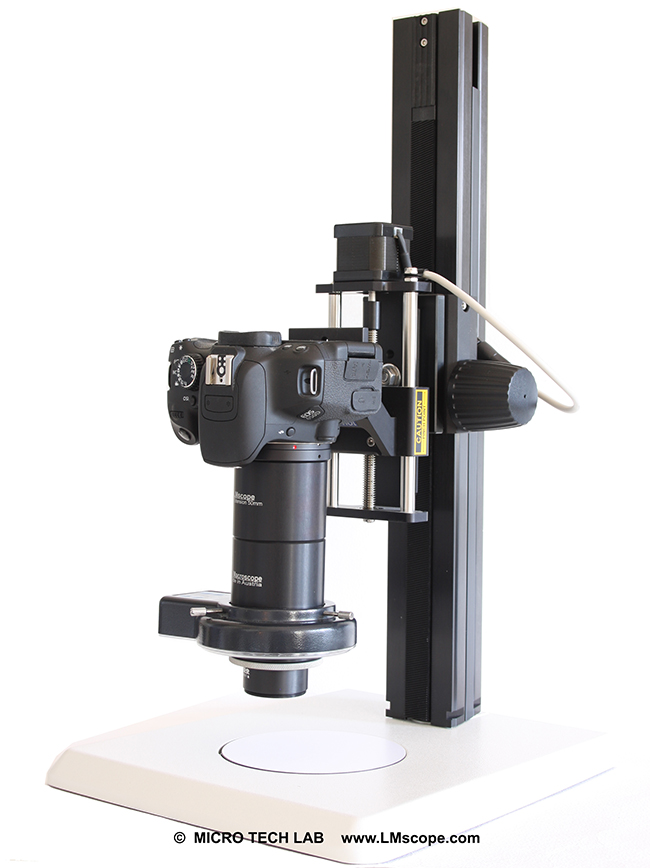 The focus stacking technique uses a motorised focusing rail that moves the lens unit and captures multiple frames (image stacks) at different focus points. The individual frames are then blended to produce a single image with a very high depth of field and resolution. This process is controlled remotely using a special software and can be monitored on the computer.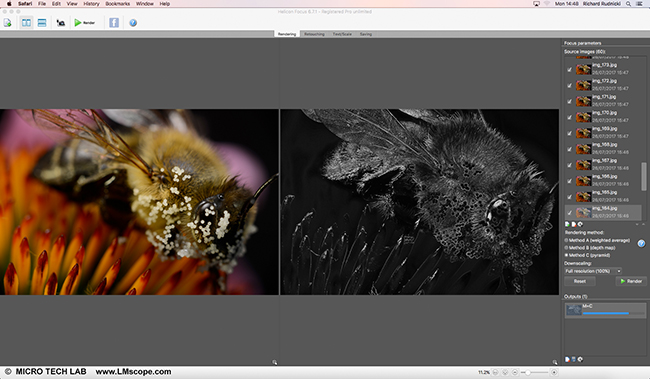 Conventional objectives generally yield an acceptable resolution and a good depth of field. However, in many cases, users still needed to decide between high resolution or high depth of field and come to a suitable compromise - until now! When designing our objectives, we focused on achieving the highest resolution possible. Using the focus stacking technique, it is possible to produce breathtaking images with high resolution and near unlimited depth of field. This extended depth of field is achieved by collecting several series of single frames (Z-stacks) and merging them into one image, so that even the smallest details can be made visible.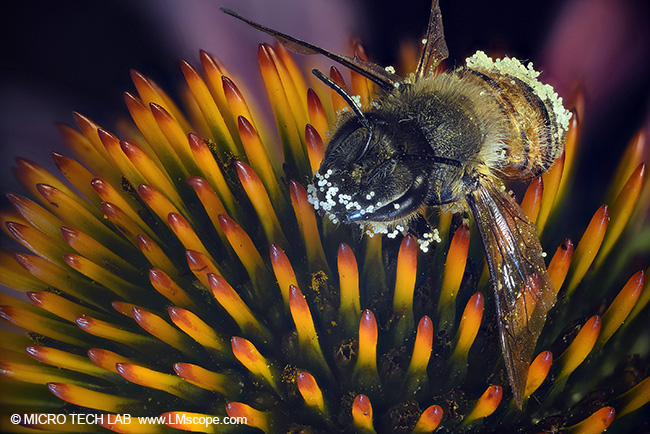 < Picture taken with 5x microscope magnification in high resolution >
With a full format camera,the lowest magnification of 3x results in a large FOV (field of view) of 70mm x 46mm at a working distance of 200mm.
In this configuration the depth of field is approx. 10mm, which is perfectly adequate for many applications with three-dimensional specimens even without focus stacking. Thanks to the large FOV combined with the high resolution, the stitching technique (single frames are blended into one high-resolution image) is no longer required.
The macroscopes are equipped with top-notch quality, plan achromatic, hard-coated objective lenses. Manufactured by hand in Austria, the LM macroscopes are designed for professional use (research, industry, universities, hospitals, etc.).
Our LM Macrosocope 9x has a variable aperture to optimise image quality, a feature not present in most stereo microscopes.
The benefits of the LM macroscopes are profound. The system has a centric beam path and is thus considerably more powerful than equivalent systems with double beam path or conventional stereo microscopes. Due to their modular construction, they are extremely flexible and enable a multitude of magnification combinations (3x -> 20x). The lenses are also available without a tripod.
We recommend using the LM macroscope with a motorised focusing rail (STACKSHOT made by Cognisys-inc) and the Helicon Software (Helicon Remote Software and Focus Editing Software). This well-proven combination is very powerful and easy to handle.
Demo-pictures with the LM Macroscope 9x
Ordering code

Product description

Price

Price

Available




LM_Makroobjektiv9x

LM DSLR Macroscope lens 9x (5x and 3x): Macroscope lens for digital SLR cameras, optionally with different camera bayonet fittings, 4 hard-coated lenses in 2 groups, adjustable iris diaphragm. Camera and LED ring are not supplied with the lens



Data Sheet




LM_Makroskop_20x_Pro

LM Macroscope 20x (3x, 5x, 6x and 10x): Set consists of LM DSLR Macroscope lens 9x, Plan Lens 2x, LM macro stand 5, LM LED ring light with 60 LEDs, LED spot with gooseneck, Camera Lens Mount Adapter , Camera is not supplied with the set.



Data Sheet0
Data Sheet1




LM_Makroskop_20x_XL

LM Macroscope 20x (3x, 5x, 6x and 10x): Set consists of LM DSLR Macroscope lens 9x, Plan Lens 2x, LM macro stand 6, LM LED ring light with 60 LEDs, LED spot with gooseneck, Camera Lens Mount Adapter , Camera is not supplied with the set.



Data Sheet




LM_Makroskop_9x_XL

LM Macroscope 9x (5x and 3x):: Set consists of LM DSLR Macroscope lens 9x, LM macro stand 6, mounting plate for Stackshot rail, LM LED ring light with 60 LEDs, LED gooseneck spot and Camera Lens Mount Adapter, camera is not supplied with the set



Data Sheet

For EU (European Union) VAT (IVA, TVA) not included
New LM Digital Adapter for:
Nikon Z9 / Sony Alpha 7R V / Sony Alpha 1 / Sony FX3 Cinema Line / Sony Alpha 9 II (ILCE-9M2) / Sony Alpha 9 / Nikon D6 / Canon EOS R3 / Sony Alpha 7R IV / Canon EOS R5 / Sony Alpha 7S II / Sony Alpha 7S III / Sony Alpha 7R III / Canon EOS R6 / Nikon Z6 / Nikon Z6II / Sony Alpha 7R II / Nikon Z7 / Nikon Z7II / Canon EOS R / Canon EOS Ra (Astro) / Nikon Z5 / Sony Alpha 7C / Canon EOS RP / Sony Alpha 7S / Canon EOS R7 / Leica SL2-S / Canon EOS R10 / Canon EOS 1D X Mark III / Nikon Z50 / Nikon Z30 / Nikon Z fc / Nikon D850 / Canon EOS 1D X Mark II / Nikon D780 / Olympus OM-1 / Sony Alpha 7III / Olympus OM-D E-M1 Mark III / Nikon D5 / Sony Alpha 6600 / Fujifilm X-H2S / Fujifilm X-S10 / Fujifilm X-E4 / Fujifilm X-Pro3 / Olympus OM-D E-M1X / Sony Alpha 6400 / Sony Alpha 6100 / Sony ZV-E10 / Canon EOS 1D X / Nikon D4s / Olympus OM-D E-M5 III / Canon EOS 90D / Canon EOS 5D Mark IV / Nikon D4 / Nikon D750 / Canon EOS 6D Mark II / Fujifilm X-T4 / Fujifilm X-T3 / Sony Alpha 6300 / Sony Alpha 6500 / Nikon D500 / Nikon D810 / Nikon D800 / Canon EOS M6 Mark II / Nikon D800E / Nikon Df / Panasonic Lumix DC-G9 / Nikon D610 / Nikon D600 / Canon EOS 250D / Canon EOS 850D / Rebel T8i / Canon EOS 6D / Sony Alpha 99 II (SLT-A99 II) / Canon EOS M200 / Canon EOS 5DS R ( without low-pass filter) / Olympus OM-D E-M1 Mark II / Canon EOS 80D / Canon EOS M50 Mark II / Canon EOS 5DS / Canon EOS M50 / Sony Alpha 77 II / Canon EOS 70D / Nikon D7200 / Pentax K-1 Mark II / Canon EOS 200D / Canon EOS 800D / Rebel T7i / Canon EOS 77D / Canon EOS 5D Mark III / Canon EOS 60D / Sony Alpha 7R / Sony Alpha 7 / Nikon DS-Qi2 (Microscope Camera) / Olympus OM-D E-M5 II / Nikon D3x / Olympus OM-D E-M1 / Pentax KP / Nikon D3S / Canon EOS 750D / Rebel T6i / Canon EOS 760D / Rebel T6s / Canon EOS 5D Mark II / Nikon D7100 /