HD video macroscope with digital HD camcorder for a bargain price of EUR 79.00!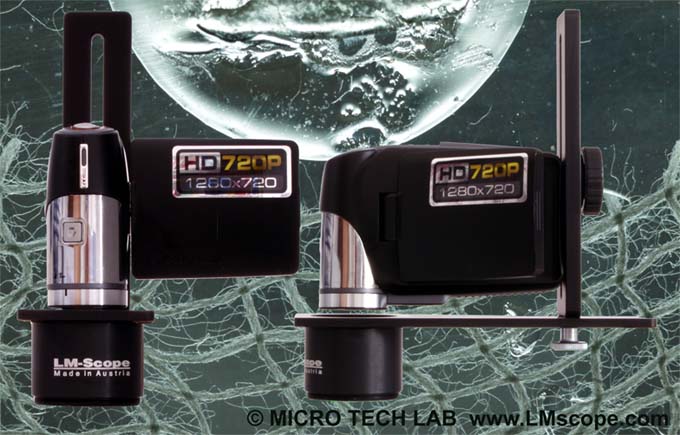 It is possible to record top class HD videos (1280 x 720 pixels) of microscopically small objects using an inexpensive HD camcorder (such as the AIPTEK POCKET DV AHD C100 camcorder for only EUR 79.00 (!!) (price as of September 2009)) and our LM DSLR 40 mm and 80 mm macro lenses. The camcorder is connected to the LM DSLR macro lens via the robust LM universal filter adapter. The HD camcorder has a sensor with 5 million pixels and delivers a resolution of 1280 x 720 pixels at the HDMI digital video output. The videos and photos can be saved onto a memory card (SD, MMC or SDHC).

The inbuilt fixed focal length camera lens is ideally suited to our LM DSLR macro lens and for use with microscopes. The fact that the camcorder does not have a complex zoom lens can only be beneficial for use in macroscopy and microscopy. Complex zoom lenses expand the available range of uses for the equipment, but also result in a deterioration of image quality. This HD camcorder has a much larger sensor resolution than is necessary for video recording. With 5 million pixels it has a 5 times greater resolution than is required for HD quality (1280 x 720 = 0.92 million pixels). As a result, it is possible to achieve an almost lossless digital zoom function. Up to a factor of 5x the video image can be enlarged with no loss: new pixels must only be interpolated at digital zoom settings between 5x and 8x, which results in only a marginal reduction in image quality.

By using the LM DSLR macro lens, the working distance to the object is reduced to only a few centimetres. The 40 mm LM DSLR macro lens has a magnification factor of 6x, and the 80 mm version has a magnification factor of 3x. The LM DSLR macro lenses were basically designed for DSLR lenses, but they also work extremely well on HD camcorders and compact cameras.

HD Camcorder AIPTEK POCKET DV AHD C100

| | | | |
| --- | --- | --- | --- |
| | Working distance | Image field with wide zoom setting | Image field with tele 8x zoom setting |
| without LM DSLR macro lens | 220 mm | 180 mm x 100 mm | 22 mm x 10 mm |
| with LM DSLR macro lens 80 mm | 70 mm | 55 mm x 30 mm | 5 mm x 2,8 mm |
| with LM DSLR macro lens 40 mm | 25 mm | 30 mm x 16 mm | 3 mm x 1,6 mm |

For stationary use we recommend that you use a very precise stand. At maximum zoom setting in combination with the LM 40 mm macro lens it is possible to achieve an overall magnification of 48x (!!). In this magnification range, a stand with a rack and pinion is the best choice. As with a microscope, this makes it possible to accurately set the desired range and select the exact focal plane. The solid construction of the LM macro stand 2 prevents motion blurs, which considerably increases the image quality.
.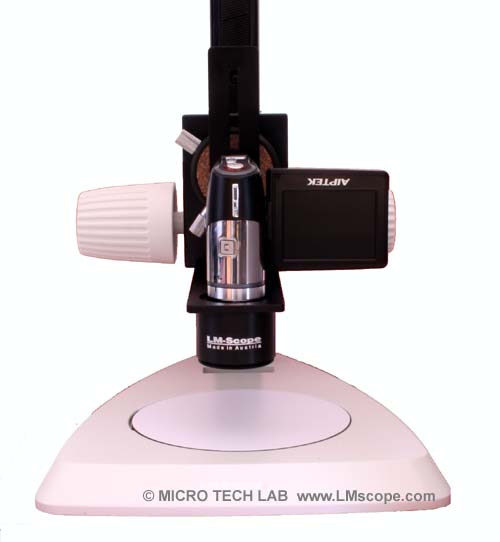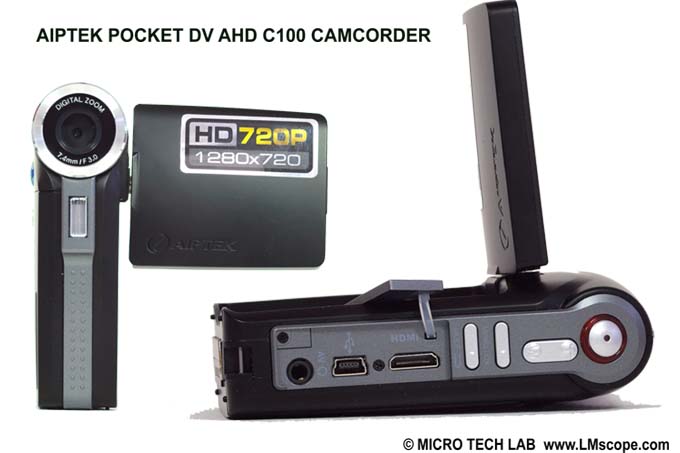 The camcorder described above can be ordered from Conrad.de (http://www.conrad.de), item no. 952065-62.

LM universal filter adapter datasheet [DFA]

The following video was produced without a stand using the LM DSLR 40 mm macro lens with the camcorder at minimal zoom setting without additional lighting. The videos were saved to the memory card in HD quality (1280 x 720). For the internet, the resolution was reduced to 640 x 360 pixels and the image quality (bit rate) was decreased. In photo mode, the HD camcorder is able to take photographs up to a maximum resolution of 2560 x 1920 (5 megapixels).
Please download the free Adobe Flash player to view the video.
For EU (European Union) VAT (IVA, TVA) not included
Related Links
Digitalcameras , Digitalcamera , Digital camera , Digital cameras , digital SLRs , digital SLR , Digital single lens reflex camera , Digital single lens reflex cameras , digicam , digicams , DSLR , D-SLR , D'SLR , Camcorder , HD Camcorder , HD Video , Videocamera , Webcam , USB-Camera , Compact digital cameras ,
--