Producing digital photographs with a Euromex Novex B series microscope and modern cameras (DSLR, system- or USB)
Anyone looking for a laboratory microscope with a good price/performance ratio in the lower price range would be well advised to consider an instrument from the Euromex Novex B series. This is an interesting laboratory microscope for beginners with an infinity-corrected optical system, even if it is already a relatively old model.
The Euromex Novex B series is an entry-level microscope that offers first-rate build quality at an attractive price. It is suitable for transmitted light, phase contrast and dark field microscopy. Various halogen lights (adjustable) and LEDs (also adjustable) are available for illumination purposes.
Depending on the type of use and your budget, it is also possible to individually tailor the instrument to your needs and upgrade or add parts to it at any time. For example, the microscope head is available with either a monocular, binocular or trinocular attachment. The trinocular attachment is the most practical for taking microphotographs.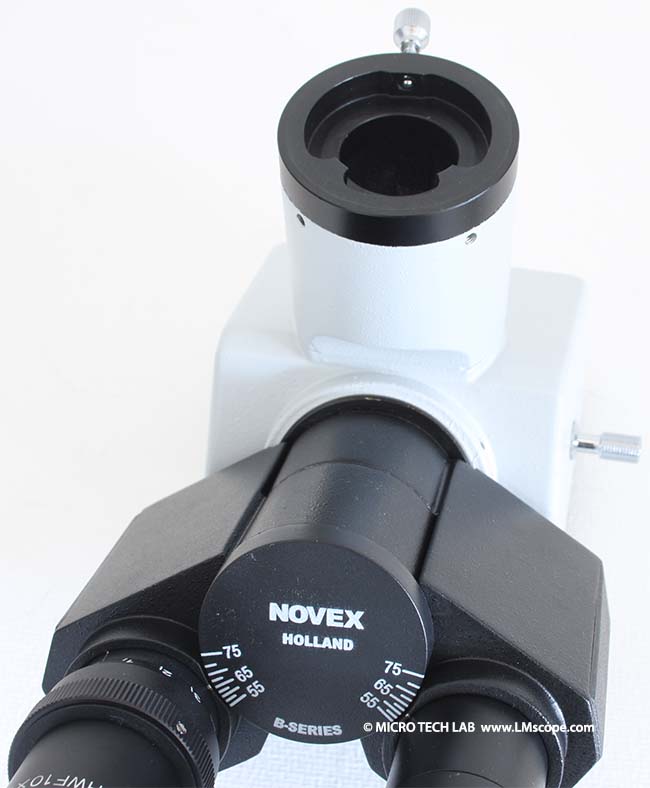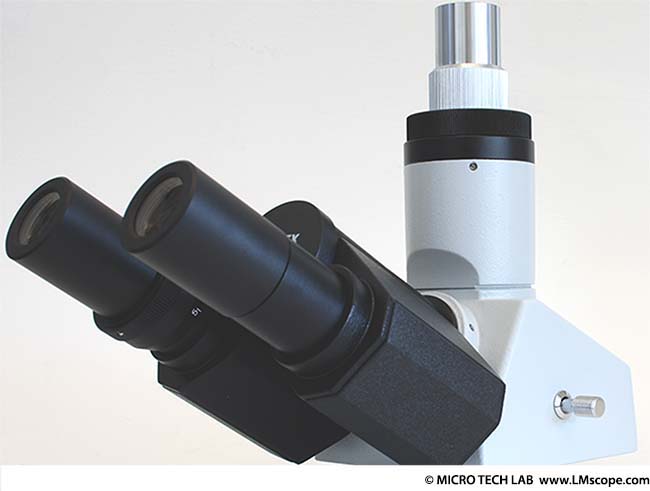 If you have an instrument with its own phototube, then there are two different possible ways of attaching a camera. If you already have a Euromex Novex adapter (see image above right), then this can, of course, continue to be used for attaching an LM digital adapter.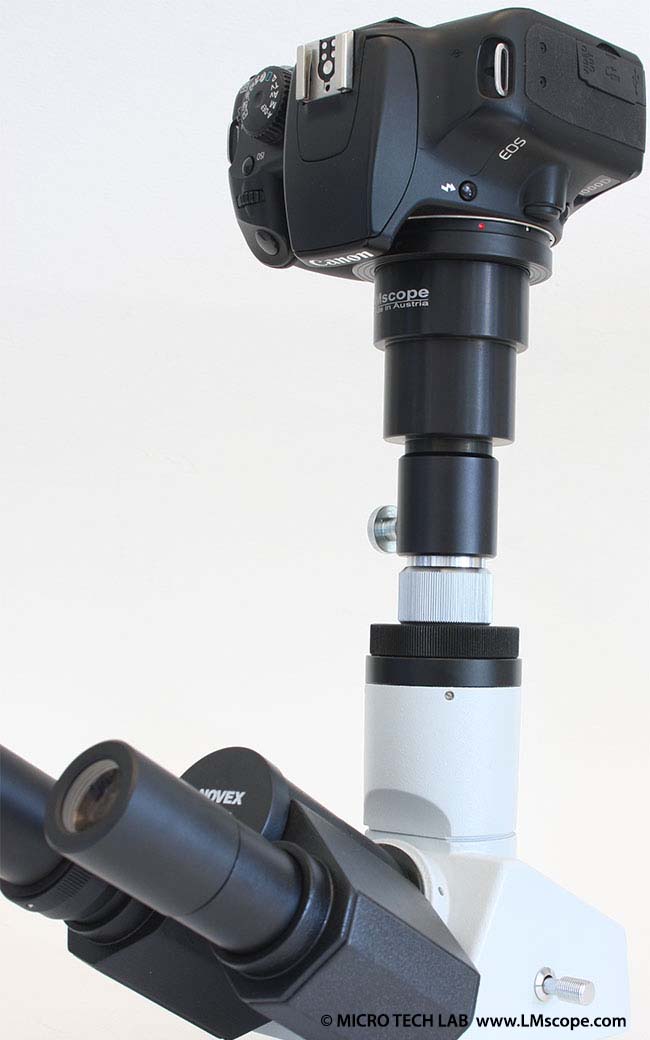 In this case, you will also need a TUSTB (optional), to secure the LM digital adapter in place as well as possible, and an LM digital adapter. For our photograph (above left), we have used a DSLRCT adapter to mount the Canon EOS 600D (Canon Rebel T3i) to the microscope. Of course, it is possible to attach (almost) any other digital SLR, system or USB camera. To help you choose the camera that is best suited for your needs, we have put together a list of camera rankings on our website.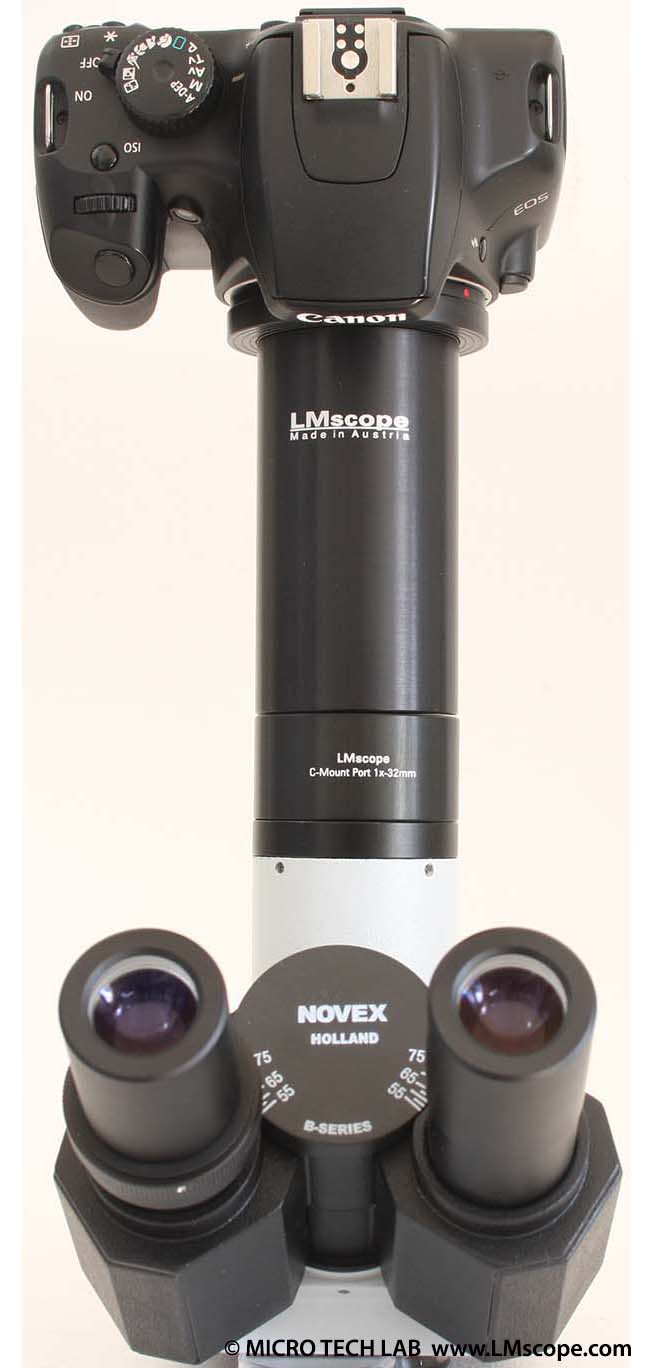 If you do not have a Euromex Novex adapter on the dovetail ring, then it is also possible to obtain a C-mount port (CMount_32mm) from LMScope. The LM DSLRCC digital adapter is then attached to it in order to use a Canon camera with an APS-C sensor. This adapter is also available for all other DSLR, system and USB cameras. This means that the LM digital adapter can continue to be used even if you change cameras.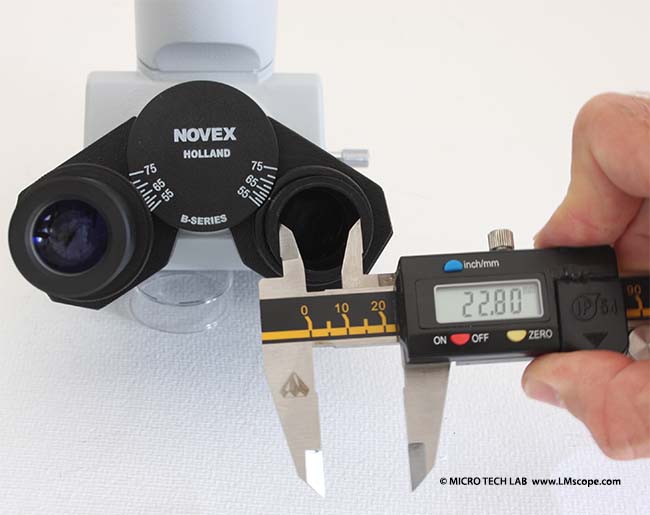 If you have a binocular attachment on the microscope, it is still possible to adapt it for photographic purposes. The eyepiece diameter makes is possible to use the LM digital tube adapter. Thus, any DSLR, system or USB camera can be used on the eyepiece tube.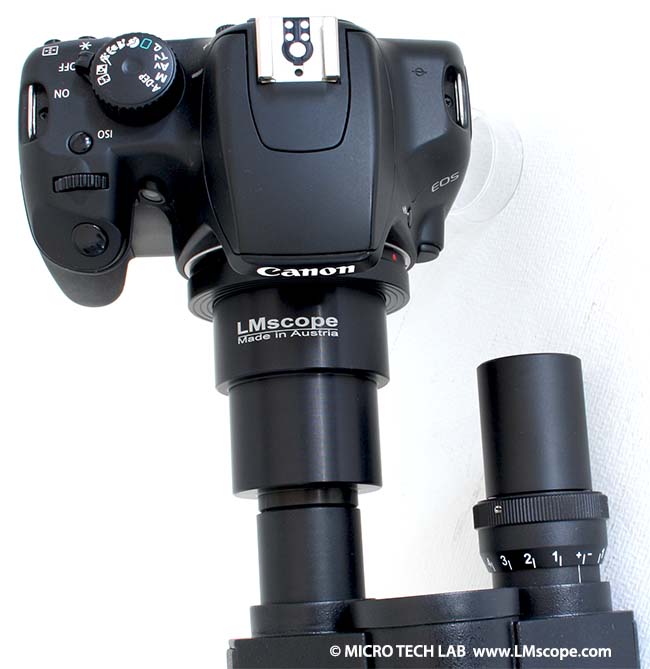 In the image above, a Canon with APS-C sensor is attached to the microscope using a DSLRCT adapter. It makes no difference to the quality if you attach the camera to the phototube or the eyepiece tube. However, working with the phototube is somewhat easier, as it is not necessary to remove the camera if you wish to look through the eyepiece between exposures.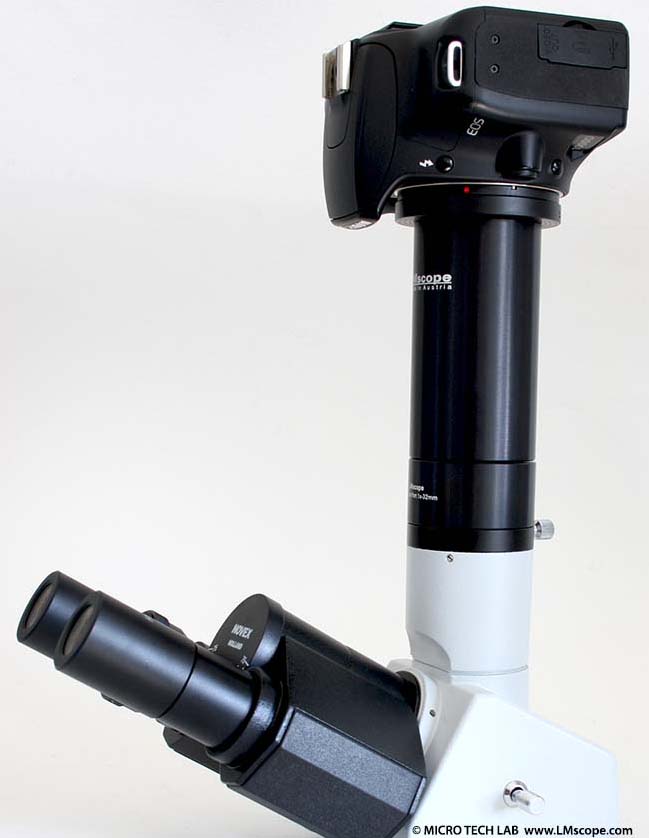 Conclusion:
Attaching a camera to a Euromex Novex B series microscope is very easy with LMScope's LM digital adapter systems. The adapters are available both for the binocular and trinocular versions of the microscope. The image quality is equally good with every LMScope system, and nothing stands in the way of producing professional microphotographs.
24.10.2013
Adaptateurs numèriques LM pour:
Nikon D850 / Sony Alpha 7III / Sony Alpha 9 / Nikon D5 / Sony Alpha 7S II / Sony Alpha 7R II / Sony Alpha 7R III / Sony Alpha 7S / Canon EOS 5D Mark IV / Nikon D750 / Canon EOS 6D Mark II / Sony Alpha 6300 / Sony Alpha 6500 / Nikon D500 / Canon EOS 1D X / Nikon D810 / Nikon D4s / Nikon D800 / Nikon D800E / Nikon D4 / Nikon Df / Nikon D610 / Nikon D600 / Canon EOS 6D / Canon EOS 5DS R ( without low-pass filter) / Olympus OM-D E-M1 Mark II / Canon EOS 80D / Canon EOS 5DS / Sony Alpha 77 II / Canon EOS 70D / Nikon D7200 / Canon EOS 200D / Canon EOS 800D / Rebel T7i / Canon EOS 77D / Canon EOS 5D Mark III / Canon EOS 60D / Sony Alpha 7R / Sony Alpha 7 / Nikon DS-Qi2 (Microscope Camera) / Nikon D3x / Olympus OM-D E-M1 /

Thèmes apparentés

Prix excl. VAT et sans frais de transport. Sous réserves des délais de livraison, de coquilles ou d'erreurs.
© 1999-2018 MICRO TECH LAB / Mentions légales / Protection des données / Newsletter / Presse
--