Zoom stereo microscopes with infinity-corrected optical systems
There is a multitude of zoom stereo microscopes available on the market. The offer ranges from instruments manufactured by the leading microscope brands to lower-priced, newer brands.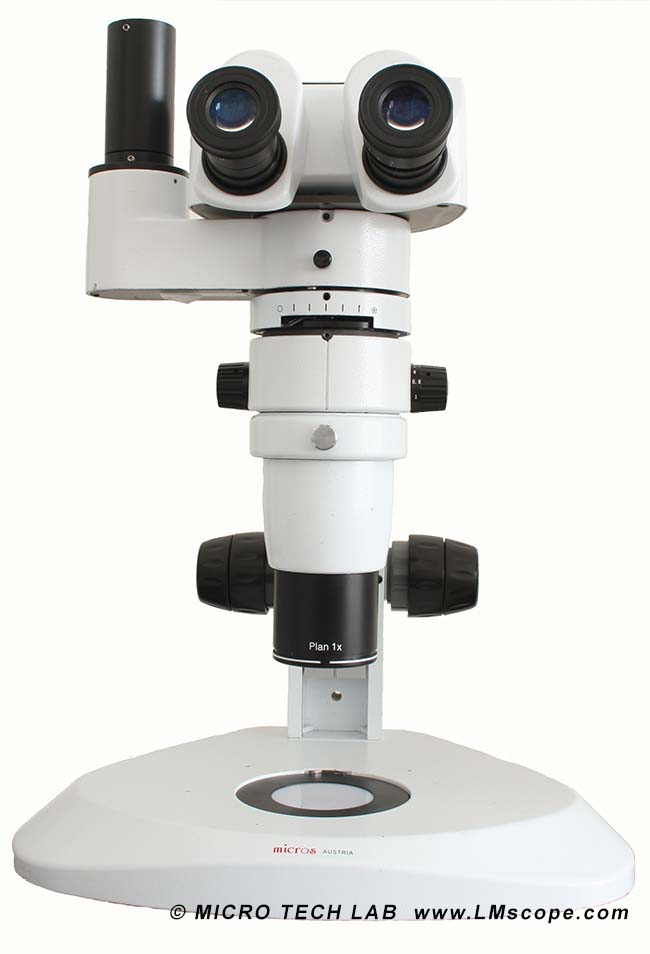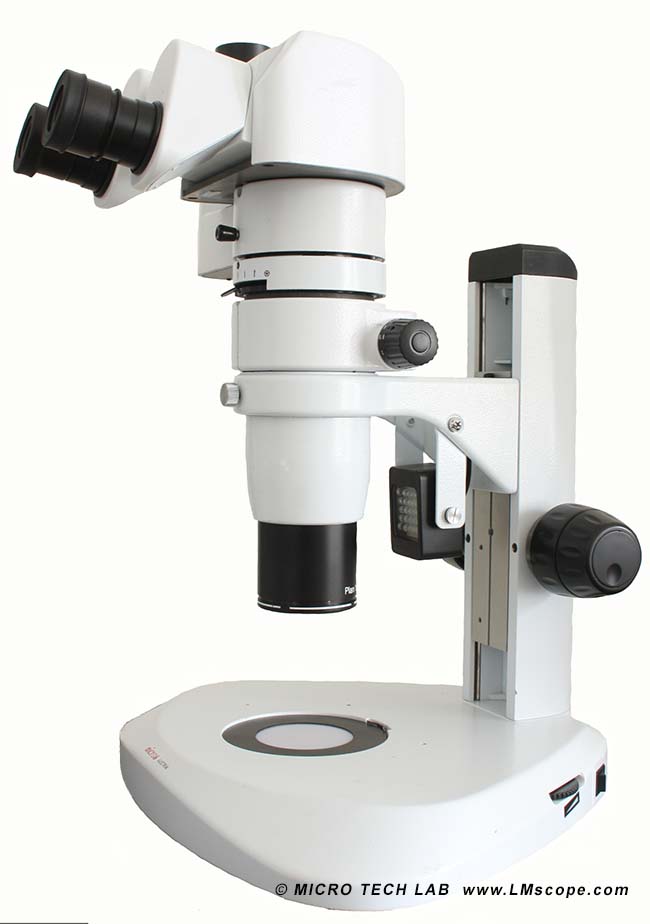 We took a closer look at the Micros Viper MZ3000 stereo microscope and tested it for our applications. The workmanship of the microscope is of good quality, and the stand is solidly constructed with a rack and pinion adjustment control. An ergo tube enables the microscope to be set to suit the user's individual needs. The working distance is 78 mm; the light source is an LED lamp for incident and transmitted illumination.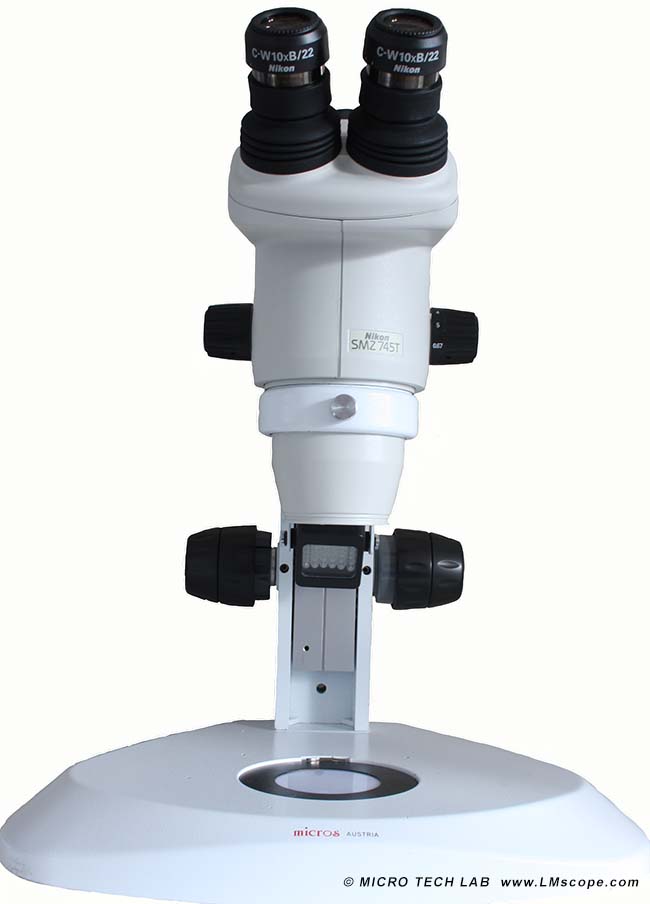 The body is similar to that of the Nikon SMZ745, and the Nikon stereo microscope head also fits the stand of the Micros Viper MZ3000 very well.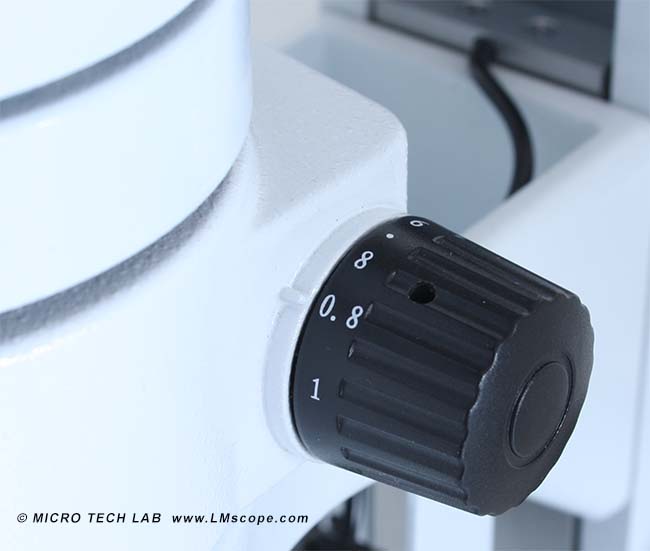 Magnification can be infinitely adjusted from 0.8x to 8x. Combined with a 10x eyepiece and a 1x objective lens, the magnification range extends from 0.8x to 80x. The Micros Viper MZ3000 is equipped with a modern infinity-corrected optical system, which means that is easy to expand the microscope with additional accessories, for example a fluorescence unit with four filter blocks and 100 watt mercury arc lamp.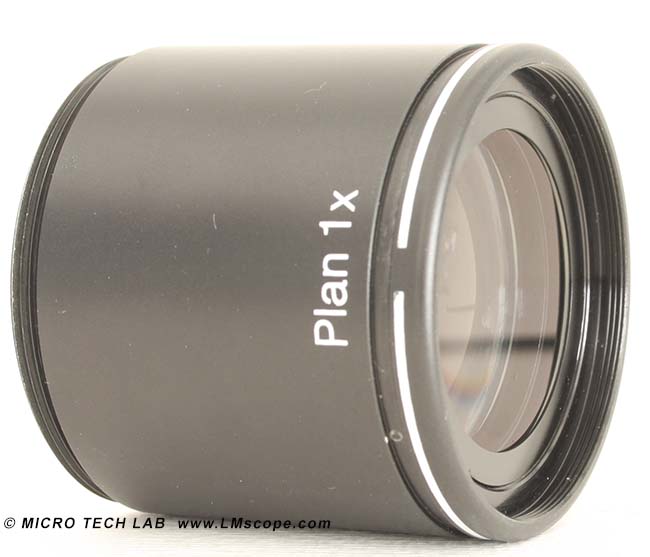 The Micros Viper MZ3000 is also available with a photo tube. If you plan to also take photographs through the microscope, then you should definitely get the model that comes with the photo tube. This is because working with a photo tube when creating photographic documentation makes the entire process much easier and simpler. We offer special adapter solutions for the photo tube of the Micros MZ3000 Viper which make it possible to attach almost every conventional DSLR, system, C-mount and compact camera to the microscope.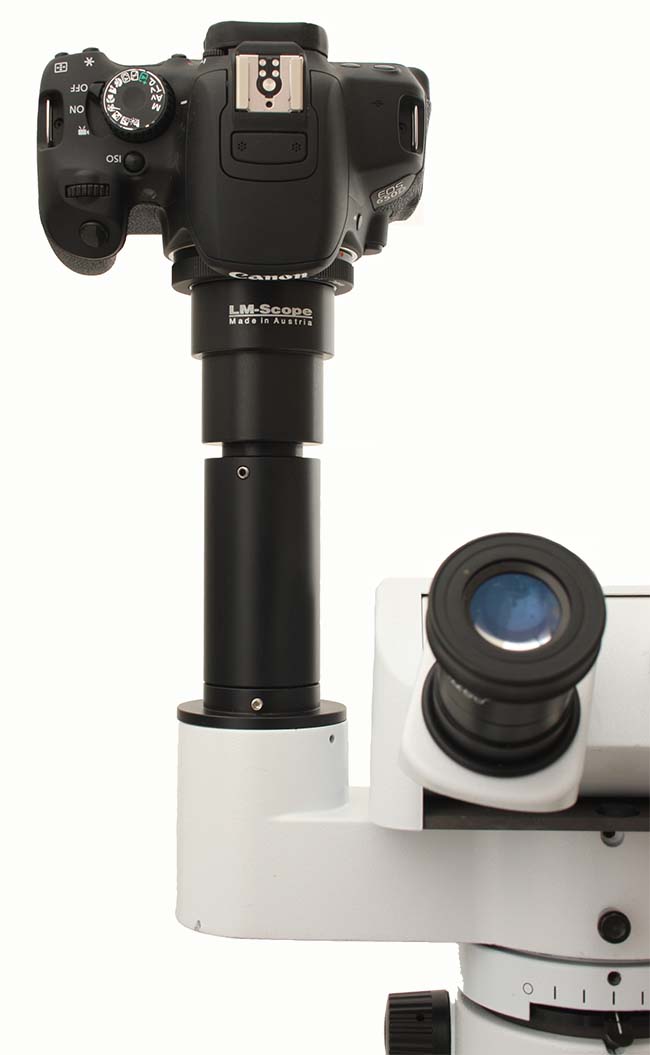 Our test instrument was equipped with a 1x plan objective lens. Although the image quality was satisfactory in the lower magnification range (0.8x to approx. 40x), it declined significantly in the upper range (40x to 80x), with colour fringing (chromatic aberrations) appearing in the image. If you mainly wish to create series of photos in this magnification range, then we recommend that you use plan apochromatic objective lenses which are also available. This will result in fewer such image flaws.
Various other manufacturers offer very similar microscopes which are very close to the Viper MZ3000 in terms of external appearance and technical specifications. This leads to the assumption that all of these instruments are manufactured in the same Asian factory, which has the advantage that they are all mutually compatible.
The following microscopes made by other manufacturers are similar to the model described:
Delta IPOS-810
Euromex DZ-Reihe
Conclusion:
The Micros Viper MZ3000 zoom stereo microscope with infinity-corrected optical system offers a good price/performance ratio. If the emphasis of your microscopy work is on creating appealing photographs, then we recommend that you use one of the higher-quality plan achromatic objective lenses that are also available.
Fotografía:
Conectar una cámara réflex digital (DSLR), una cámara de sistema o una cámara de montura C resulta muy fácil con los adaptadores LM digital SLR con óptica plan acromática. Con nuestros productos se consiguen microfotografías de una calidad espectacular. Para elegir el adaptador adecuado a su cámara tiene a su disposición nuestro buscador de productos en línea. Igualmente nos puede contactar por e-mail, preferiblemente adjuntando algunas fotos de su microscopio.
Las cámaras réflex digitales y de sistema actuales disponen de la última tecnología y se adecuan generalmente muy bien al uso microscópico. La mayoría de ellas se pueden controlar cómodamente desde el PC/Mac. Gracias a su alto volumen de venta tienen una relación calidad-precio excelente.
Características de las cámaras réflex digitales y de sistema de alta gama:
- sensores de formato completo amplios y potentes (36 x 24 mm)
- resolución del sensor de 50 megapíxeles
- sensibilidad a la luz de más de ISO 100.000
- gran rango dinámico (aprox. 14 pasos)
- tiempos de exposición extremadamente cortos (1/8000 segundos)
- función de vídeo en Ultra HD (4k)
- grabación en vivo de vídeos en calidad Ultra HD en monitores externos
En la mayoría de los casos estas cámaras son considerablemente más eficientes que las cámaras de microscopios con sensores pequeños (1/2" o 2/3"). En nuestra página Web encontrará nuestras recomendaciones actuales de cámara y un ranking de cámaras elaborado especialmente para su uso en microscopía.
Nuevo adaptador digital LM para:
Nikon D850 / Sony Alpha 7III / Sony Alpha 9 / Nikon D5 / Sony Alpha 7S II / Sony Alpha 7R II / Sony Alpha 7R III / Sony Alpha 7S / Canon EOS 5D Mark IV / Nikon D750 / Canon EOS 6D Mark II / Sony Alpha 6300 / Sony Alpha 6500 / Nikon D500 / Canon EOS 1D X / Nikon D810 / Nikon D4s / Nikon D800 / Nikon D800E / Nikon D4 / Nikon Df / Nikon D610 / Nikon D600 / Canon EOS 6D / Canon EOS 5DS R ( without low-pass filter) / Olympus OM-D E-M1 Mark II / Canon EOS 80D / Canon EOS 5DS / Sony Alpha 77 II / Canon EOS 70D / Nikon D7200 / Canon EOS 200D / Canon EOS 800D / Rebel T7i / Canon EOS 77D / Canon EOS 5D Mark III / Canon EOS 60D / Sony Alpha 7R / Sony Alpha 7 / Nikon DS-Qi2 (Microscope Camera) / Nikon D3x / Olympus OM-D E-M1 / Nikon D3S / Canon EOS 750D / Rebel T6i / Canon EOS 760D / Rebel T6s / Canon EOS 5D Mark II / Nikon D7100 / Pentax K-5 / Canon EOS 1D Mark IV / Nikon D7000 / Canon EOS 7D Mark II / Canon EOS 600D / Rebel T3i / Canon EOS 650D / Rebel T4i / Canon EOS 700D / Rebel T5i / Canon EOS 2000D / Rebel T7 / Canon EOS 7D / Canon EOS 550D / Rebel T2i / Kiss X4 Digital / Canon EOS 1300D / EOS Rebel T6 / Canon EOS 4000D / Canon EOS 100D / Nikon DS-Ri2 (Microscope Camera) / Canon EOS 50D /

Enlaces relacionados

--