291
The surprise microscope – Micros Lotus MCX51
Chance put the Lotus MCX51, made by the Austrian manufacturer Micros, into our hands, and we couldn't resist taking a close look at every individual part of it. In addition, we were of course also interested in finding out whether it is possible to produce worthwhile photographic documentations with a laboratory microscope of this price class.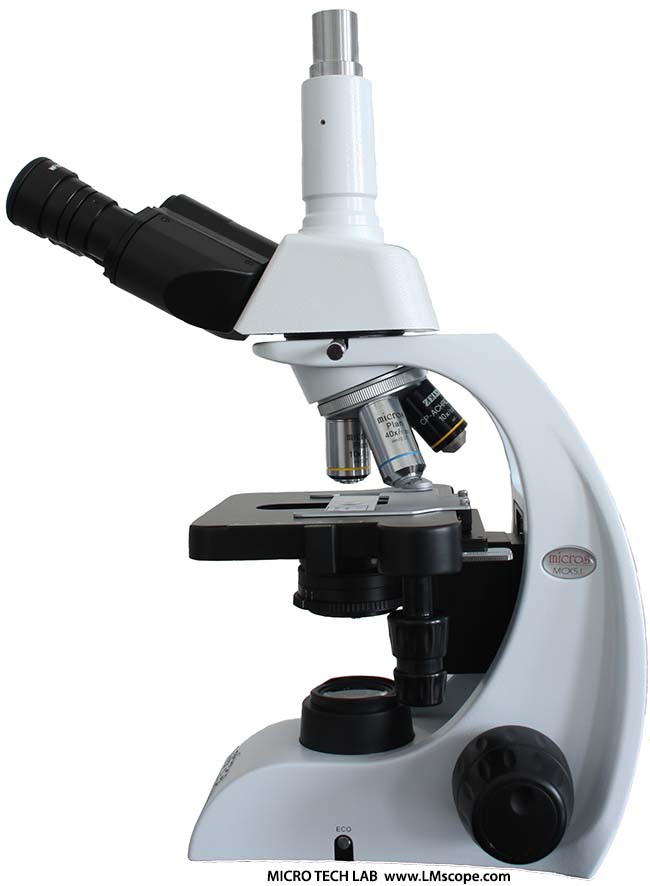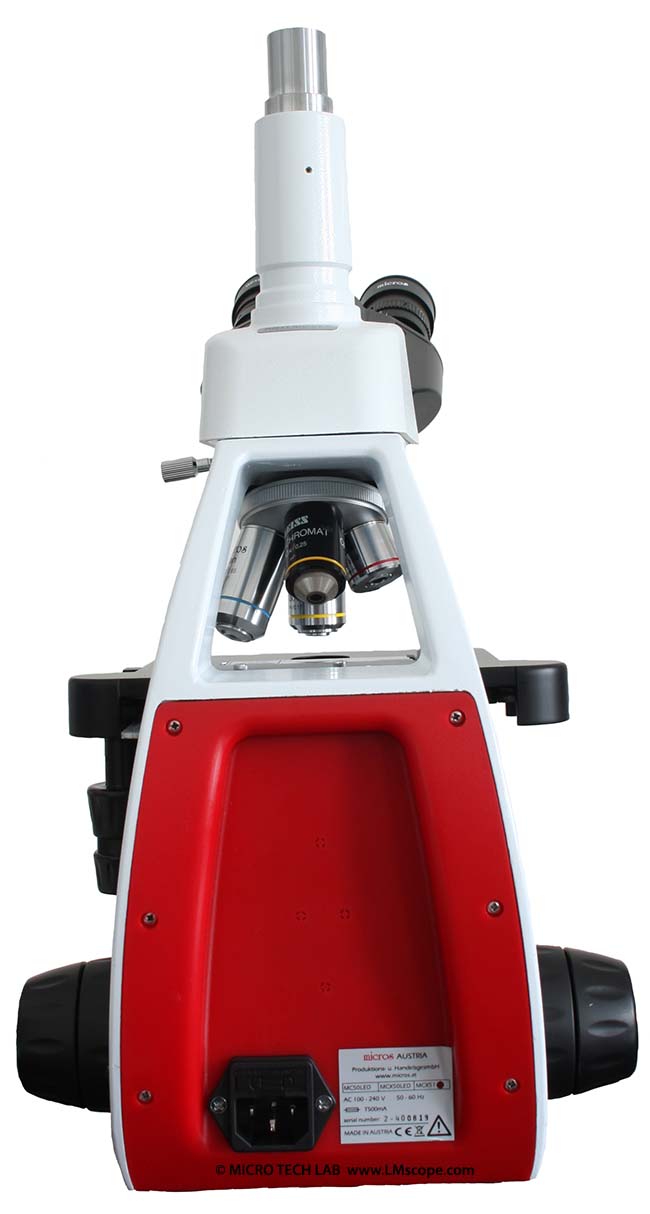 The Lotus MCX51 is a very favourably priced (the ECO version with trinocular head costs around € 1,100) infinity-type laboratory microscope with a phototube and LED illumination. The design is very appealing, it is well built, and at first glance we were unable to find a single workmanship defect with our model. The microscope is made from a mixture of metal and plastic. For our taste, a little too much plastic has been used on the trinocular head, which does not give the impression that this is a high-quality instrument, as is the case with significantly more expensive branded products. The quality of the coating is different from that of branded products. However, these differences are in most cases only evident when the instrument is disassembled.
In the course of our series of tests, we removed the microscope stage in order to examine it in detail. It was obvious that corners had been cut in the mechanical assembly of the stage structure. The stage has no gear wheel; instead it only has a rubber toothed belt. The drive is thus somewhat spongy, but when working with the instrument we had no problems with it. Regrettably, the stage only has one specimen holder for one slide.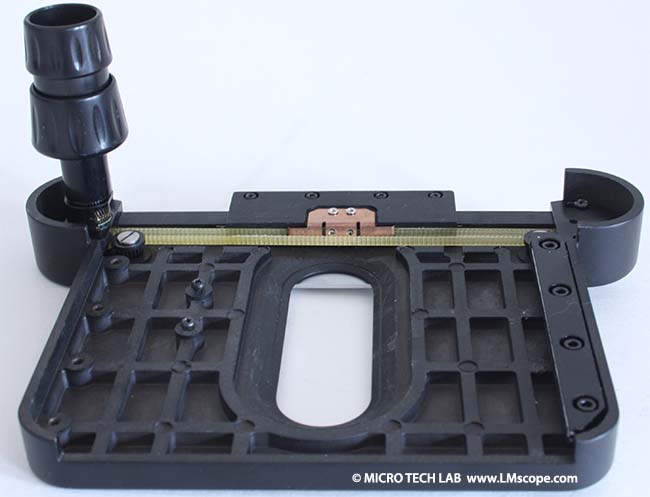 The rotating nosepiece has space for four lenses. For our tests we used the flat infinity lenses 4x/10x/40x without phase contrast.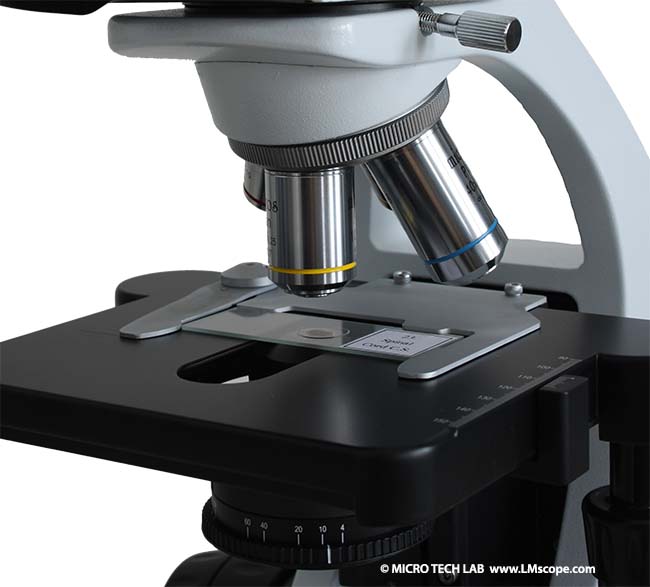 Since we had already removed the microscope's sample stage, we took the opportunity to take a closer look at the condenser. It illuminates the image field evenly with no hotspots or blotches. A phase contrast condenser is also offered as an option.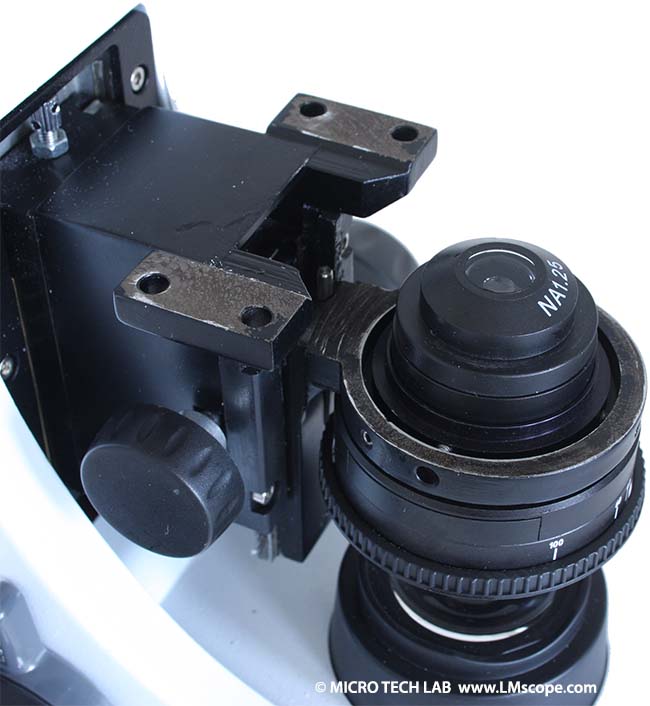 But now let's turn to what actually interests us: photographic documentation. We attached a Canon EOS 650D to the Lotus MCX51 using the TUSTB and our LM digital DSLRCT adapter. To get straight to the point: the optical properties of the instrument are very good. It can easily hold its own in comparison with branded microscopes costing up to € 3,000. For microscopes in this price segment this is not always the case. Quite often, the quality of the photograph taken differs significantly from the image that is seen through the eyepiece – the colours are dull, and towards the edges the photograph becomes blurred. Not so with the Lotus MCX51! It is exceptionally well suited for digital photomicrography. The instrument features a high degree of planarity, contrast and focus.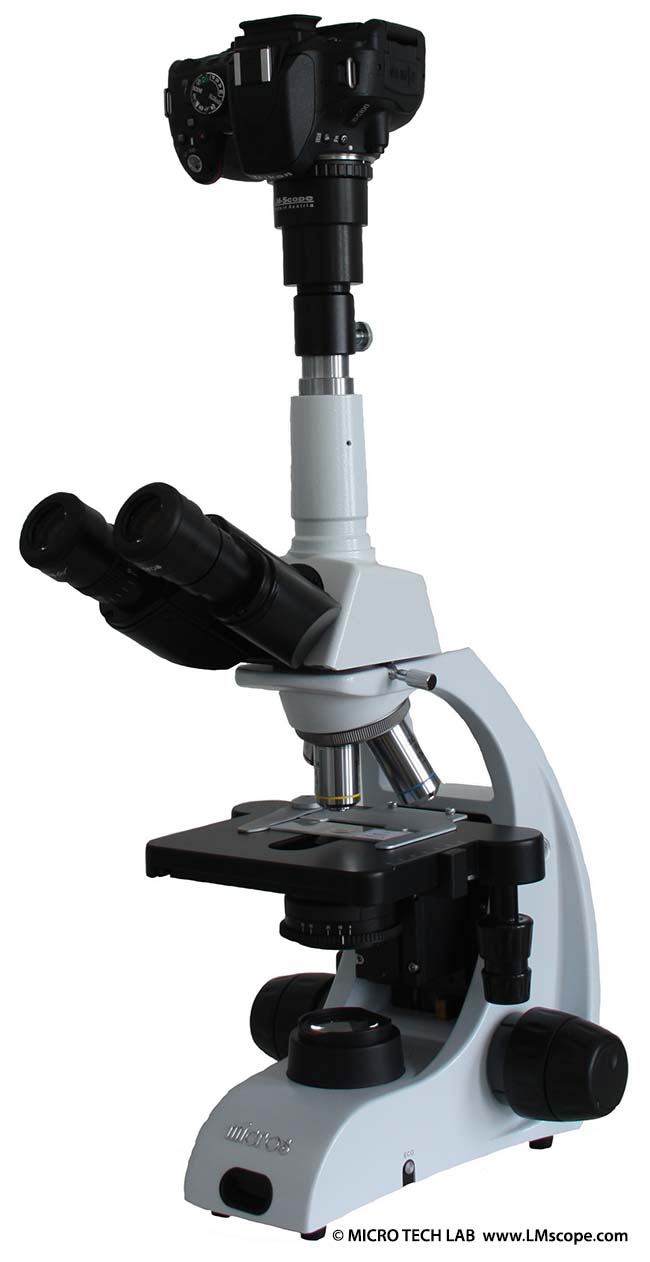 The internal diameter of the eyepiece is an atypical 26.7 mm. By using an adapter sleeve, the tube can be reduced to 23.2 mm. Instead, however, we would prefer a large tube with an internal diameter of 30 mm for the use of wide field eyepieces with field numbers of 20 or 22. This would make it very easy to use eyepieces from other manufacturers and would ensure a more convenient image field.
The use of modern LED illumination offers a stable voltage as a result of which there are no light fluctuations (visible as a striped pattern) when taking the photographs. In addition, LED fluorescence lighting is also available.
The Lotus MCX51 is very light, which means that it is susceptible to vibrations. For this reason, it should be set up on a stable base (fixed table, etc.), so that footfall sound, for example, cannot be transmitted. This can become problematic, especially at large magnifications (over 400x) and/or when using oil immersions.
In comparison to higher priced branded microscopes, there are also fewer accessories available for this instrument. For our tests we used the WF 10x18 eyepieces with a diameter of 23.2 mm. This produced a smaller image field than that of top microscopes with 30 mm eyepiece tubes.
Conclusion: The Lotus MCX51, manufactured by Micros Austria, is an entry-level laboratory microscope that does not need to fear comparison with expensive branded microscopes in terms of optical performance. Admittedly, differences are evident in both workmanship and finish. However, is certainly a sensible alternative to older laboratory microscopes with a finite optical system. 21.06.2013
Fotografía:
Conectar una cámara réflex digital (DSLR), una cámara de sistema o una cámara de montura C resulta muy fácil con los adaptadores LM digital SLR con óptica plan acromática. Con nuestros productos se consiguen microfotografías de una calidad espectacular. Para elegir el adaptador adecuado a su cámara tiene a su disposición nuestro buscador de productos en línea. Igualmente nos puede contactar por e-mail, preferiblemente adjuntando algunas fotos de su microscopio.
Las cámaras réflex digitales y de sistema actuales disponen de la última tecnología y se adecuan generalmente muy bien al uso microscópico. La mayoría de ellas se pueden controlar cómodamente desde el PC/Mac. Gracias a su alto volumen de venta tienen una relación calidad-precio excelente.
Características de las cámaras réflex digitales y de sistema de alta gama:
- sensores de formato completo amplios y potentes (36 x 24 mm)
- resolución del sensor de 50 megapíxeles
- sensibilidad a la luz de más de ISO 100.000
- gran rango dinámico (aprox. 14 pasos)
- tiempos de exposición extremadamente cortos (1/8000 segundos)
- función de vídeo en Ultra HD (4k)
- grabación en vivo de vídeos en calidad Ultra HD en monitores externos
En la mayoría de los casos estas cámaras son considerablemente más eficientes que las cámaras de microscopios con sensores pequeños (1/2" o 2/3"). En nuestra página Web encontrará nuestras recomendaciones actuales de cámara y un ranking de cámaras elaborado especialmente para su uso en microscopía.
Nuevo adaptador digital LM para:
Sony Alpha 9 II (ILCE-9M2) / Sony Alpha 9 / Sony Alpha 7R IV / Sony Alpha 7S II / Sony Alpha 7R III / Nikon Z6 with F-Mount Adapter FTZ / Sony Alpha 7R II / Nikon Z7 with F-Mount Adapter FTZ / Canon EOS R with Canon Adapter EF-EOS R / Canon EOS Ra (Astro) with Canon Adapter EF-EOS R / Canon EOS RP with Canon Adapter EF-EOS R / Sony Alpha 7S / Nikon Z50 with F-Mount Adapter FTZ / Nikon D850 / Canon EOS 1D X Mark II / Sony Alpha 7III / Nikon D5 / Sony Alpha 6600 / Sony Alpha 6400 / Sony Alpha 6100 / Canon EOS 1D X / Nikon D4s / Olympus OM-D E-M5 III / Canon EOS 90D / Canon EOS 5D Mark IV / Nikon D4 / Nikon D750 / Canon EOS 6D Mark II / Sony Alpha 6300 / Sony Alpha 6500 / Nikon D500 / Nikon D810 / Nikon D800 / Nikon D800E / Nikon Df / Panasonic Lumix DC-G9 / Nikon D610 / Nikon D600 / Canon EOS 250D / Canon EOS M50 / Canon EOS 6D /