Automatic exposure and shutter release lock in older and more modestly priced Sony cameras when using lenses that are not compatible with Sony models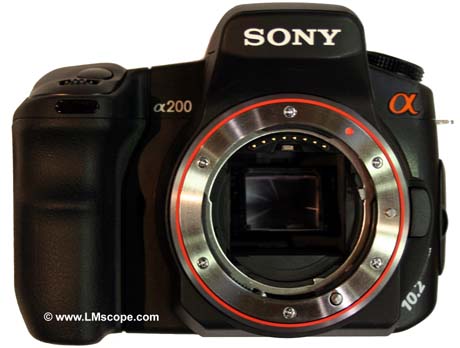 Unscrewing the lens of a DSLR camera reveals the pins on the bayonet. Through these pins, the camera communicates with the lens, where the counterparts to the pins are situated on the screw thread. Older and more modestly priced Sony cameras, such as the Alpha 200 for example, block automatic exposure (aperture priority) and prevent the shutter release from working if a non-Sony-compatible lens is attached. LM DSLR adapters normally have no built-in electronics, so some Sony models must be used in "manual" mode. In order to enable automatic exposure and shutter release, we are offering a T2 adapter with integrated chip. This "cons" the camera into believing that it is connected to a compatible (i.e. Sony) AF lens and thereby removes any obstacles to working with other lenses!
Current Sony cameras such as the Sony NEX5 and the Sony Alpha 55, however, have no shutter release lock, so auto exposure also works with non-Sony lenses.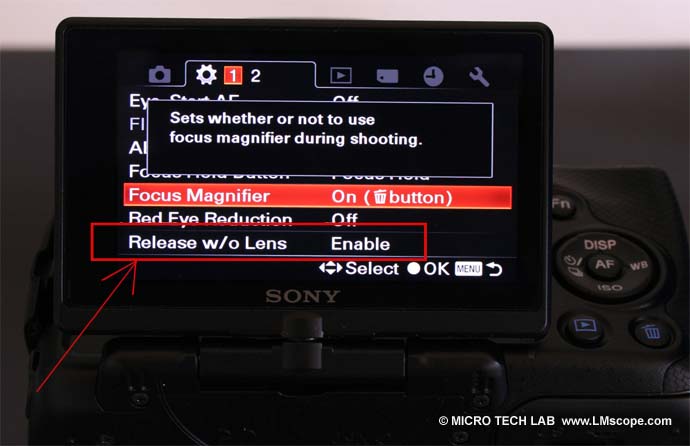 For cameras with shutter release lock, the lock must be deactivated in the menu (by selecting the option "release without lens"). Once the lock has been deactivated, automatic exposure can be used without limitation.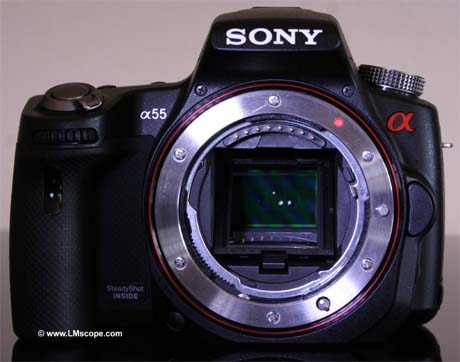 Update: 30.06.2011
New LM Digital Adapter for:
Sony Alpha 7 / Sony SLT-A99 / Sony Alpha 7II / Sony Alpha 6000 / Sony Alpha 77V / Sony Alpha 580 / Sony Alpha 5100 / Sony Alpha 5000 / Sony Alpha 55 / Sony Alpha 33 / Sony Alpha 35 / Sony NEX-7 / Sony NEX-6 / Sony Alpha 57 / Sony Alpha 37 / Sony NEX-5N / Sony NEX-C3 / Sony NEX-F3 / Sony NEX-5 / Sony NEX-3 / Sony Alpha 65V / Sony Alpha 700 / Sony Alpha 850 / Sony Alpha 900 / Sony NEX VG10 / Sony Alpha 3000 / Sony Alpha 450 / Sony Alpha 560 / Sony DSC-HX9V / Sony DSC-HX100V / Sony DSC-WX7 /

Related Links

Digitalcameras , digital SLRs , digital SLR , DSLR , D-SLR , D'SLR , Phototubes of 38 mm or 37 mm internal diameter (ISO port) , Nikon microscopes with VT phototube , Conversion kits for WILD M400 photomacroscope , Conversion kits for Olympus BH microscopes , custom adapter , lens thread, filter thread , c-mount standard thread , c-mount adapter , 30mm standard eyepiece tubes , 30mm standard eyepiece adapter , mounting bayonet ,
--